Easy watercolor painting- night sky galaxy manga portrait
Upgrade your watercolor skills and paint a manga portrait with a galaxy northern lights background now!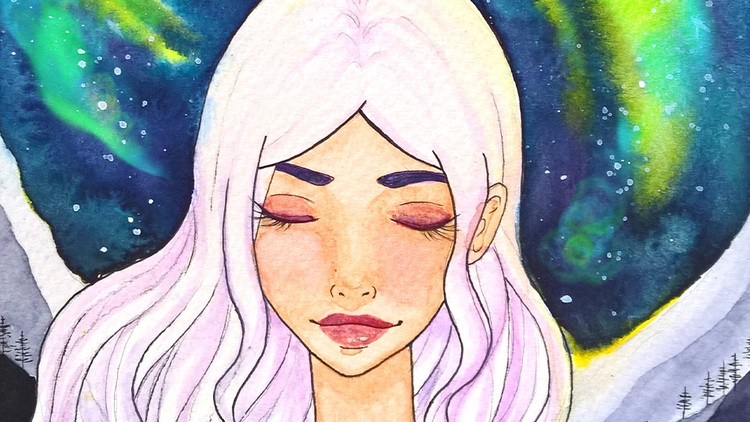 What you will learn
Painting a flawless watercolor galaxy pattern
Coloring a stylized manga portrait from line art template
Extra lesson: paint a watercolor galaxy nebula hair
The secret method on how to paint starry splatters in an instant
How to add depth to your painting
Mastering the essentials of portrait painting, including the art of mixing your own skin colors
Description
By the end of this class, you will acquire the skills to:
a) Create captivating watercolor portrait paintings with your own unique touch.
b) Paint breathtaking galaxy sky backgrounds adorned with mesmerizing northern lights.
If you have a penchant for fantasy and magical-themed artworks but have never dared to color a stylized manga portrait on your own, then this class is tailor-made for you. It's important to note that we won't be focusing on drawing the portrait itself. Instead, you can conveniently download my line art template, eliminating the struggle of drawing. All you need to do is grab your brushes and immerse yourself in the world of colors alongside me.
Throughout the class, I will guide you through the following:
Unveiling the techniques behind painting a stunning galaxy night sky embellished with enchanting northern lights.

Mastering the essentials of portrait painting, including the art of mixing your own skin colors.

Discovering the placement of shadows and highlights to enhance the prominence of your portrait.

Unlocking my simple method for painting beautiful, flowing hair.

Capturing the essence of misty mountains and effectively portraying depth and distance in the background.

Unleashing the secrets of professional-level inking.

Learning how to seamlessly transfer the linework onto watercolor paper.

Enjoying an easy-to-follow and fun learning experience throughout the class.
I firmly believe that coloring should be a joyous endeavor, free from worry and frustration. It should be an activity that ignites your passion and brings a sense of tranquility. So, I invite you to take this class and discover the true bliss of painting.
Oh, and if all the reasons mentioned above aren't enticing enough, let me mention that by the end of the class, you will proudly possess your very own galaxy themed watercolor painting—a masterpiece you can proudly display on your wall and share with your friends.
Are you intrigued? Let's embark on this artistic journey together. I look forward to meeting you in the class!
Content
Introduction
Introduction
Introduce yourselves!
Get ready to painting
Tools
Tracing the Line Art
Inking the Line Art
Get Ready to Painting
Preparation - Summary
Painting
Inspiration for the Northern Lights
Painting the Night Sky
Splattering the Stars
Painting the Face
Painting the Hair
Painting the Clothes
Painting the Accessories
Painting the Misty Mountains
How to paint a galaxy night sky hair
Extra lecture : Paint a Galaxy Night Sky Hair ( Preparations)
Extra Lecture: Tools
Extra Lecture: Inspiration for the Galaxy Sky
Extra Lecture: Painting the Galaxy Hair
Extra Lecture: Splattering the Stars
Summary
Congratulations for finishing the class!
Class credits
Bonus Lecture
Bonus Lecture
Reviews
Si, hasta ahora bastante entretenido e inspirador, me hubiera gustado que hubiera enseñado a hace la silueta de la chica, pero muy buenas técnicas para empezar con la acuarela y para mezclar colores. La mezcla de los colores para el cielo y en el orden puesto está muy bien y queda muy bonito y muy real, gracias por compartirnos estas clases???
It was a great beginner's course; watercolors are something I have been interested in since college but never took the course because the classes seemed so intense from what other students were saying, over the years I have met people who always say how unforgiven it is as a medium. I've looked at books and videos, Eliza is the only one that took a lot of the stress out of it and made it seem doable, the templates were also helpful, it takes you out of the "I'm gong to mess up my art!!!" mindset. In other classes you would have been creating your own piece from scratch.
Lovely course on how to incorporate these recently so popular galaxy Aurora patterns into your artworks
This was good, helped me a lot. Previously I was unable use water colours but now I can do something with them
plain and simple an all act teacher, a satisfying watch, the perfect music background nice transition over the videos process !!!!!
Coupons
| Submit by | Date | Coupon Code | Discount | Emitted/Used | Status |
| --- | --- | --- | --- | --- | --- |
| - | 8/12/2019 | ARTCLASSFREE | 100% OFF | | expired |
| - | 9/2/2019 | GALAXYCLASS | 100% OFF | 1000/266 | expired |
| - | 9/19/2019 | GALAXYCLASS01 | 100% OFF | 1000/121 | expired |
| - | 4/26/2020 | A80C2655B298DDB60B59 | 100% OFF | 40000/4703 | expired |
| - | 7/16/2020 | 11036FB1CCB39E630F13 | 100% OFF | 40000/2515 | expired |
| - | 11/25/2022 | 6EC826A06F0D209486AB | 100% OFF | 1000/979 | expired |
| - | 11/26/2022 | 17700F318679EEA5E34E | 100% OFF | 1000/787 | expired |
| - | 12/16/2022 | 645697A911E5A9065368 | 100% OFF | 1000/748 | expired |
| - | 12/24/2022 | D8355BBCF6CAE7C44F8A | 100% OFF | 1000/933 | expired |
| - | 1/18/2023 | 78848FBAF499A83AAE53 | 100% OFF | 1000/551 | expired |
| - | 1/24/2023 | 5AF56B89446DD6BC811D | 100% OFF | 1000/406 | expired |
| - | 9/23/2023 | 4AB3BD80E62A46EE910C | 100% OFF | 1000/837 | working |
Charts
Price
Rating
Enrollment distribution
7/30/2019
course created date
8/8/2019
course indexed date