Solana NFT Master Course 2022: From Beginner to Pro Course
The first ever NFT course on Solana NFTs and Blockchain that explains everything from scratch for everyone
Cryptocurrency & Blockch
category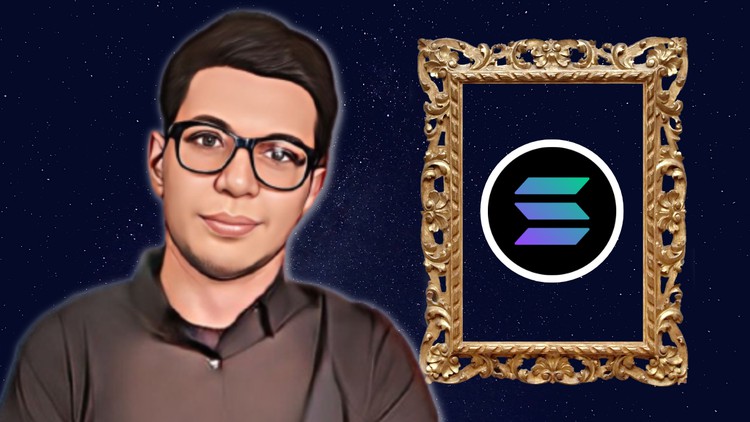 What you will learn
What are NFTs?
How NFTs are changing the world?
Why NFTs are the next big thing?
What is a Blockchain?
How NFT are made?
How to mint (create) NFTs effortlessly from scratch?
What to do with your NFTs long term
Description
Welcome to the Solana NFT course! This course is designed to teach you everything you need to know about creating and managing your own Non-Fungible Tokens (NFTs) on the Solana blockchain.
NFTs are digital assets that are unique and cannot be replicated. They are revolutionizing the way we think about ownership and value in the digital world, and Solana's fast and efficient blockchain technology is the perfect platform for creating and trading NFTs.
In this course, we will cover topics such as the basics of blockchain technology and how it relates to NFTs, the process of creating and minting your own NFTs, and the various use cases for NFTs in the real world.
We will also explore the exciting world of NFT marketplaces and the various platforms available for buying, selling, and trading NFTs. You will learn how to properly manage and store your NFTs, and how to ensure their security and integrity.
Throughout the course, you will have the opportunity to work on real-world projects and create your own NFTs. You will also have access to a community of experts and enthusiasts who can offer guidance and support.
Whether you're an artist, a collector, or just someone curious about the future of digital ownership, this course is the perfect way to get started with Solana NFTs. Enroll now and be a part of the next revolution in digital ownership!
By the end of this course, you will have a solid understanding of how NFTs work, how to mint your own, and how to trade them on marketplaces. You will also have the skills and knowledge needed to create your own unique and valuable digital assets.
So, don't wait any longer, enroll now and be a part of the exciting and rapidly growing world of Solana NFTs!
Content
Step 1 of NFT land
Welcome folks
Teleporting here
Is bitcoin the ocean?
Step 2 of NfTs
Paper Wallets explained
Offline wallets
Hot wallets
Cold wallets
Step 3 Advanced level crypto stuff
Blockchain decoded
Is a contract smart enough
Keys
Long term Bitcoin
Review hot and cold wallet
Offline wallet types
Let's mint NFTs
What is Nft minting?
Why and How Solana
Sol as Altcoin
What are Solana Wallets
Sol and CMC
sol
Solana and CZ
Solsea Decoded
NFT in Solana
Conclusion
11/17/2022
course created date
1/25/2023
course indexed date