Practice Exam: Professional Scrum with Kanban 1 - 2021
Pass your PSK1 certification on the first try!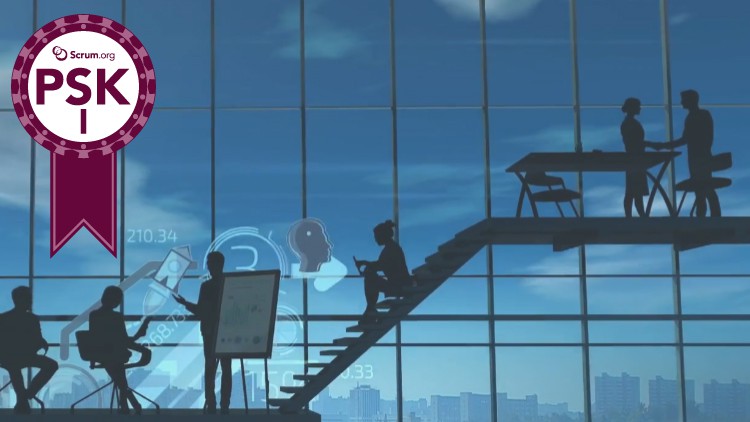 What you will learn
Certification preparation for PAL 1. (Professional Scrum with Kanban)
Understanding and Applying the Scrum Framework: Scrum and Kanban can be used together for greater benefit without compromising the core tenets of either.
Kanban Practices when applied to Scrum as described by Kanban Guide for Scrum Teams.
Agile Metrics for Kanban as described by Kanban Guide for Scrum Teams.
Description
This course was created to help you prepare for the Agile Leadership I certification exam (PAL I) by testing your understanding of the Scrum framework as a leader, and how to apply it to maximize the value delivered with a product.

This course is intended to help you validate your knowledge and help you achieve your PAL 1 certification on your first try!

You should take this course because:
This Practice exam contains 97 Premium Questions related to the expected competencies when applying Kanban with Scrum. You do not need to answer too many questions that are unrelated to the certification exam!

This will help you attain your PSK 1 certification that will take your career to the next level! Certification is more than just passing an exam but it is a learning journey!

I am dedicated to providing support and answer inquiries related to your learning journey!

Useful Tips:
Even if the certification exam is time-restricted, do take your time and read each question carefully.

Select the best answer(s). Some questions will have more than one valid answer. Only select the best ones relative to the others.

Not only understand why a specific answer is correct but also why the others are incorrect will help you with your knowledge retention.

Be careful during True or False type of Questions, it is common to have inverted statements.

Think about how the question and answers correspond to the underlying principles, concepts, theories, and values of Scrum and agility.

A question that feels like a "trick question" or ambiguous is typically due to the level of knowledge or understanding. The more you understand the less ambiguous a question will feel.

Although explanations are provided, doing more research can help you gain a deeper understanding and mastery of the material.



What is PAL or Professional Agile Leadership?
The Professional ScrumTM with Kanban level I (PSK I) assessment is available to anyone who wishes to validate their knowledge of how Scrum Teams can use Scrum with Kanban ability to support value creation and delivery.
Taking a course is not required. While taking a Professional Scrum with Kanban course is highly recommended, if you feel you already possess a high level of knowledge about Professional Scrum with Kanban, you have the option to take the PSK I assessment directly. The PSK I assessment is grounded in the Professional Scrum with Kanban subject areas: Kanban Practices, Agile Metrics, and The Scrum Framework.
The assessment is in place to ensure you understand how Scrum Teams can use Kanban. Many questions ask the test-taker to think about or interpret the meaning from the Kanban Guide for Scrum Teams and the Scrum Guide and/or to apply content from the PSK subject areas and in some cases, apply their own experience.

- Scrum. org.
Note: This is only a preparation exam for Scrum. org PSK 1. The certification fee for the actual PSK1 is not included in this course.
8/10/2021
course created date
8/13/2021
course indexed date