Complete KashFlow (IRIS) Accounting Cloud Software Course
Master KashFlow Online Accounting And Bookkeeping Software
Other Finance & Economic
category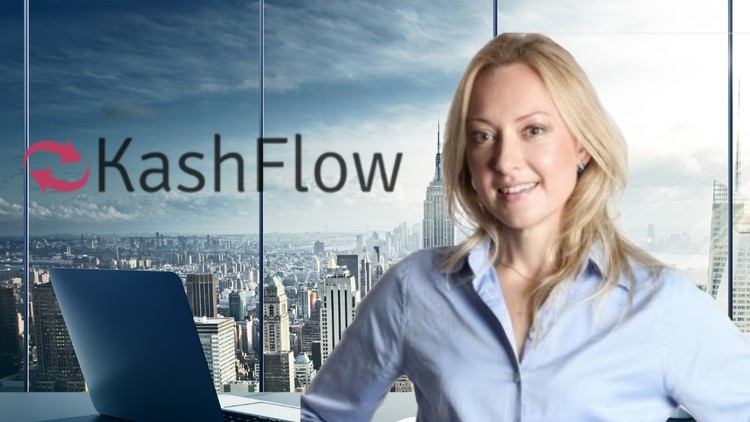 What you will learn
You will learn how to enable the KashFlow features hidden within navigation panel
You will learn how to perform bookkeeping tasks on KashFlow
You will learn how to set up and run projects
You will learn how to automate tasks on KashFlow
Description
Welcome to Complete KashFlow Online Accounting and Bookkeeping course
I am Maria, creator, and teacher of the KashFlow Online course, as well as Xero, QuickBooks Online, and Sage One online.
Why study KashFlow?
The course contains the most up-to-date information on KashFlow (2022), a software that is owned by IRIS.
KashFlow IRIS bookkeeping is a cloud-based, flexible system that simplifies bookkeeping for small businesses since 2005.
The goals for this course are:
1. Learn where to enable information in settings (especially for inventory, fixed assets, and journals)
2. Learn how to automate certain default settings for streamlined bookkeeping.
Here are the topics covered:
Overview of navigation and explanation of how to use and where to find elements;

General settings with an explanation of what each section means, later we go through more in detail through each of those;

Contact and how to add the types of contacts;

How to set up fixed assets, inventory, and manual journals;

We try adding the projects and then use the project label within sales and purchase invoices to see the financial report for the project we created;

You will learn step by step how to set up a sales quote, then create a sales invoice and raise a credit note;

We cover custom fields and many more additional features;

Learning how to add a purchase order, convert it into an invoice, or set up repeating invoices;

What tools can be helpful in self-assessment and VAT submissions



About me:
At present, I work as a Tax Specialist for an international British-Swiss commodity trading company. For over 10 years I ran my accounting practice in London, starting as a sole bookkeeper and qualifying as ACCA in the UK.
I have learned a lot throughout my career, so I have decided to share my knowledge through the bookkeeping online courses in Xero, Quickbooks, Sage, and WorkflowMax I have put together as online courses. I am a qualified advisor for Xero, QuickBooks, and Sage.
I hope to see you at my course and send me a message with any questions!
Check out my social channels. I post weekly videos on YouTube at LearnbookeepingUK about solving tech and other issues on Xero and QuickBooks. Plus I share a lot of advice.
My Credentials:
Xero Advisor and partner;
Quickbooks Advisor;
Association of Chartered Certified Accountants - member (UK);
ACCA Ambassador since 2022;
Masters in Finance and Accounting, University of Westminster, UKMasters in Business Administration, University of Lincoln, UK
Content
How to register for Demo version
Introduction
Getting Started
Settings account overview
Settings Lists
Settings - configuration
Setting your account on KashFlow
Setting up our business
Adding a customer contact
Adding a supplier contact
Fixed Assets
Inventory
Business sales
How to create a sales quote
How to create a sales invoice
How to create a repeating sales invoice
Create a credit note
Business purchases
How to create a purchase order
How to convert purchase order into purchase invoice
How to create purchase invoice
How to create a repeating purchase invoice
How to create a batch payment
Add an expense
Create a mileage expense
Business bank
Adding a business bank
Import bank transactions manually
Managing projects
Create a project
Dealing with taxes and reporting
Access self-assessment and VAT reports
Access business reporting
Charts
Price
Rating
Enrollment distribution
1/28/2022
course created date
2/21/2022
course indexed date
Angelcrc Seven
course submited by