Javascript For Beginners Complete Course
Learn Javascript Programming Language With Practical Interaction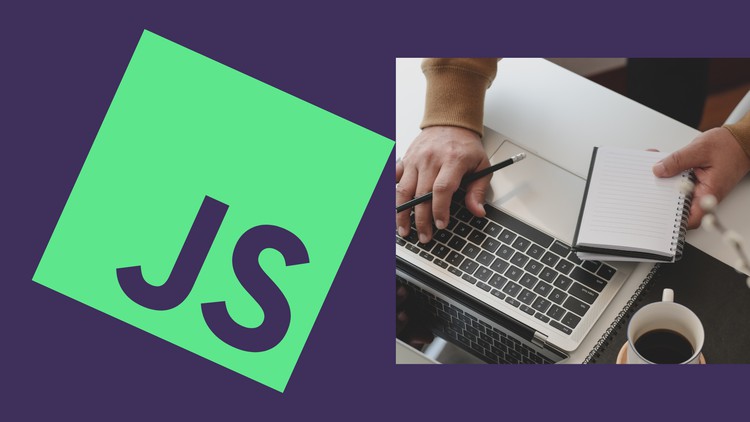 What you will learn
Getting Started With Javascript Variables,Values and Data Types, Operators and Operands
Write Javascript scripts and Gain knowledge in regard to general javascript programming concepts
Introduction And Use of Javascript Variables, Javascript Arrays, Javascript Objects
Introduction And Use Of Conditional Statements In Javascript
Description
Learn Javascript Programming Language
The course is created thorough, extensive, but easy to follow content which you'll easily understand and absorb.

The course starts with the basics, including JavaScript fundamentals, programming, and user interaction.




The curriculum is going to be very hands-on as we walk you from start to finish to become a professional Javascript developer. We will start from the very beginning by teaching you Javascript basics and programming fundamentals, and then execute into real-life practice and be ready for the real world.




While Javascript is complicated for beginners to learn, it is widely used in many web development areas.

This course gets you started with an introduction to JavaScript. It assumes that you're new to the language, so it gets you started with basic functionality such as creating functions, creating variables, and calling these lines of code from your standard HTML pages. It talks about events and triggers for custom event handling. It talks about pattern matching, searching for text within a page, flow control and the document object model (DOM). We start off with the basics and move on to more complex functionality such as arrays and objects. We then discuss how to script common elements with JavaScript such as forms and tables. At the very end, we discuss major libraries such as Ajax, which allows you to make asynchronous calls to server-side scripts without reloading the web page in the server.
Master the fundamentals of writing Javascript scripts

Learn core Javascript scripting elements such as variables and Objects

Discover how to work with lists and sequence data

Write Javascript functions to facilitate code reuse

Use Javascript to read and write files

Make their code robust by handling errors and exceptions properly

Search text using regular expressions
The topics covered in this course are:

* Javascript Course Contents:

Javascript Introduction

Javascript Array

Javascript Variables

Javascript Functions

Javascript Objects

Javascript Control Statements

Javascript Cookies

Javascript Loop statements

Javascript Data Structures

Javascript Error Handling

Javascript Regular Expressions

See you inside the course
Content
Introduction
JavaScript Introduction
JavaScript Array
JavaScript Variables
JavaScript Conditional Statements
JavaScript Functions
JavaScript Objects
JavaScript for Loop
JavaScript While Loop
JavaScript Do While Loop
JavaScript Events
JavaScript Iteration Statement
JavaScript Loop Control Statements
JavaScript If Else Statement
JavaScript Switch Statement
JavaScript Animation
JavaScript Operators
JavaScript Comparison Operators
JavaScript Logical Operators
JavaScript Cookies
JavaScript Error Handling
JavaScript Page Redirect
Reviews
A great beginner course. This javascript course covered all the basics. I really enjoyed the session.
Muy básico y los temas los encontré algo desordenados, podría tener mejores ejemplos y usar sintaxis 2022 con las buenas prácticas. Ya que, se usan las variables "var" y los ejemplos están algunos desde "head" en html.
A great intro to javascript with all the basics covered. I was just expecting more from this course, but perhaps it is just an intro seems good.
To learn the javascript for the begineer, it is very good platfrm and it will be helpful in the interview also..
I needed the compelete JS from 0 to hero, but they just explained some basic shit and told you completed the course.. i mean is this all you got or what ...
while searching for javascript course , i found this course and after watching starting videos i felt, i have choosen the right one
The program was fine with real life examples of code. I love the content and the format of presentation
Fabricio
February 23, 2022
The course is good for people who begin in the programming world. There is a deprecated function called escape() in the class 19, must fix it.
It was very educational. I wish he had given an assignment to test the skills learnt. Other than that it was great.
It is not for beginners for sure, and it is not worth any money. I was lucky to get it for free, so now I'm frustrated only for wasted 2 hours of my life.
(this course) was quite good, I must admit that I had a hard time keeping up because of the pronunciation issue, but Udemy's AI knew how to put the subtitles well. I would have liked to have more examples and suggested exercises to practice more what I learned.
It is great work by Udemy and the tutor of this course who provide knowledge form scratch. Before starting this course i don't know anything about JS but after finishing half course I feel that I know a lot of thing about JS. document.write("Greate work by Udemy, Keep it up");
It was awesome and very good experience learning in short and meaningfull and I would like to Thank to all you guys for make such a beautiful platform and for teaching such a valuable subject .
El curso es excelente para principiantes. El instructor se preocupa tanto por la explicación como por la aplicación practica. Fue un placer haber participado.
I'm interested on the course, it helps me a lot to understand the basics of java script easily and shortly.
Coupons
| Submit by | Date | Coupon Code | Discount | Emitted/Used | Status |
| --- | --- | --- | --- | --- | --- |
| - | 7/28/2021 | DISCUDEMY | 100% OFF | 40000/1887 | expired |
| - | 7/29/2021 | FREEBIESGLOBAL | 100% OFF | 40000/1421 | expired |
| - | 8/5/2021 | DISCUDEMY.COM | 100% OFF | 40000/8769 | expired |
| Angelcrc Seven | 9/23/2021 | 51A89C3C9A13C73D8DAF | 100% OFF | 40000/6905 | expired |
| Angelcrc Seven | 10/3/2021 | BA599F371C5C0B7AA3DC | 100% OFF | 40000/5105 | expired |
| - | 10/10/2021 | DISCUDEMY.COM1 | 100% OFF | 40000/3903 | expired |
| - | 11/3/2021 | 17995A97C837FF44577B | 100% OFF | 1000/571 | expired |
| chris | 11/19/2021 | B39D518FBC4E74E3C8B5 | 100% OFF | 1000/936 | expired |
| Angelcrc Seven | 12/25/2021 | 84059D29F7267E2326A4 | 100% OFF | 1000/695 | expired |
| - | 12/29/2021 | BC9C0DFD19D0CD9E7B2E | 100% OFF | 1000/768 | expired |
| - | 1/11/2022 | 52BEF574E90392BEA384 | 100% OFF | 1000/976 | expired |
| - | 1/15/2022 | A7C10039DF2F2D552616 | 100% OFF | 1000/866 | expired |
| Ignacio Castro | 2/14/2022 | 442541B165A1884289D4 | 100% OFF | 1000/466 | expired |
| Ignacio Castro | 2/20/2022 | 594535291E36DFA1C3F3 | 100% OFF | 1000/945 | expired |
| Angelcrc Seven | 2/26/2022 | 6F815676E3564067A077 | 100% OFF | 1000/981 | expired |
| - | 3/18/2022 | F1C0FD6114F1BC860EA5 | 100% OFF | 1000/992 | expired |
| - | 4/2/2022 | 7B9C2E164FCDE41E9528 | 100% OFF | 1000/935 | expired |
| - | 4/24/2022 | 39F78CB5BDE28865F85D | 100% OFF | 1000/876 | expired |
| Angelcrc Seven | 4/27/2022 | 6C6CF99DD302851870DF | 100% OFF | 1000/942 | expired |
| - | 5/3/2022 | 48DBDA92AA5D38ECF95D | 100% OFF | 1000/631 | expired |
| - | 5/15/2022 | 77A589B423E595AFF965 | 100% OFF | 1000/981 | expired |
| Ignacio Castro | 5/29/2022 | E315242BA00A96BAE536 | 100% OFF | 1000/845 | expired |
| - | 6/7/2022 | 69DE8E8D3A9AB701E38B | 100% OFF | 1000/728 | expired |
| - | 6/18/2022 | 882D46DA67DF8E50CBE0 | 100% OFF | 1000/958 | expired |
| - | 6/26/2022 | 5297BFDC97A8C4295A81 | 100% OFF | 1000/511 | expired |
| - | 7/15/2022 | D6C25EB1AE05FD4A429C | 100% OFF | 1000/595 | expired |
| - | 7/22/2022 | F7764450BD53A417E8B4 | 100% OFF | 1000/994 | expired |
| - | 7/26/2022 | C32495F5B32B564AB383 | 100% OFF | 1000/905 | expired |
| - | 8/8/2022 | E73B0EF72E9E276A542A | 100% OFF | 1000/988 | expired |
| - | 8/14/2022 | 6CF7645A92442B44E1F0 | 100% OFF | 1000/984 | expired |
| - | 8/23/2022 | 07F6DF0B1A8B5E57217C | 100% OFF | 1000/901 | expired |
| - | 9/6/2022 | EBE5C77206A335A97326 | 100% OFF | 1000/748 | expired |
| - | 9/11/2022 | 56F9F596E7CDDD08EA67 | 100% OFF | 1000/698 | expired |
| - | 9/24/2022 | AAF5945A53218C38E6B4 | 100% OFF | 1000/951 | expired |
| - | 10/13/2022 | 5BAC553A3CC4B44FC367 | 100% OFF | 1000/802 | expired |
| - | 10/22/2022 | FB48ED90A2AA9A0085AE | 100% OFF | 1000/993 | expired |
| - | 10/24/2022 | BE4BD7B6DC5F2B692803 | 100% OFF | 1000/809 | expired |
| - | 11/4/2022 | 61733172B31C1CE8E3D4 | 100% OFF | 1000/919 | expired |
| - | 11/13/2022 | 195EBBCC72E79E68198A | 100% OFF | 1000/985 | expired |
| - | 11/18/2022 | 384A1C02779E47072625 | 100% OFF | 1000/949 | expired |
| - | 12/1/2022 | A3D3E2B97CACC6BBD929 | 100% OFF | 1000/755 | working |
Charts
Price
Rating
Enrollment distribution
7/23/2021
course created date
7/28/2021
course indexed date