JavaScript And PHP Programming Complete Course
Learn JavaScript Programming Language And PHP Programming Language for Frontend And Backend Development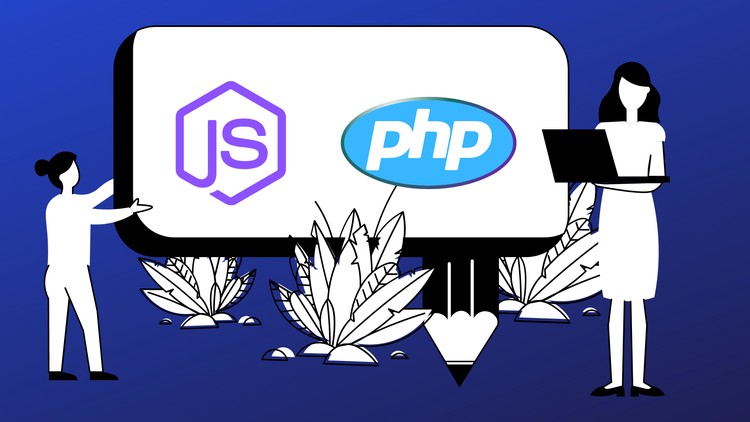 What you will learn
Introduction to Javascript And PHP Programming Language
Getting Started With Javascript Variables,Values and Data Types, Operators and Operands
Write JavaScript scripts and Gain knowledge in regard to general javaScript programming concepts
PHP Section Introduction to PHP, Various Operator types , PHP Arrays, PHP Conditional statements
Getting Started with PHP Function Statements And PHP Decision Making PHP 7 concepts PHP CSPRNG And PHP Scalar Declaration
Description
Learn JavaScript Programming Language And PHP Programming Language for Frontend And Backend Development Course
Section 1- learn javascript programming language
The course is created with thorough, extensive, but easy-to-follow content that you'll easily understand and absorb.

The course starts with the basics, including JavaScript fundamentals, programming, and user interaction.




the curriculum is going to be very hands-on as we walk you from start to finish to become a professional Javascript developer. We will start from the very beginning by teaching you Javascript basics and programming fundamentals, and then execute into real-life practice and be ready for the real world.




while Javascript is complicated for beginners to learn, it is widely used in many web development areas.

this course gets you started with an introduction to JavaScript. It assumes that you're new to the language, so it gets you started with basic functionality such as creating functions, creating variables, and calling these lines of code from your standard HTML pages. It talks about events and triggers for custom event handling. It talks about pattern matching, searching for text within a page, flow control, and the document object model (DOM). We start off with the basics and move on to more complex functionality such as arrays and objects. We then discuss how to script common elements with JavaScript such as forms and tables. At the very end, we discuss major libraries such as Ajax, which allows you to make asynchronous calls to server-side scripts without reloading the web page in the server.

Master the fundamentals of writing Javascript scripts

Learn core Javascript scripting elements such as variables and Objects

Discover how to work with lists and sequence data

Write Javascript functions to facilitate code reuse

Use Javascript to read and write files

Make their code robust by handling errors and exceptions properly

Search text using regular expressions

The topics covered in this course are:

* javascript course contents:

Javascript introduction

Javascript array

Javascript variables

Javascript functions

Javascript objects

Javascript control statements

Javascript cookies

Javascript loop statements

Javascript data structures

Javascript error handling

Javascript regular expressions





section 2- learn PHP programming language

This section will learn the basic structure of a web application and how a web browser interacts with a web server. You'll be introduced to the request/response cycle, including GET/POST/Redirect. You'll also gain an introductory understanding of Hypertext Markup Language (HTML), as well as the basic syntax and data structures of the PHP language, variables, logic, iteration, arrays, error handling, and superglobal variables, among other elements.




The topics covered in this PHP course are:




PHP various operator types

PHP arrays

PHP conditional statements

PHP loops

PHP function statements

PHP decision making

PHP file Input and Output

PHP web concepts

PHP MySql API

PHP CSPRNG

PHP scalar declaration

and more..



Content
JavaScript Complete Course
JavaScript Introduction
JavaScript Array
JavaScript Variables
JavaScript Conditional Statement Introduction
JavaScript If Else Statement.
JavaScript Iteration Statements
JavaScript for Loop
JavaScript While Loop
JavaScript Do..while loop
JavaScript Loop Control Statements
JavaScript Switch Statement
JavaScript Operators
JavaScript Logical Operators
JavaScript Comparison Operators
JavaScript Functions
JavaScript Events
JavaScript Error Handling
JavaScript Cookies
JavaScript Animation
JavaScript Objects
JavaScript Page Redirect.
Section 2- PHP Complete Course
PHP Basic Syntax
PHP Web Concepts.
PHP Console Input And Output
PHP Arithmetic Operators
PHP Comparison Operators
PHP Assignment Operators
PHP Conditional Operator'
PHP Function Statements
PHP Break Statement.
PHP Continue Statement
PHP Decision Making
PHP While Loop
PHP For Loop
PHP MySql API
PHP MySqli API.
PHP Inheritance.
PHP Class And Object
PHP Anonymous Class
PHP Cookies
PHP File Input And Output
PHP Error Handling
PHP Exception Handling
PHP GET And POST Method
PHP CSPRNG
PHP Scalar Type Declaration
PHP Null Coalescing Operator
PHP Spaceship Operator
PHP Polymorphism
PHP Sessions
Reviews
Because i think if there is more example about any methods or functions or anything in this corse that will be so cool
Amazing Coverage of all minor details need to be known by a beginner. Also very interactive instructor. No scope of improvement indeed required in this course. Anyone interested should definitely enroll it soon...
The "JavaScript And PHP Programming Complete Course" is an excellent choice for beginners looking to learn both JavaScript and PHP programming languages. This course provides a comprehensive introduction to both languages and covers the fundamentals, syntax, and key concepts needed to get started. Here are some reasons why this course is highly recommended for beginners: Comprehensive Content: The course covers a wide range of topics in both JavaScript and PHP, ensuring that you have a solid understanding of the basics and can confidently start building applications. Structured Approach: The course follows a well-structured curriculum, starting with the fundamentals and gradually progressing to more advanced concepts. This approach makes it easier for beginners to grasp the concepts and build upon their knowledge. Hands-on Examples: The course includes numerous practical examples and coding exercises to reinforce your understanding of the concepts. This hands-on approach is crucial for beginners to gain practical experience and apply what they've learned. Clear Explanations: The instructor provides clear and concise explanations of the concepts, making it easier for beginners to follow along. The course avoids overwhelming technical jargon, ensuring that newcomers can understand the material without feeling lost. Real-World Applications: The course demonstrates how to apply JavaScript and PHP to real-world scenarios, such as building interactive web pages and handling form submissions. This practical focus helps beginners see the practical applications of what they're learning. Supportive Instructor: The instructor is responsive to student questions and provides helpful guidance throughout the course. This level of support is beneficial for beginners who may have questions or encounter challenges along the way. Overall, the "JavaScript And PHP Programming Complete Course" is highly recommended for beginners seeking a solid foundation in both JavaScript and PHP. By completing this course, you should have a strong understanding of the basics and be ready to tackle more advanced concepts and projects.
This is the barest of introductions to JavaScript and PHP syntax and does nothing to go into concepts or architecture. The PHP chapters are presented completely out of order, so concepts are dependent on lessons that haven't been learned yet. The code examples are very inconsistent in their use of white space and tabbing rendering some of them very difficult to read.
Yes, In this session I have understand array concept and How can arrange the array in increasing and decreasing order.
Coupons
| Submit by | Date | Coupon Code | Discount | Emitted/Used | Status |
| --- | --- | --- | --- | --- | --- |
| - | 2/19/2022 | B632E60FCD70BA7F7770 | 100% OFF | 1000/709 | expired |
| - | 2/23/2022 | 9DC8BA461438079A04F8 | 100% OFF | 1000/913 | expired |
| - | 3/3/2022 | 26CC900ACB6E049E40F5 | 100% OFF | 1000/910 | expired |
| - | 3/8/2022 | EA8CF9D55DD0F21EDB78 | 100% OFF | 1000/956 | expired |
| - | 4/16/2022 | 553F352FEE01450EFD3B | 100% OFF | 1000/734 | expired |
| Angelcrc Seven | 4/22/2022 | D4AB9F03F3E2B910A852 | 100% OFF | 1000/949 | expired |
| - | 5/7/2022 | E8010A85DE9EA2C2B397 | 100% OFF | 1000/822 | expired |
| - | 5/12/2022 | C263051F73773A2A1790 | 100% OFF | 1000/873 | expired |
| CIH99x | 5/21/2022 | D8CE89DA07EB43FF3750 | 100% OFF | 1000/894 | expired |
| - | 6/2/2022 | 8D4CDDCEBB25F0AAEDBE | 100% OFF | 1000/926 | expired |
| CIH99x | 6/14/2022 | 124556ECBCB7F24ECE15 | 100% OFF | 1000/928 | expired |
| - | 6/18/2022 | 6D082A4B95D2449794B8 | 100% OFF | 1000/977 | expired |
| - | 7/2/2022 | 7C94C89C6842FF25CCC6 | 100% OFF | 1000/634 | expired |
| Angelcrc Seven | 7/11/2022 | 8546138AEE6A8FF4C0A6 | 100% OFF | 1000/980 | expired |
| - | 7/24/2022 | 9244DCF5550931CD35B7 | 100% OFF | 1000/899 | expired |
| - | 8/5/2022 | 7A246B6A584F46E16017 | 100% OFF | 1000/978 | expired |
| - | 8/10/2022 | 1932718A21053051D82A | 100% OFF | 1000/732 | expired |
| - | 9/2/2022 | E192EA379122C9F9A443 | 100% OFF | 1000/784 | expired |
| - | 9/14/2022 | 3E315BAF02606FD3C913 | 100% OFF | 1000/949 | expired |
| - | 9/19/2022 | 55D91241499B95FC8DBF | 100% OFF | 1000/946 | expired |
| - | 10/2/2022 | 58A8099E5A2560C89F21 | 100% OFF | 1000/837 | expired |
| - | 10/10/2022 | F386EBA364BE05113603 | 100% OFF | 1000/865 | expired |
| - | 10/21/2022 | 10094A14F5C124B571A3 | 100% OFF | 1000/936 | expired |
| - | 11/2/2022 | 676DB10A9608CB4323AC | 100% OFF | 1000/990 | expired |
| - | 11/10/2022 | 82ADCE6B70EA6C5EF1C6 | 100% OFF | 1000/991 | expired |
| - | 11/23/2022 | 9F109719D4347C44820A | 100% OFF | 1000/970 | expired |
| - | 12/4/2022 | 5F2D331357CB4CF00E1B | 100% OFF | 1000/995 | expired |
| - | 12/10/2022 | 3A3690619083989B480F | 100% OFF | 1000/947 | expired |
| Ignacio Castro | 12/24/2022 | 8B3E17769D7A2F9160A6 | 100% OFF | 1000/813 | expired |
| - | 1/4/2023 | BF2D88FB56FF8B885522 | 100% OFF | 1000/981 | expired |
| - | 1/15/2023 | 211E71D255AC7F3EC947 | 100% OFF | 1000/836 | expired |
| - | 1/28/2023 | 323100FBE7DBC81DDBFF | 100% OFF | 1000/729 | expired |
| - | 2/2/2023 | 584BB89D14CE579E3487 | 100% OFF | 1000/894 | expired |
| - | 2/25/2023 | 3152506E4C9934999ED8 | 100% OFF | 1000/964 | expired |
| - | 3/2/2023 | F2CA63643B4D2AA31019 | 100% OFF | 1000/711 | expired |
| - | 3/15/2023 | B19A663A1B61586C06C8 | 100% OFF | 1000/727 | expired |
| - | 3/20/2023 | 0C71FC822F84EF3D3024 | 100% OFF | 1000/939 | expired |
| - | 4/6/2023 | 6BC6C74F597CCD9182B1 | 100% OFF | 1000/987 | expired |
| - | 4/16/2023 | 11BB5F376D136615DA61 | 100% OFF | 1000/880 | expired |
| - | 4/26/2023 | 585E5A8C1F23033F191B | 100% OFF | 1000/964 | expired |
| - | 5/1/2023 | 94EFAE674245E101FC74 | 100% OFF | 1000/988 | expired |
| - | 5/18/2023 | 8E6FE6B262A5B7588C2B | 100% OFF | 1000/989 | expired |
| - | 5/22/2023 | 2CC441FC49884DC47898 | 100% OFF | 1000/917 | expired |
| - | 6/2/2023 | C355FFA7C8FCE09DDB55 | 100% OFF | 1000/993 | expired |
| - | 6/13/2023 | 8E879DE06D877ECEE1E6 | 100% OFF | 1000/970 | expired |
| - | 6/21/2023 | 870426691FB7419953D5 | 100% OFF | 1000/980 | expired |
| - | 7/10/2023 | 2C64908156CF0E7F61A4 | 100% OFF | 1000/994 | expired |
| - | 7/15/2023 | BF00C96AC5E5047E280D | 100% OFF | 1000/696 | expired |
| - | 7/21/2023 | 452352458E582CAE49D8 | 100% OFF | 1000/951 | expired |
| - | 8/3/2023 | 90229504D4462116BC42 | 100% OFF | 1000/909 | expired |
| - | 8/13/2023 | D170E191518AE1214886 | 100% OFF | 1000/921 | expired |
| - | 8/21/2023 | 51ADF2EF81180D9336C1 | 100% OFF | 1000/765 | expired |
| - | 9/2/2023 | 5E7C81E4CB83E2D851A8 | 100% OFF | 1000/938 | expired |
| - | 9/11/2023 | C7DD603850C795F40D91 | 100% OFF | 1000/842 | expired |
| - | 9/22/2023 | EA1668240C4D77F795D1 | 100% OFF | 1000/924 | expired |
| - | 10/19/2023 | 30BB9A4883EED3708B90 | 100% OFF | 1000/918 | expired |
| - | 10/27/2023 | 21C6E25F1F5136B10BE0 | 100% OFF | 1000/945 | expired |
| - | 11/5/2023 | FB120CF4BEC63F62E1B1 | 100% OFF | 1000/739 | expired |
| - | 11/20/2023 | 3DEAA1FE6B351ECA92EE | 100% OFF | 1000/704 | expired |
| - | 11/28/2023 | 3B597398330ACEB61333 | 100% OFF | 1000/939 | expired |
| Kevin2001 | 12/1/2023 | D45597553EA5240CD0C5 | 100% OFF | 1000/872 | expired |
Charts
Price
Rating
Enrollment distribution
2/15/2022
course created date
2/19/2022
course indexed date
ANUBHAVJAIN
course submited by