Introduction to Hybrid Meetings
Make Hybrid Meetings Work for Everyone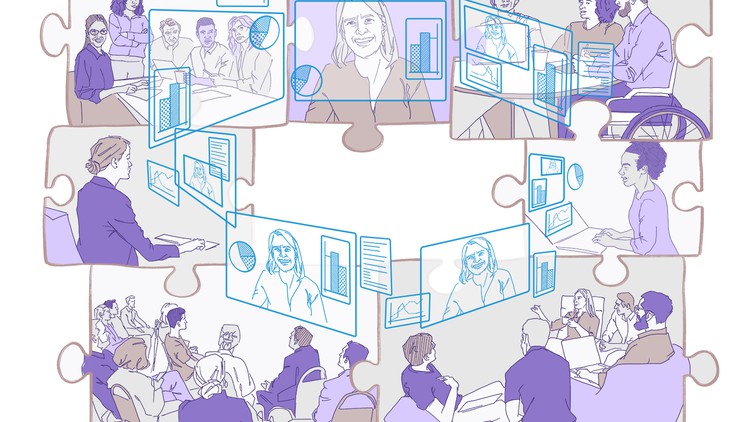 What you will learn
Learn about the key elements which make a good hybrid meeting
Explore some of the challenges and difficulties that come with the delivery of hybrid meetings
Find out about some of the strategies and tools to help you support and facilitate successful hybrid meetings
Reflect on the actions you can take in your context to improve hybrid meeting delivery
Consider the factors that make Work Places and Local Communities Work
Description
Allowing staff to combine working in the office and working remotely has brought a lot of flexibility into our lives. But it has also added complexity to the way we work and communicate with each other. Make sure you're ready to go for hybrid meetings in your organisation with this 1-hour course.
In this course we will look at some of the key considerations of hybrid meetings and why they are an important part of our workplace capabilities now and in the future. We will explore some of the common challenges that we might face when participating in and facilitating blended/hybrid meetings and we will offer some tried and tested tools, strategies and approaches to support you in delivering your own successful hybrid meetings.
This course aims to…
Highlight some of the specific challenges of conducting good hybrid meetings

Introduce strategies and tools for delivering successful hybrid meetings

Provide an opportunity for you to reflect on the actions you can take in your context to improve hybrid meeting delivery
We are passionate about the changes that are coming about due to the changing nature of how we work. The technical challenges of running blended environments well, will mean that humans will have to think, prepare, and collaborate more to make blended meetings effective for all participants, whether they are in a room with colleagues or joining in remotely. This is all an opportunity. It is inevitable. We expect the reality will be that over the next couple of years the change in culture will be bumpy. We want to make that smoother. We want equality and parity of esteem. We want to live and work within the resources of 1 planet. We want that now... and meantime this shift is part of that jigsaw.
Content
Introduction
Introduction
How to use this course
Why hybrid meetings?
What are hybrid meetings?
Why hybrid meetings and why are they a blend?
The advantages of hybrid meetings
The challenges of hybrid meetings
What makes hybrid meetings so complex?
What are your frustrations with hybrid meetings?
What are your frustrations with hybrid meetings?
Making PlacesWork
What is PlacesWork all about.
What is PlacesWork about?
Experiencing hybrid meetings
Features of hybrid meetings
Making participation possible to all.
Making a meeting visible
Choosing easy shared documentation
Having a second colleague hosting the meeting from remote perspective.
Using multiple camera angles so that everyone is visible
Facilitating both those in the room and those remote at same time.
Treating humans as full bodied people.
Thinking about the camera angles as to what is being communicated.
Thinking about the principles in action.
Top principles of hybrid meetings
An overview of the top principles of hybrid meetings
Getting the principles right
Recognising engagement
Allocate responsibilities
Embed positive culture
Selecting technology and tools
Visibility
Review and adapt
Reflecting on your learning
Challenges of hybrid meetings - review
Next steps...
Congratulations! Here's what's next...
More resources for you
Bonus lecture
Reviews
Really helpful course especially around the ladder of actions and the 5 D's. I really enjoyed this course and it will help with a lot of the community group meetings I have that are Hybrid
This was a really interesting free course, I'm intrigued to learn more in the other courses on hybrid working
A very helpful overview. Particularly useful as I have recently moved into a role in which hybrid meetings take place, and this is new to me. Some great advice about how to get the most out of them. Simple advice that will be straightforward to try. Thank you.
This was extremely helpful. I have found running hybrid meetings stressful and got some great info out of this course.
This has opened my eyes to how the hybrid format should be and can be. Wow it seems all a lot more possible, practical and achievable.. I recommend this to all trainers and facilitators. This is core professional practice. I'm on to the next courses by PlacesWork. Thank you Duncan
Excellent course, really helped me understand hybrid meetings and I recommend this course to everyone who is touched by these issues.
This course helped alleviate my fears of Hybrid Working, and gave me great hints and tips on what to do and what not to do. It was very enjoyable!
The course is a very good introduction to all the things we need to think about and do differently when planning and leading or participating in blended or hybrid meetings. This is very important skill to start to explore in this new world. Looking forward to doing the more advanced course next.
This course was an excellent comprehensive introduction to the considerations in relation to running hybrid meetings. This knowledge has increasing value in today's working environments and this course presents the information in a clear, concise, easy to understand format that uses a range of text, images and video to enhance the learning experience.
Enlightening and really made me consider all the issues around hybrid meetings - great contributor thoughts too.
The course is clearly presented, filled with good insight and helping me learn more about a very topical issue and challenge in today's world of blended working and collaboration.
This is very relevant to me given the amount of online and blended facilitation and influencing I need to do in my day to day work. A good introduction with lots of key points to consider (many I hadn't thought of before). Nice, short, and well presented film clips make this easy to digest. Looking forward to taking the more in-depth course on how to run them.
This is a helpful introduction covering issues to consider when setting up hybrid (or blended) meetings. Although I had thought about the potential benefits to the planet, I had not considered the potential positive impacts on communities. Looking forward to exploring the issues in more depth in the next course.
Great course - some really key concepts. A lot to remember, but we'll presented, clear and concise. Thanks.
Superb course. I now know how to setup a meeting with users in multiple locations and make it fully interactive, no mean feat. Well done!
Charts
Price
Rating
Enrollment distribution
5/6/2022
course created date
6/19/2022
course indexed date