Integrate agora for streaming and video calling in flutter
Live Streaming with reactions and video calling with push notifications using agora in flutter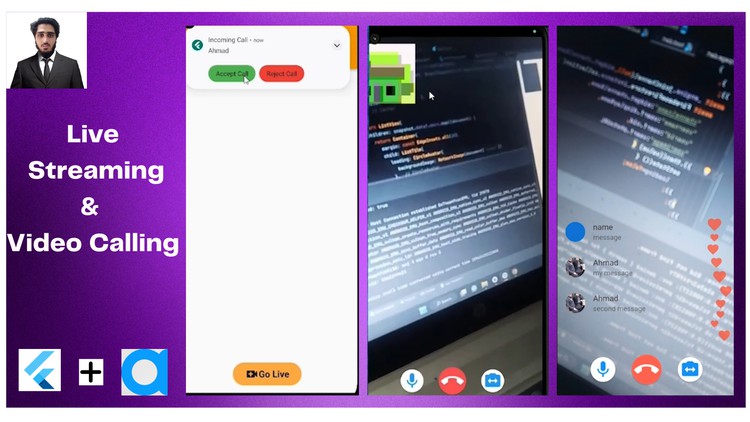 What you will learn
How to integrate Live streaming like instagram and video calling with push notifications using agora in flutter
How to use Real time messaging (Signalling) in agora
Video Calling notifications using Firebase Messaging in flutter
How to use Firebase Firestore to store user data
Description
This course is about integrating live streaming and video calling using agora API in flutter. It has two main features live streaming and video calling.
1. In live streaming, when a broadcaster goes online then we are showing his/her data to all other users in the form of a card in homepage of the app with the image of the broadcaster and his/her name. When other user (audience) taps on the card he/she can join the streaming of that user and the audience can comment and can react to the streaming. Comments scrolling feature is also there. Like when a new comment adds then comments scroll to the last comment automatically.
2. In video calling, there is a list of the users with phone icon button in trailing, to whom someone want to call. When caller taps on the phone icon button, then notification is sent to that user. Who will receive the push notification with with two action buttons "Accept Call" and "Reject Call". If he/she clicks on "Accept Call" button then both users can communicate with a video call. If he rejects the call then the call will be rejected.
App is connected to the firebase for authentication of the users and to use firebase firestore database to save users data. Firebase Cloud Messaging (FCM) is used for push notifications.
Content
1_Get Started
1_demo
2_introduction
3_setting_environment_homepage
2_Live Streaming
1_working_on_host_side
2_working_on_audience_side
3_Comments and Reaction
1_comment_textfield
2_agorartm_comments
3_adding_heart_reaction
4_scrolling_comments
4_firebase_integration
1_firebase_connection
2_authentication_firebase
3_working_on_usercard
4_working_push_notifications
1_retreiving_users_from_firebase
2_video_calling_push_notifications
6_small_touchups
Charts
Price
Rating
Enrollment distribution
1/19/2023
course created date
2/6/2023
course indexed date