Filmmaking Bootcamp: How to Direct a Feature Film in 24hrs
Learn How to Make an Indie Feature Film! Your Filmmaking, Video Production & DSLR to the Next Level. Film School Online.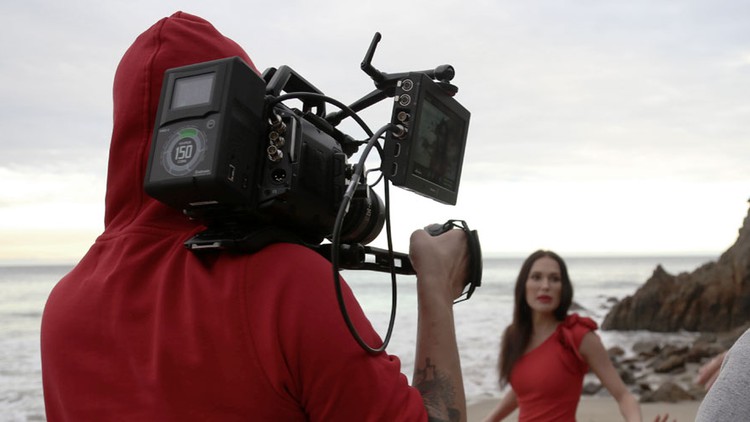 What you will learn
You will acquire the building blocks and the insider knowledge of how we shot a feature film
How to plan an improvised film from the very first steps such as story concept and casting, right through to how to shoot, promote and attract sales.
How to plan, schedule and work with your cast and crew to make the shoot as efficient as possible and achieve so much in so little time.
A unique and quick turnaround approach to filmmaking that will give you the know-how and confidence to go out and get your own film made.
Description
Join over 60,000 students learning from our courses!
Making a feature film does not require a script. Nor does it have to take years, months, or even weeks. Learn how to take your ideas and get your film made right now.
Do you have a feature film inside of you just dying to get out? Don't know where to start? Do you think you need millions of dollars to make a feature film? The answer is NO you don't. Would you like to learn how to make a feature film in 24 hours and actually sell it as well?
In this informative 'how-to' course, award-winning independent filmmaking duo, Sarah Jayne and Ivan Malekin from Nexus Production Group, take you through ten chapters, covering every step they took to plan, shoot and market their first improvised feature film Friends, Foes & Fireworks, which they shot in a single night over New Year's Eve. This is an inside look with nothing held back, from success to mistakes and everything we learned along the way, and which we now share with you so you too can get your feature film made right now.
They DON'T teach you this in Film School!
Mike Leigh is a Palm d'Or winning director famed for his improvisational approach.

Joe Swanberg has built an 18-year career on improvisation, culminated in a series on Netflix.

Improvised filmmaking is a captivating and immersive filmmaking process known for its quick turnaround time.

So quick, in fact, you can film your idea in a single night.
And that is exactly what Ivan Malekin and Sarah Jayne did, filming their ambitious feature Friends, Foes & Fireworks, entirely improvised, in one night, on New Year's Eve.
---------------------------------------------------------------------------------------------------------------------------------
"In an era of superhero blockbusters and feel-good schmaltz, this is a rare, truthful film. Don't miss it." - Mary Costello, Audience Member, Melbourne Cinema Release.
So if you are an aspiring filmmaker who wants to not only get their films made now but sell them too, and utilize a low budget, but high production value approach - one that is unique, innovative, and proven to be successful - then this online filmmaking course is just what you need!
This course includes:
2.5 hours of talk-to-camera discussions about the entire filmmaking process - from concept to planning to film to post to distribution - divided into 10 lessons.

Behind the Scenes videos, pictures, and scenes from the film demonstrating discussed techniques

Supplementary resources like outlines, character backgrounds, call sheets, dialogue and action beats, schedules, and character audition videos for Friends, Foes & Fireworks

Full lifetime access

Mobile access
---------------------------------------------------------------------------------------------------------------------------------
This course will cover:
CHAPTER 1. IDEAS & OUTLINE
In this chapter, you will learn how we found our inspiration and how you can find yours. We also take you through the first steps of building the story for the film, how we work with the actors, and how to do this without a script. Topics covered:
How we Think of Ideas

Location & Character Inspiration

Outline

Character Backgrounds

Scene Descriptions

Script vs Improvisation
CHAPTER 2. CASTING
In this chapter, you will learn how we tackled casting and what we look for in actors, how to use social media for casting calls, plus insights into the audition and selection process. Topics covered:
How We Find Actors

Our Audition Process

How We Choose Our Cast
CHAPTER 3. CREW & EQUIPMENT
In this chapter, you will learn about crewing for an improvised feature film, what equipment you will require and the crewing positions we utilized, plus other crew roles you need to consider. Topics covered:
Crew Positions We Use

Additional Crew Positions

Finding Crew

Our Equipment
CHAPTER 4. REHEARSAL
In this chapter, you will learn about the in-depth process for rehearsals we created to help everyone prepare for the shoot, all without a script. Everything from meetings with the actors, to ice-breaking games, right through to how we recreated character history to give our actors grounding and shared truths to draw upon. Topics covered:
Our Rehearsal Process

One on One Meetings

Actor on Actor Meetings

Group Meetings

Improvisation Games

Recreating History
CHAPTER 5. FINAL PREPARATION
In this chapter, you will learn how to go into an improvised shoot as prepared as possible. We will cover everything we did before shoot day to get ourselves and our cast and crew ready, which you can do too. Topics covered:
Schedule

Catering

Transportation

Locations

Dialogue & Acton Beats

Call Sheets
CHAPTER 6. THE SHOOT
In this chapter, you will learn how to take everything you have prepared and turn it into action. We talk about on set etiquette and how we worked with our cast and crew to capture the footage needed, keep the story on track and the schedule on time, and draw the best possible performance from the actors. Topics covered:
Welcoming the Team

Working Efficiently

Shot Setup

Takes
CHAPTER 7. TROUBLESHOOTING
In this chapter you will learn about a number of things that can and will go wrong when shooting any film - improvised or not - and how to work to correct these errors. Through experience and hindsight, we talk about how to avoid mistakes on set and correct those mistakes in post-production that you couldn't avoid. Topics covered:
Coverage

Continuity

Overlapping Dialogue

Cameras in Shot

Reflections & Shadows

Security
CHAPTER 8. POST PRODUCTION
In this chapter, you will learn how to move from the shooting stage into the many phases of post-production. We will discuss all the necessary steps that need to be taken right through from editing the footage to sound design to the final touches needed to complete the film. Topics covered:
Editing

Sound Design

Visual Effects

Automatic Dialogue Replacement

Colour Grade
CHAPTER 9. MARKETING & DISTRIBUTION
In this chapter, you will learn how to distribute and sell your improvised film. We talk about the importance of marketing within the early stages, how we marketed our film, and what you can do to gain an audience for your film, and the steps you can take to sell your work. Topics include:
Website

Social Media

Poster

Distribution Streams

Sales Agents & Aggregators

Film Markets
CHAPTER 10. LEGALITIES
In this chapter, you will learn about the important legal things that you need to consider as a filmmaker. This may be the boring stuff, but not getting this down can jeopardize your shoot or even your film's future prospects. We will take you through the basics, covering everything from the contracts and permits, right through to discussions on logos and branding, plus more. Topics include:
Contract

Deferred Payment

Clearing Music

Permits

Public Liability Insurance

Logos & Brands

People in Background
---------------------------------------------------------------------------------------------------------------------------------
What people are saying about our courses:
"By far, the best director and cinematography course on the Internet." - Nate Carroll
"I really enjoyed taking this class. It wasn't just that the subject was interesting to me, but the teacher also made the class intriguing. I would gladly recommend this class to anyone who would be interested." - Leah Ames
Very helpful. Adds depth to your understanding and intuitive insights which you surely had if you happened to play with video shooting and editing without doing any learning beforehand. It's enriching. The movie samples are great as the clarify the points. Love it! - Yosi Tsitsu
---------------------------------------------------------------------------------------------------------------------------------
So what are you waiting for? Whether you are fresh out of film school, a screenwriter who wants to create his/her own content or just someone who wants to make a feature film this course is for you. Join over 25,000 students that have already taken Indie Film Hustle filmmaking and screenwriting courses.
If you've got the dream.
If you've got the drive.
If you've got the passion - but you're missing the knowledge and experience...this course will help you make your feature film into a reality.
Enroll NOW and learn how to make a low budget feature film! Let's get started!
Content
Let's Make a Movie
Lesson 1: Ideas and Outlines
Casting
Lesson 2: Casting
Casting Tape: Fiona
Casting Tape: Sofia & Zoe
Casting Tape: Lucinda & Summer
Pre-Production
Lesson 3: Crew Positions We Used
Lesson 3a: Additional Crew Positions
Lesson 3b: Finding Crew
Lesson 3c: Equipment and Gear
Lesson 4: Rehearsal
Lesson 5: Final Prep
Lesson 5a: Scheduling and Catering
Lesson 5b: Dialog Beats and Call Sheets
The Production
Lesson 6: The Shoot
Lesson 6a: Shot Set Up and Reviewing Takes
Lesson 6b: Working Efficiently
Trobleshooting
Lesson 7: Coverage and Continuity
Lesson 7a: Overlapping Dialogue
Lesson 7b: Cameras in the Way and Security
Post Production
Lesson 8: Editorial
Lesson 8a: Sound Design and ADR
Lesson 8b: Color Grading and Visual Effects
Marketing and Distribution
Chapter 9 - Marketing
Chapter 9a - Poster
Chapter 9b - Distribution and Film Markets
Official Trailer: Friends, Foes & Fireworks
Final Thoughts
Lesson 10: Legalities
BONUS: What DO You Want to Learn Next?
BONUS: Indie Film Hustle Podcast
How to Shoot an Indie Feature Film in 24 Hours with Ivan Malekin
How to Shoot a $5000 Feature Film
Ed Burns and How to Shoot a Micro-Budget Feature Film
The Art of the $6000 Feature Film
Reviews
Picked up a lot of great tidbits both from the course and the podcast that I hope to use as I inch toward my own project.
Have sat through the first two lectures. Pros: I respect the fact that these presenters have finished short films to their credit and that in itself is an achievement. But they fall short in being effective and engaging presenters. Cons: The production values are (to put it lightly) sub-optimal (especially the audio). The presenters just sit on a couch and drone through very dry and drab material without any inflection or emphasis. Bottomline: Don't get me wrong! Great material and presentation can transcend the production values, but this particular course so far has been lacking in any engagement or value... so far.
This course is an inside look into the filmmaking process that the instructors went through on their film and I commend them on such a difficult task - shooting a feature in one night is quite a feat. Lots of great tips about filmmaking in general and how to speed up the process on set which I liked. You can tell the instructors have a lot of experience and their passion shines through and I like how they are honest and say what did work and what did not work. The troubleshooting chapter was really interesting too - great insights. I recommend this course to any indie filmmaker and anyone wanting to shoot a film on a low budget with a small crew. The videos and extra materials provided really helped too.
It was hard to stay focus during this course. As an indie filmmaker, I'm all about supporting my fellow artists and filmmakers but this isn't what I thought it would be. It's more of a relaxed hindsight "commentary" about the general processes and overviews the filmmakers experienced during the production of their improvised movie with some "b-roll" of the movie and BTS scenes tossed in. I forced myself to finish a few modules but felt my time was better served watching other courses. I think this would have been better if more time was used to plan the course and execute it differently, but it appears to be affiliated with Indie Film Hustle and it appears that these courses are being "cranked out".
5/4/2018
course created date
11/20/2019
course indexed date