Personal Communication-Introduce Yourself With Confidence
You can appear confident and memorable when introducing yourself in business and networking events
Personal Brand Building
category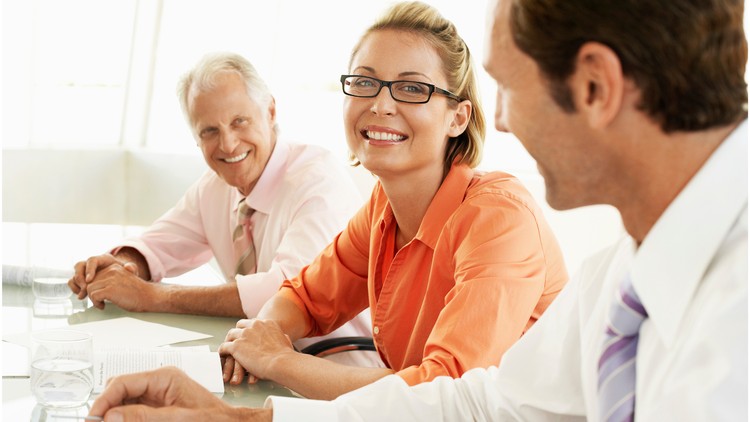 What you will learn
Introduce yourself in any business or networking event
Appear relaxed when introducing yourself
Make a positive impression when introducing yourself
Description
Imagine that every time you introduce yourself, you know you are coming across as completely confident, comfortable and memorable. You will never again have to worry about what to say or how you come across.
How to Introduce Yourself
In this "How to Introduce Yourself" course you will learn how to avoid the awkwardness and tediousness displayed when many people introduce themselves. You will be taught how to appear to be confident, comfortable and relaxed when standing to introduce yourself, and you will know how to say something interesting and memorable to the other people in the room. Once you learn these skills, you won't just appear to be confident; you actually will be confident. Your days of being nervous and uncomfortable about the prospect of introducing yourself will soon be over.
Enroll in this course today.
There is a 100% Money-Back Guarantee for this course. And the instructor also provides an enhanced guarantee.

TJ Walker has more than 100,000 course enrollments from more than 14,000 online students around the globe.
What others say:
"TJ Walker's single-minded devotion to presentation has made him the #1 expert for executives seeking guidance on speaking to the public and media." Bob Bowdon, Anchor/Reporter, Bloomberg Television
"TJ Walker is the leading media trainer in the world." Stu Miller, Viacom News Producer
(TJ Walker's Media Training Worldwide) "The world's leading presentation and media training firm."Gregg Jarrett, Fox News Channel Anchor
Content
You Will Give a Great Self-Introduction, Every Single Time
The Secret to Introducing Yourself
You Will Avoid doing These Things At All Costs
This Is The Right Way for You
Please Introduce Yourself
Practice Only Helps If You Practice the Right Way
Here is the Single Most Important Thing to Do - 1st Video Rehearsal
Exciting New Update to this Course
2nd Video Rehearsal
3rd Video Rehearsal
Friend Feedback
Housekeeping Matters
7 Steps For Getting the Most Out of this Course
Who is TJ Walker?
$10,000 Guarantee This Course Will Make You a Better Communicator
Your Questions Will Be Answered Here, In Video
Update - You Should Get on the TikTok App Now
Conclusion
Conclusion
Time to Give TJ a Piece of Your Mind
Here Is How You Can Get your Certificate of Completion for this Course
Bonus Lecture
Reviews
Die empfohlene Struktur der Selbstvorstellungen und die Erinnerung daran, dass nur Übung den Meister macht.
Oluwatobiloba
January 26, 2021
Yes, I always introduce myself the way he did in what to avoid doing. Thanks , I now what what and what not to do.
Perfect Course ! TJ Walker has a lot of experience in the domain of public speaking. Just do the exercices!
Hii, I'm Saumya Ranjan Behera. I am from India. Thanks for this course. It motivated me to speak & introduced me out of my comfort zone. Thank You
Good course but should also consider scenarios related to regular employees. All examples are from perspective of people running their own business.
This course really helpful for understand what is self introduction and how do to without any nervous.
This course made me think about improving myself in many ways and gave good tips how to introduce myself better. I liked so much.
Aleksandar
September 4, 2017
I travel to give training to Customers buying our products. So far, tried just a few things from the TJ Walker course and they indeed work!! For example, introducing myself by not teling my name first, could be a weird thing to do, BUT Customers do not even notice the inverse order and I feel that I get their attention to the subject quicker Thanks.
Thank you so much for this course, great insights and the extra content. There is not much I would provide feedback besides perhaps having a few extra chapters with speaker styles and how we can adapt to different audiences? For example, techniques on how to approach large or media audiences and small groups presentations and networking events. Once again thanks for the course! Best Regards, Thiago Coutinho
This course does exactly what it says on the tin. As long as you follow the instructions and really do it then you're sure to be perceived as something better than before you did this course.
Liked the course of all but I find it repetitive and the 2nd half. The .pdf resources are really excellent and well done (specially the first one)
It's really simple and effective, but not a lot of people know how to do it. I've really enjoy the simplicity and the practical aspect of the course. Surely I will recommend others to take this course. Thai
I really like TJ Walker's way of introduction. It is really smart way of introducing ourself. Thank you very much.
but this has always stumped me, until now. I took the course and followed the instruction of recording myself and I feel uber confident now to introduce myself in a way that it interesting (even to me).
Good practical advice on how to introduce yourself with exercises that you can immediately apply. The content seems identical to the "elevator pitch". Nonetheless, still valuable use of time. The books provided at the end of the course are a nice value added service
Coupons
| Submit by | Date | Coupon Code | Discount | Emitted/Used | Status |
| --- | --- | --- | --- | --- | --- |
| - | 10/29/2020 | C1DA326C0525CE2CE591 | 100% OFF | 40000/7247 | expired |
| - | 11/23/2020 | E08C88514A9DDD27437A | 100% OFF | 40000/5498 | expired |
| - | 1/25/2021 | BD1898684BFC3382D23A | 100% OFF | 40000/4379 | expired |
| - | 2/22/2021 | 58697184E9388B7B2064 | 100% OFF | 40000/3694 | expired |
| - | 12/16/2022 | 43F0E42FE5A2CEAFDE9B | 100% OFF | 1000/890 | expired |
| - | 12/25/2022 | AE0ABBDA1F9E4C0FD032 | 100% OFF | 1000/979 | expired |
| - | 7/22/2023 | 4160C2F9D2F9076F1234 | 100% OFF | 1000/965 | expired |
| - | 8/19/2023 | 284ADE5CF874B8B385D7 | 100% OFF | 1000/756 | expired |
| - | 11/29/2023 | 03FC2F218328AE2510C2 | 100% OFF | 1000/659 | expired |
Charts
Price
Rating
Enrollment distribution
11/19/2014
course created date
10/29/2020
course indexed date