The Guide to Freelancing in the Modern Gig Economy
Freelancing Masterclass - The Thorough Guide to Profitable Freelancing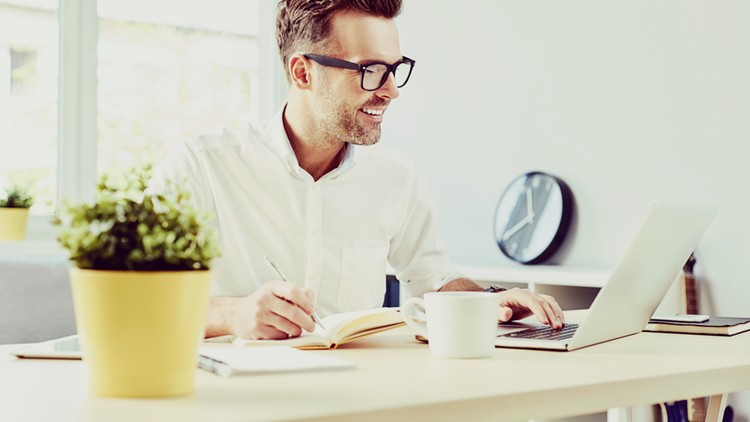 What you will learn
Create and build a successful freelance business
Give yourself a raise-every year
Create a benefits package for yourself
Build a career for yourself better than any corporate position
Create long-term economic stability without fear of ever getting fired
Description
Freelancing is the future. Imagine having complete career independence where you set your own pay and work on your own terms. In the modern gig economy everybody either already is or soon could be a freelancer. The only question is, will you create a true freelancing business that supports your financial, professional and personal goals? Or will you slip into a reactive, low-paying, hand-to-mouth freelancing ghetto that many succumb to?

There are as many types of freelancing businesses as there are types of cars. Are you going to settle for the 20 year old jalopy or the brand new Maserati?
This course will teach you how to establish a strong foundation for your freelancing career so that you can continually grow, increase fees, attract better customers and clients, and command respect from all you deal with.
Whether you are an accidental freelancer or one entering the field on purpose, this course will provide you with shortcuts to success. Nothing good happens overnight, but you don't have to go through a multi-year, trial-and-error process before coming up with a system that works for you and your lifestyle.
Freelancing done poorly can make you end up feeling like an over-tired, stressed, impoverished indentured servant. Freelancing done the right way can give you a lifestyle of creative and professional control coupled with financial freedom.
What are you waiting for?
What will students achieve or be able to do after taking your course?

* Create and build a successful freelancing business
* Give yourself a raise-every year
* Create a benefits package for yourself
* Build a freelancing career for yourself better than any corporate position
* Create long-term economic stability without fear of ever getting fired
Content
WE Are All Freelancers in the 21st Century
Rule Number 1 of The Successful Freelancer Club, Never Talk About...
You Now Truly Know What Freelancing Is
The Golden Age of Freelancing is NOW
You Never Know When a Self-Promotional Opportunity Might Pop Up
Crashing the Barriers to Entry
Assignment: Testing Your Communication To Make Sure It Works.
Exciting New Update to this Course
The Pros and Cons of Freelancing
For Better or Worse, Everyone Now Has a Global Reputation
In the Future, We Will All Be Freelancers and For More Than 15 Minutes
Course Update! Live Instructor Office Hours are Now Available
The Freelance Lifestyle Of Your Dreams
You WANT People to Tell You That You Are Too Expensive
Your ONE BIG Revenue Driver
The Best Time to Start a Freelance Business
Yes You CAN Have Full Benefits
The Exact Right Time to Quit Your Day Job
The Psychological Profile Of the Successful Freelancer
You Can Conquer Your Neighborhood, Your City, Your Country or the World
You Are NOT a Home-Based Business You Are A Customer-Based Business
Why Should You Listen to TJ Walker Talk About a Freelance Career
Why you should start a freelancing business
Selecting the Perfect Freelancing Niche for You
Finding Your Ideal Niche In the Freelance World
Finding the Best Markets
Positioning Your World class Expertise
Saving Your Clients Time and Pain Will Bring You Prosperity
Unlocking Secrets of Your Niche By Talking to Your Competitors
Unless You Are Growing Corn You Must Avoid Being a Commodity
Being Number 1 Isn't Just a Sporting Chant
Finding the Right Evergreen Niche
Avoiding the Discount Bin
Finding What Is Truly Distinctive About You
Meeting the Low-End Market With Inexpensive Products, But Not Your Time
Make Sure You Are Happy To Talk About Your Niche
Specialize Specialize Specialize
Selling Service or Selling Products or Selling Both
Passing the Friends and Family Test
Determining the best niche for you.
Become a True Expert in Your Field
Quickly Becoming a True Expert
Creating a Cycle of Constant Improvement
Get to Know Your Role Model
Follow Your Friendly and Unfriendly Competitors
Master of Opposition Research
The Constant Creative Difference
Building your knowledge base
The World MUST Know Where and How to Find You
Your REAL Job Is NOT What You Think It Is
Yes, Even a One Person Freelance Business Needs a Website
Learn Where Successful Freelancers In Your Field Do Their Marketing
Painting a Picture of Your Ideal Buyer
Advanced Marketing Tip Create Video Proposals for Clients
The Ultimate Marketing Tool for Your Freelance Business Being a Public Speaker
Know Where Your Customers Hang Out and Then Hang Out There Too
Crawl Into the Skin of Your Customer
Getting Other People to Sing Your Praises
Finding the Pond Where Your Customers Go Fishing
Selling to Corporations or Consumers, Making the Right Bet
Pushing the Right Buttons With Your Clients
An Elevator Pitch That Gets You to The Top Floor
The World Is Your Oyster AND Your Client Base
The Boring Database Best Friend
The Ultimate Secret Marketing Tool Extremely Happy Customers Who Can't Stop
Marketing Choices
Curing Technophobia Once and For All
If You Can Use a Toaster or a Cell Phone, You Are a Technology Expert
Skype Your Way Into Clients' Hearts
Google Adwords On a Tight, Focused Budget
Simple Talking Head Video To Spread Your Message
SEO Working For You and Not Against You
Your Specific Technology Needs
You Are A Media Company
Become a Content Machine Quickly and Easily
Using Your Content to Spin Gold, Not Just Spin Your Wheels
Writing a Book Won't Make You Rich And Famous, But It Will Decrease Your Chances
Gaining Expertise Through YouTube and Podcasts
The Lazy Easy Way to Make Content for Your Freelance Business
Creating Content Regularly Forces You to Grow and Improve
YouTube Your Way to Higher fees and Steady Clients
Going From Social Media Time Suck to Social Media Strategy
Blogging Your Way to Higher Paying Clients
Email Newsletters Are Old, Boring AND Effective
Make Money By Teaching Others How To Do What You Do - Online
Here is an Example of a Long Video I Use to Market my Freelance Media Training
Here Is Another Example of Long-form YouTube Video I have used to Generate Leads
Start Your Media Company Today
Getting Paid Want You Want and Deserve
Getting Paid The Nuts and Bolts Of Your Freelance Business
The Nastiest Word In the World Discount
Getting It In Writing If You Really Want to Get Paid
The Price is Right
Make It Really Easy For Your Clients to Pay You
Give Yourself a Pay Raise Every Single Year
Training and Firing Your Clients
Clarifying Your Business Objective
Nobody Will Ever Think of You as a Flake
Avoid Being Seen as a Flake
Your Marketing and Branding Doesn't Stop Once the Customer Has Hired You
Why a Business Card Isn't Just for Old Fogeys
Being Professional And Avoiding the Flake Label
Here Is How You Look the Part
Saving What Your Clients Value More Than Even Money Their Time
Communicate the Way Your Customers Want to Communicate Not How You Like to
Creating a Workflow for Yourself and Your Clients
Mastering the Blank Calendar
Secrets To Filling An Empty Calendar
These Nuts and Bolts Will Make You Sink or Swim
Accountants and Bookkeepers Will Save You Money
Count Every Single Penny In and Out of Your Business
Financial Advisers For a Strong Foundation
The Most Successful Freelancers Use Freelancers
The Biggest Mistakes You Don't Want to Make
Conclusion - Your Path to Success
Time to Give TJ a Piece of Your Mind
Conclusion - Your Future Career as a Successful Freelancer
Final Bonus Lecture re Future Courses and Learning Opportunities
Reviews
TJ is such a great teacher, and engaging to listen to. I now feel much more prepared to make money consulting rather than being employed and will be recommending the course to any of my friends and family who is in the process of making the same transition!
I was very impressed with the breadth of the information that was presented. I highly recommend this course.
This has to be one of the best, most engaging courses I've taken on Udemy. The instructor is knowledgeable and straight to the point!
This course fit with my career. I am glad that I got this course. This would be a big help and encourage me to continue my chosen career...
What an awesome course this turned out to be! O am really glad I enrolled in one of the best courses on freelancing by probably the best instructor out there. Thank you very much Mr. Walker. You definitely deserve a 5-star for this one.
Tips are really good for a consultant (freelancer). Idea like identifying a niche area and focus and expand that area is one of the best, which segregate one among others in freelancing business
Excellent course from TJ Walker absolutely enjoying it. As consultant I have learned valuable marketing lessons after watching only a few chapters I see a lot more to come looking forward to it I will add to this review at a later stage but I can guarantee this is brilliant.
Thank you. I like this course very much. The experience and tips shared are very useful. It gave me an insight what I should pay attention to if I want to be a freelancer. It would be better if it can talk about how to identify the personal niche with market demand. Thanks.
I love TJ's courses so much. His style of teaching and presenting is so engaging and makes it so much easier to learn. I've watched a lot of teachers online and you know when you've found one who just clicks with you and meets your needs. He is also really responsive with questions as I asked for some advice and he got on a Skype call me with. Perfect.
I really like this course and will probably benefit from it for the first years of my freelancing career. TJ tackles topics that I haven't found elsewhere in the web so far. Thank you!
TJ does an amazing job sharing his wisdom, gained from years of experience. He speaks about something he does rather than speaking about something vague that's not related to him. I think that makes all the difference. And unlike many other courses, this one has repeat value.
Really interesting and useful course. I got many valuable tips. I also like the presenting style - straight to the point. I would recommend it to anyone, who is planning to become a freelancer but also for those who already are. Thank you TJ Walker for another amazing course!
This course is incredibly informative and very helpful for personal and professional development. I commend Mr. Walker for doing an excellent job on this series.
Wow. As usual, TJ delivers. One thing that I have always loved about TJ is he tells you like it is, succinctly and professionally. You need to have this information if you are going to have any chance of succeeding at becoming a freelancer. This just has to be the #1 course in Freelancing on Udemy. If it isn't, it definitely will be. TJ's presentation is so professional and he is easy to understand. This course is very comprehensive and it has the added benefit of someone who is very knowledgeable on the subject. Fantastic job, TJ, and looking forward to finishing the course.
This course has a lot of quality content. There are some interesting points that I had never thought of before, such as how widespread the modern gig economy has become.
Coupons
| Submit by | Date | Coupon Code | Discount | Emitted/Used | Status |
| --- | --- | --- | --- | --- | --- |
| - | 4/17/2020 | PRIMEPRO | 100% OFF | 40000/4050 | expired |
| Lee Jia Cheng | 5/19/2020 | A077B7636F67CF941595 | 100% OFF | 40000/6342 | expired |
| Angelcrc Seven | 6/6/2020 | DC614312F08BB3F3A568 | 100% OFF | 40000/6086 | expired |
| Angelcrc Seven | 7/16/2020 | F331CCBF4FB7428575B7 | 100% OFF | 40000/5318 | expired |
| - | 8/19/2020 | 3F553CD1F4275E56003D | 100% OFF | 40000/4573 | expired |
| - | 7/31/2021 | 6337C7B9845B12E15CB1 | 100% OFF | 40000/3633 | expired |
| Angelcrc Seven | 10/4/2021 | 6113DF49D4731E709131 | 100% OFF | 40000/4051 | expired |
| - | 5/28/2022 | FBD2F70872314C30A542 | 100% OFF | 1000/731 | expired |
| - | 6/9/2022 | 4C208EE12269B8799BCD | 100% OFF | 1000/758 | expired |
| Angelcrc Seven | 7/14/2022 | 670F7953C869E3B0AFCB | 100% OFF | 1000/929 | expired |
| - | 11/2/2022 | EA8B051FBBD85E9D4155 | 100% OFF | 1000/941 | expired |
| - | 11/3/2022 | 324B7FD17E9911A3CAB6 | 100% OFF | 1000/729 | expired |
| - | 11/6/2022 | 2F95BABD9F4A256F76ED | 100% OFF | 1000/950 | expired |
| - | 11/27/2022 | 24C513E07B3927C84D71 | 100% OFF | 1000/961 | expired |
| - | 12/10/2022 | 6A8EE33E4D88CFBC1EEA | 100% OFF | 1000/947 | expired |
| - | 12/20/2022 | E61EBC5F8AD430D4BBF0 | 100% OFF | 1000/657 | expired |
| - | 12/27/2022 | BB03F36BD16D0C6AF75E | 100% OFF | 1000/794 | expired |
| - | 1/26/2023 | 064A515892B272BDB95E | 100% OFF | 1000/845 | expired |
| - | 2/1/2023 | 7A0B5EC4E4813E4AA302 | 100% OFF | 1000/493 | working |
Charts
Price
Rating
Enrollment distribution
1/5/2018
course created date
8/7/2019
course indexed date