Google Data Studio A-Z for Data Visualization and Dashboards
Use Google Data Studio to create reports & data visualizations from Google Sheets| Google Analytics| Google Ads|BigQuery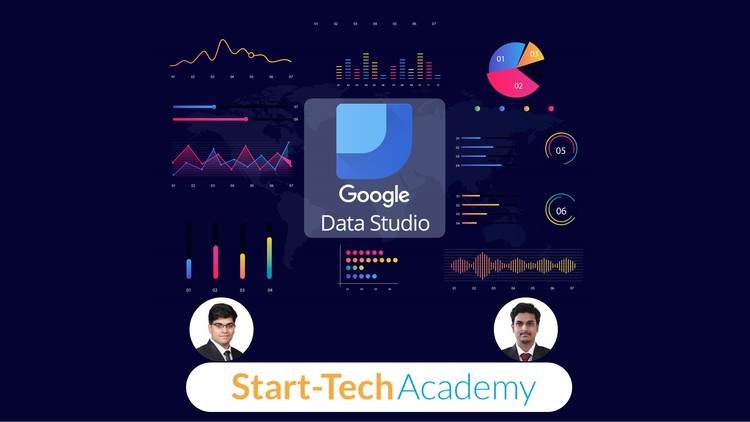 What you will learn
How to use Google Data Studio to turns your data into fully customizable informative reports and dashboards that are easy to read and share
All chart types that one can draw in Google Data Studio
Sharing and collaborating on Datastudio reports
Branding a report - Adding Logo and setting theme
Embedding external content into the report
Embedding your Google Datastudio report on your website
Adding date range and filter controls to your dashboard
Description
6 Reasons why you should choose this Google Data Studio course
Carefully designed course, teaching you not only how to draw all types of charts in Google Data Studio, but also advanced Data studio specific features

Concise - you can complete this Google Data Studio course within one weekend

Business-related examples and case studies

Ample practice exercises because Data Visualization and Google Data Studio require practice

Downloadable resources for learning Google Data Studio and Data Visualization

Your queries will be responded by the Instructor himself
Start using Google Data Studio to its full potential to become proficient at Google Data Studio and Data Visualization and reporting tasks today!
Either you're new to Data Visualization or Google Data Studio, or you've made some charts and graphs using some data visualization software such as MS Excel or Tableau. Either way, this course will be great for you.
A Verifiable Certificate of Completion is presented to all students who undertake this Google Data Studio course.
Why should you choose this course?
This is a complete and concise tutorial on Google Data Studio which can be completed within 6 hours. We know that your time is important and hence we have created this fast paced course without wasting time on irrelevant operations.
What makes us qualified to teach you?
The course is taught by Abhishek and Pukhraj. Instructors of the course have been teaching Data Science and Machine Learning for over a decade. We have in-depth understanding on and practical exposure to Google Data Studio and Data Visualization.
We are also the creators of some of the most popular online courses - with over 600,000 enrollments and thousands of 5-star reviews like these ones:
I had an awesome moment taking this course. It broaden my knowledge more on the power use of Excel as an analytical tools. Kudos to the instructor! - Sikiru
Very insightful, learning very nifty tricks and enough detail to make it stick in your mind. - Armand
Our Promise
Teaching our students is our job and we are committed to it. If you have any questions about the course content, Google Data Studio, Data Visualization, practice sheet or anything related to any topic, you can always post a question in the course or send us a direct message.
What is covered in this course?
This course covers everything you need to create insightful and dynamic reports using Google Data Studio in the professional work place.
Below are the course contents of this complete and concise course on Google Data studio:
Introduction - In this section, the structure and the contents of the course are discussed. We also discuss the reason to why should we learn Google Data Studio.
Theoretical concepts - This lecture covers the prerequisite understanding of key terminologies and concepts before we start to work on Google Data Studio.
All charts and tables in Data Studio - We cover all the available chart types one-by-one. It includes Data tables, scorecards, bar charts, time series, pie charts, GeoMaps, pivot tables and many more.
Data filter controls - This lecture covers the filtering options that can be given to the report viewers so that each viewer can filter the data and see only what s/he wants to see.
Branding the report - Branding a report is a very popular business practice and we will see how we can do it using brand logo and brand colors
Embedding external content - We can add videos, quizzes, feedback forms, company websites to our report. Yes! It is possible. We will see how in this section.
Blending multiple data sets - Real life data is in multiple tables. To plot a graph using data from multiple tables requires data blending. Very Important Section.
Report Sharing and Collaborating - This section covers ways in which you can give viewing or editing rights to others. You can also schedule regular reports to the management using Google Data Studio. Report sharing is something where no other Data Visualization tool can beat Google Data Studio.
And so much more!
By the end of this course, your confidence in using Google data studio for data visualisation will soar. You'll have a thorough understanding of how to use Google Data Studio for creating insightful dashboards and beautiful reports.
Go ahead and click the enroll button, and I'll see you in lesson 1 of this Google Data Studio course!
Cheers
Start-Tech Academy
FAQ's
What you can do with Data Studio?
Visualize your data through highly configurable charts and tables.

Easily connect to a variety of data sources.

Share your insights with your team or with the world.

Collaborate on reports with your team.

Speed up your report creation process with built-in sample reports.
Is Google Data Studio free to use?
Google Data Studio is offered completely free by Google.
What is the use of Google Data Studio?
Google Data Studio gives you everything you need to turn your client's analytics data into informational, easy-to-understand reports through data visualization. The reports are easy to read, easy to share and even customizable to each of your clients
The Authors of this course have several years of corporate experience and hence have curated the course material keeping in mind the requirement of Google Data Studio and Data visualization techniques in today's corporate world.
Content
Introduction
Why Data Studio?
Terminologies & Theoretical concepts for Data Studio
Data Studio Home Screen & Dataset vs Data Source
Structure of Input data & Dimensions vs Metrics
Practical part begins here
Opening Data Studio
Adding a data source
Managing added data source
Charts to highlight numbers
Data Table
Styling tab for data table
Scorecards
Highlighting contribution to total: Pie chart & Donut Chart
Pie Chart and Donut Chart
Stacked Area Charts
Relationship between two or more variables: Scatter plots
Scatter Plots and Bubble charts
Aggregating on two dimensions: Pivot tables
Pivot tables for cross tabulation
All about a single Metric: Bullet Chart
Bullet Chart
Chart for highlighting heirarchy: TreeMap
TreeMaps
Branding a Report
Branding a Report: Brand Logo and Company Details
Brand colors for report branding
Giving the power to filter Data to viewers
Filter controls for viewers
Add Videos, Feeedback form etc. to your Report
URL Embed to include external content
Sometimes data is in multiple tables
Blending data from multiple tables
Sharing and Collaborating on Data Studio report
Downloading report as PDF and Page Management
Charting Best Practices
Highlighting chart message
Eliminating Distractions from the Graph
Avoiding clutter
Avoiding the Spaghetti plot
Why we should avoid Pie charts
Reviews
No doubt the course is very good , in a very simple manner you have explained everything , but the thing which i feel missing is the final dashboard , how to organize it and what different parameters of the dataset it should cover .
At the end of this course some videos are not well detailed . Overall this course does not make you professional .
Thanks for your course, it was very good! :) What was good: - I was a beginner for Google Data Studio, but knows usage of Tableau, Excel & SQL, so the videos explain every single part of chart building in a great detail. - Explanation commentary in the videos was very well prepared, precise and easy to understand. Spoken English with accent was okay and subtitles were to 90% correct for English. What could be handled better: - The course says that you will need nearly 6 hours for completing the 4 hours of course videos. I guess you will need more time. Maybe 8 till 12 hours to fully understand and rebuild all the steps, which was totally fine for me. - Be aware: You will have troubles during some videos with csv data from the course which include human readable dates like "Mar 2019" and not machine readable dates like "2019-03-01". - If you have a number format in your country which differs from US number format, so "3,1415" instead of "3.1415" then you have to edit the csv files from the course before you can import them into Google Data Studio. - Import external tables from parsed html ALWAYS with additional U.S.A. "language parameter" at the end during this course, so use IMPORTHTML(..., "en_US"). That will convert the imported data correct into non-US number formats, for example for European users.
Very nice and well-taught course. Everything was easy to understand. The course teaches everything one needs to know about Data Studio.
This is, in general, a good course. The only problem is that the files are not updated (as an example video 20 has the same problem as video 16, which 17 fixes), minus the fix itself. As such, It makes it a headache to actually try and do the work ourselves.
Es un curso básico de introducción a Data Studio, cubre todas las gráficas e importación de archivos csv y de BigQuery, así como otros temas. Está bien si buscas aprender lo esencial. Los videos son de una versión anterior, pero aún así es posible seguir el ritmo, aunque cambian ligeramente algunas cosas.
It is perfectly good as it teaches how to use the tool. But I expected it would be a little more challenging or it would face a little harder challenges.
Very impressed with content and detailed explanation of topic from trainer. 100% satisfied with the course and would like to say section 19 best practices is best of all. Thanks for sharing this information.
Really Good Well Presented Course.Ideal For Starting To Learn Google Data Studio.I Would Definitely Recommend To Other Students.
Yes, i am having that i took this course. The learning style is really good. Hoping that the upcoming lessons will be as good as it has been this far!
awesome ! I have a youtube channel and always trouble with visualization and dashboards but after this I have NO single problem related any types of visualization .
Great course, in a few days I managed to grasp all I needed to work on Data Studio, it's easy to follow and teaches a lot, especially considering it doesn't last long.
Easy to learn course for absolute beginners even for the ones who have no idea about dashboards. Thank you Start-tech Academy.
Mujaheed
December 30, 2021
Very nice and comprehensive course. It depicts everything you need to know about Google Data Studio in detail.
El curso me gustó mucho. Lamentablemente tuve algunos inconvenientes con los archivos utilizados para las prácticas pero finalmente pude resolverlos gracias al soporte por chat.
Coupons
| Submit by | Date | Coupon Code | Discount | Emitted/Used | Status |
| --- | --- | --- | --- | --- | --- |
| - | 5/6/2020 | EARLYBIRD | 95% OFF | | expired |
| - | 5/12/2020 | MAY20FRE | 100% OFF | 40000/18922 | expired |
| - | 5/20/2020 | OFFEREXT | 95% OFF | | expired |
| Lee Jia Cheng | 6/5/2020 | JUNEFIR2020 | 100% OFF | 40000/11045 | expired |
| Lee Jia Cheng | 6/13/2020 | JUNESEC2020 | 100% OFF | 40000/5019 | expired |
| Lee Jia Cheng | 6/17/2020 | JUNETHR2020 | 100% OFF | 40000/5343 | expired |
| - | 7/8/2020 | OFFEREXTENDED | 95% OFF | | expired |
| - | 7/19/2020 | JUL20AD | 100% OFF | 40000/6936 | expired |
| - | 8/5/2020 | EXTENDEDDISC | 95% OFF | | expired |
| Angelcrc Seven | 8/8/2020 | AUGFR20 | 100% OFF | 40000/2248 | expired |
| - | 8/22/2020 | AUGTRI2020 | 100% OFF | 40000/4961 | expired |
| - | 9/4/2020 | NTSEPT1C | 100% OFF | 40000/4993 | expired |
| - | 10/26/2020 | OCTXXVI20 | 100% OFF | 40000/4426 | expired |
| - | 11/7/2020 | NOVVII20 | 100% OFF | 40000/6038 | expired |
| - | 11/28/2020 | NOVXXVIII | 100% OFF | 40000/6004 | expired |
| - | 1/29/2021 | BIGSALE2021 | 67% OFF | | expired |
| - | 4/7/2021 | APR1FREE | 100% OFF | 40000/7234 | expired |
| - | 4/16/2021 | APRGDSFR | 100% OFF | 40000/6910 | expired |
| - | 4/29/2021 | GDSFREAPR | 100% OFF | 40000/4676 | expired |
| - | 5/5/2021 | MAYGDSFRE | 100% OFF | 40000/9368 | expired |
| - | 5/20/2021 | GDSFREMAY | 100% OFF | 40000/7770 | expired |
| - | 6/19/2021 | FREGDSJUN | 100% OFF | 40000/9259 | expired |
| - | 6/30/2021 | GDSFRDVDB | 100% OFF | 40000/9309 | expired |
| Angelcrc Seven | 7/21/2021 | FRGDSAZJU1 | 100% OFF | 40000/5776 | expired |
| - | 8/1/2021 | GDS2FRJL | 100% OFF | 40000/2627 | expired |
| - | 8/19/2021 | GDSFRAU1 | 100% OFF | 40000/3897 | expired |
| - | 8/19/2021 | VIZOFFER | 67% OFF | | expired |
| - | 9/18/2021 | GDASTUSEPVII | 100% OFF | 40000/3390 | expired |
| - | 10/1/2021 | GDSF2SE | 100% OFF | 40000/1933 | expired |
| Ignacio Castro | 1/10/2022 | B43A4A | 100% OFF | 1000/904 | expired |
| Ignacio Castro | 1/16/2022 | JCB69C | 100% OFF | 1000/924 | expired |
| - | 2/21/2022 | FC87141 | 100% OFF | 1000/970 | expired |
| - | 2/23/2022 | DATAVIZOFF | 67% OFF | | expired |
| - | 3/25/2022 | M95A39B | 100% OFF | 1000/955 | expired |
| - | 3/31/2022 | M009BD4A | 100% OFF | 1000/832 | expired |
| Angelcrc Seven | 4/5/2022 | A9D4D1B | 100% OFF | 1000/841 | expired |
| - | 4/15/2022 | AA1ED9 | 100% OFF | 1000/841 | expired |
| - | 5/13/2022 | MEVLGF | 100% OFF | 1000/957 | expired |
| - | 5/25/2022 | HTSSCD | 100% OFF | 1000/986 | expired |
| - | 6/15/2022 | SKZHCYP | 100% OFF | 1000/978 | expired |
| - | 7/1/2022 | OCLFHAS | 100% OFF | 1000/952 | expired |
| - | 7/6/2022 | BCICPVA | 100% OFF | 1000/844 | expired |
| - | 7/15/2022 | NWWYWDO | 100% OFF | 1000/995 | expired |
4/26/2020
course created date
5/4/2020
course indexed date