Google Analytics For Beginners
Complete Guide from setting up your Google Analytics Account to diving further into Google Analytics & reporting
Digital Marketing
category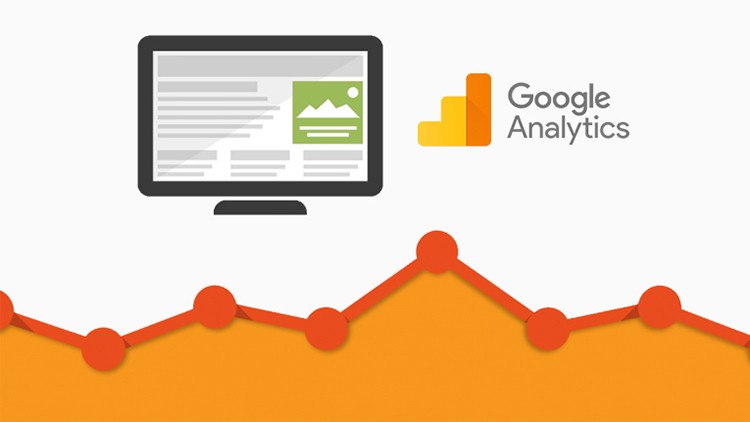 What you will learn
Installing Google Analytics Tracking Code on your Website
Setting up Goals and Conversions for Marketing Campaigns
Be able to get insights out of data for decision making
Predict future behaviour of website users
UTM Parameters
Customizing Google Analytics Dashboard
Filtering Internal Traffic inside Analytics Data
Become comfortable using Google Analytics
Description
This course will teach Google Analytics from scratch. Here is the overview of what you are going to learn,
Setup Google Analytics Account

Installing Tracking Code on your website

Configure Marketing Goals

Setup Filters

UTM Parameters

Generating Reports ( Audience, Real-time, Acquisition, etc. )
Who this course is for:
Bloggers

Webmasters

Online Business Owners

Marketing Professionals

Intermediate level Digital Marketers

Beginners in Web Analytics

College Students
Content
Installing Google Analytics Code on Your Website
Creating Google Analytics Account
Installing the Tracking Code on a Wordpress Website
Checking the Tracking Code Installation
Deep Dive into Analytics
Terms and Definitions in Analytics
How to Setup IP Filters in Your Account
How to Create Annotations
How to Create Remarketing Audience
Building Links with UTM Parameters
How to Create Goals and Funnels
How to Create Segments in Google Analytics
How to integrate Search Console & Analytics
Custom Alerts
Types of Reports
How to Create Custom Dashboards and Reports
Real-Time Reports
Audience Reports: Overview & Active Users
Audience: Cohort Analysis
Acquisition Reports
Behaviour Reports
Reviews
A lot of 'Why?' is missing from the explanations and content. Explanations can be done with proper examples.
Perfectly explained from scratch. Thanks to the instructor to make this course run in a smooth pattern. Learnt the basics of Google analytics with ease without any prior knowledge of it. Keep doing the same.
i find this course very usefull as the mentor teaches with perfection to every small details in the google anylytics ,so far i loved this course.
Really appreciate all the efforts taken in presenting Google Analytics in simplified form. I felt good.
First time introduced by Google for showcasing case studies and interview preparation. Simply the best online course I have accessed. I have taken so far on Coursera, It come with some of the best resource and practical knowledge. Great first step to jump in your career to success. Great introduction into the many skills a data analyst uses daily. So helpful for Junior Data Analyst job search preparation. I highly recommend following 'your own' case study! You do not require any prior knowledge of coding to partake in it. Good luck and enjoy the course. Thank you Udemy, Thank you Google. Thanks a lot to all staff of this best course!
Thank you for the very informative topic. The speaker is quite knowledgeable and generous in sharing.
Very well presented and presenter concise and clear communication helps in undertstanding thoroughly what he is delivering the subject matter.
The course was great for me. I was a novice when I started this course, but I am ready to use everything I learned from this course to get better. Thanks
Extreme basic level course with answers of "WHAT". Doesn't worth the time you spend watching the course videos. YouTube has much much better Google Analytics Free videos compared to this course.
I just love it!! The explanations are clear, we can directly implement what we learn, it's super interesting!
Coupons
| Submit by | Date | Coupon Code | Discount | Emitted/Used | Status |
| --- | --- | --- | --- | --- | --- |
| Lee Jia Cheng | 6/7/2020 | 2C8AC0535DE039AD2993 | 100% OFF | 10/8 | expired |
| - | 4/26/2021 | 211274F84833A9165DBB | 100% OFF | 40000/2985 | expired |
| - | 7/9/2021 | JULY-2021 | 100% OFF | 40000/7611 | expired |
| - | 7/16/2021 | A6D8ADBE3AB631FDBACC | 100% OFF | 40000/6768 | expired |
| - | 7/24/2021 | 478AD28931D11711D537 | 100% OFF | 40000/8659 | expired |
| - | 8/1/2021 | 5F79524BB059E89F9FCD | 100% OFF | 40000/4081 | expired |
| - | 8/6/2021 | 430A66EF9D2E04EA9890 | 100% OFF | 40000/2967 | expired |
| - | 9/4/2021 | SEP2021 | 100% OFF | 40000/4621 | expired |
| - | 9/9/2021 | SEP-2021 | 100% OFF | 40000/2115 | expired |
| - | 9/27/2021 | SEP_2021 | 100% OFF | 40000/2889 | expired |
| - | 10/10/2021 | OCT-2021 | 100% OFF | 40000/4342 | expired |
| - | 10/17/2021 | OCT_2021 | 100% OFF | 40000/3069 | expired |
| - | 10/21/2021 | OCT2021 | 100% OFF | 40000/1920 | expired |
| Angelcrc Seven | 11/2/2021 | NOV-2021 | 100% OFF | 1000/816 | expired |
| - | 11/8/2021 | NOV2021 | 100% OFF | 1000/867 | expired |
| - | 11/9/2021 | NOV_2021 | 100% OFF | 1000/844 | expired |
| Angelcrc Seven | 12/5/2021 | DEC_2021 | 100% OFF | 1000/760 | expired |
| - | 12/17/2021 | DEC-2021 | 100% OFF | 1000/928 | expired |
| Angelcrc Seven | 12/19/2021 | DEC2021 | 100% OFF | 1000/951 | expired |
| - | 1/8/2022 | JAN2022 | 100% OFF | 1000/939 | expired |
| Angelcrc Seven | 1/26/2022 | JAN-2022 | 100% OFF | 1000/909 | expired |
| - | 1/29/2022 | JAN_2022 | 100% OFF | 1000/936 | expired |
| Angelcrc Seven | 2/20/2022 | FEB2022 | 100% OFF | 1000/919 | expired |
| Ignacio Castro | 2/27/2022 | FEB-2022 | 100% OFF | 1000/906 | expired |
| - | 3/2/2022 | FEB_2022 | 100% OFF | 1000/889 | expired |
| - | 3/7/2022 | MARCH2022 | 100% OFF | 1000/983 | expired |
| Angelcrc Seven | 3/10/2022 | MARCH-2022 | 100% OFF | 1000/967 | expired |
| - | 3/16/2022 | MARCH_2022 | 100% OFF | 1000/940 | expired |
| Hype | 4/10/2022 | APRIL-2022 | 100% OFF | 1000/979 | expired |
| Angelcrc Seven | 4/19/2022 | APRIL2022 | 100% OFF | 1000/884 | expired |
| - | 4/30/2022 | APRIL_2022 | 100% OFF | 1000/932 | expired |
| - | 6/16/2022 | JUNE2022 | 100% OFF | 1000/946 | expired |
| - | 6/18/2022 | JUNE-2022 | 100% OFF | 1000/775 | expired |
| - | 6/19/2022 | JUNE_2022 | 100% OFF | 1000/901 | expired |
| - | 7/19/2022 | JULY2022 | 100% OFF | 1000/934 | expired |
| - | 7/25/2022 | JULY-2022 | 100% OFF | 1000/992 | expired |
| - | 7/30/2022 | JULY_2022 | 100% OFF | 1000/933 | expired |
| - | 8/6/2022 | AUG_2022 | 100% OFF | 1000/886 | expired |
11/20/2019
course created date
6/7/2020
course indexed date
Lee Jia Cheng
course submited by