Introductory Photography Course
The fastest way to get off 'Auto' mode and unlock the creative potential of your camera.
Photography Fundamentals
category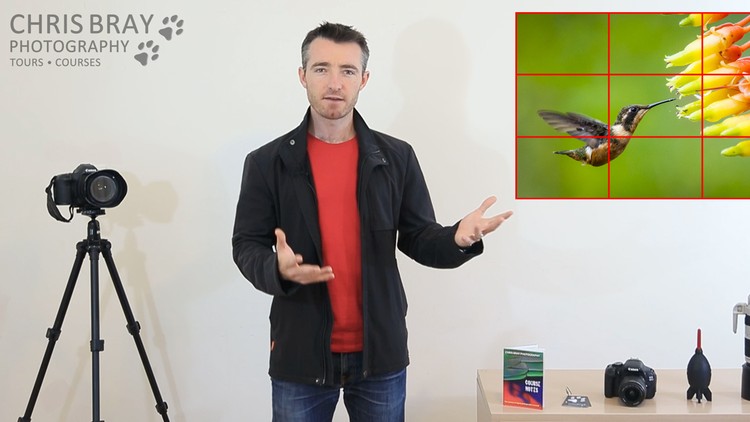 What you will learn
Everything from the basics of how your camera works and correct technique through to setting your AF mode, AF points, resolution.
My top 10 tips for framing up great photos, covering everything from rule of thirds and leading lines, through to what to look for in a background and more...
What makes your photos come out brighter or darker, how to control exposure with exposure compensation, looks at different metering modes, histogram graphs and more, ending with practical session #1
Aperture and Depth Of Field, what it is, the easy way to understand and control it...
Description
I've been running this 1 day photography course around Australia & New Zealand since 2009, helping several thousand people gain more enjoyment from their passion - one small group at a time. However, as we're now busier than ever running our Photography Tours, time has come to throw open the doors and let everyone enjoy it! Divided into sequential sections, each video features plenty of examples, animations and easy-to-understand explanations to guide you right through from basic camera setup and composition, to aperture, shutter speed, exposure compensation, ISO, lighting, lenses, histograms, white balance and so much more! The first 5 parts are ready to watch for FREE! 
Content
FREE PHOTOGRAPHY COURSE! Normally $480, my popular photography course is now onl
Intro & Background - Photography Course - Part 1
Basic Photography - Photography Course - Part 2
Composition - Photography Course - Part 3
Exposure - Photography Course - Part 4
Aperture & Depth of Field - Photography Course - Part 5
Lecture 6: Shutter Speed
Lecture 7: ISO
Lecture 8: Lighting
Lecture 9: Lenses
Lecture 10: Practical Photography
Reviews
I've been dabbling in photography for years. This was the best course to learn the practical use of a camera without getting so bogged down in details. I learned more about photography in 2.5 hours than I have in the past two years.
I enjoyed the course as a beginner photographer. I learned a lot but do wish a time was spent on talking about what to look for when picking a camera. Time was spent on lenses which I appreciate, the information on a camera would have been just the little bit extra two 5stars. Overall, very informative.
Great teacher. He is a very well accomplished photographer and an even better teacher. He brings impressive examples that showcase the points he is trying to teach. Would recommend his course to anybody looking to get a broad intro to photography in only a few hours.
I have read several books and watched other videos on photography...this is by far the simplest to understand. I am forever done with Auto mode. Thanks!! ER
Wow, extremely informative, clear and helpful information. I am not even a photographer, thought i might learn something as i only take product pictures now and then for my candle business. Thank you, even i learned something. Best wishes for more travels.
I am just a beginner but the way he explained all basics is so clear and easy to grasp. Done 5 lectures so far and going great.
Perfect match - couldnt get a better free intro to the type of photography im interested in getting into. Strongly considering a photo tour with you!
I've just purchased a camera kit and wanted to get to know more, this course does just that, great tutor, very easy to listen to and clear. Highly recommend this course to those who want to know more about their camera and what can be done with it.
Informative, precise, and the most incredible delivery of content. I love the way Chris speaks; it's fast, yet I can hold on to every word.
Best photography course and good insider tips on how to take amazing pictures. With the right equipment it can turn hobby photographers into professionals
Realmente bueno! conciso, explicativo, sin perder el tiempo te explica en detalle todo lo necesario! lo recomiendo en un 100%
Great course!!! It's amazing the way that you explained everything in such a short period of time and even though the content is precisely and clear.
Interesting and practical way of teaching . Simply glued to the captivating session. I a getting pro courtesy Chris's online courses
It was a very good session for all people or beginners with some interest in photography or who are willing to capture the happy moments of their in a pro manner. Thankyou Sir for sharing us your knowledge.
Mohammad
November 16, 2022
Really, it is a fantastic course, i recommended for everyones who is interested in photography and wont to know more about cameras and the way it works.
Charts
Price
Rating
Enrollment distribution
7/29/2016
course created date
10/30/2019
course indexed date