CSS Crash Course For Beginners
Learn CSS With Practical Demonstrations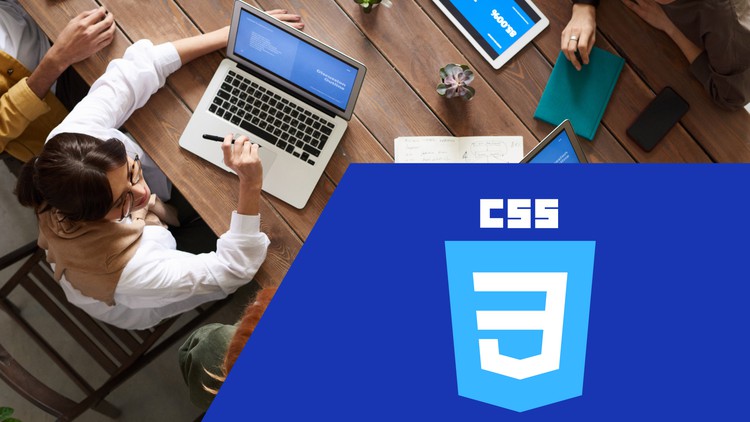 What you will learn
Introduction to CSS concepts
Practical demonstrations of CSS concepts
Write CSS Scripts And Understanding Concepts
Practically Getting Started With CSS Styles, CSS Fonts
Introduction To CSS Syntax And CSS Background
Introduction To CSS Inclusion In HTML
Description
Learn CSS Crash Course
Ever wonder how the latest website designs are made? Cascading Style Sheets (CSS) are the main coding files used to layout a website and its design. CSS 3 is the latest in styling standards, and it brings several new properties and declarations you can use to make your website design more easily created. CSS is currently the only standard in website design that plugs directly into your HTML, even the latest HTML 5 standards. With CSS 3 and HTML 5, you can create the latest interactive pages for your website viewers.

This course shows you how to create CSS classes from a beginner's level. It starts off with basic HTML declarations, properties, values, and how to include a CSS style sheet with your HTML code. For those of you who are new to CSS and HTML, we show you step-by-step how to create a CSS file and include it in your HTML code, even if you use a cloud server for your hosting.

We show you how to position your elements, layout your elements relative to your documents, and style your HTML using predefined CSS values. We introduce you to the common CSS styling that you'll need when you start off designing your pages. If you want to get to know CSS and website design, this course is meant for you, and it can be used by anyone who hasn't even seen one line of CSS code yet. We focus on the latest CSS 3 and HTML 5 standards, so you get the latest when coding your website pages instead of focusing on older code.

There are no prerequisites. Anyone Can join this course. It is recommended though that individual have some basic computer programming knowledge.




Course Topics




Introduction to CSS

CSS Syntax

HTML 5 IN CSS

CSS Styling Text

CSS Page Backgrounds

CSS Animation


Thank you see you inside the course
Content
Introduction
CSS Introduction
CSS Text
CSS Fonts
CSS Inclusion In HTML
CSS Basic Syntax
CSS Colors Introduction
CSS Animation
Reviews
A simple 1 hour course, not up-to the mark. Excepting a lot but not worth the price. But as well as a neat presentation and explanation, Need to improve and add more concepts. Thank You..
I liked this course because i learned some new things. Of course as it was explained at the beginning you have to know some html before taking this course. It was very good explained and i want to thank the instructor for his time.
Every explanation is clear, but I have the feeling this is veeeery basic, and is leaving out a lot of information. This is not enough to have a complete overview.
definitely unworthy of the title "CRASH COURSE" because in a crash course we learn something but in this course the instructor only showed what different things can be done using css but did not teach why we are doing so. Waste of time
The course only approaches the more basics of css, but according to the duration of the course, the instructor did it really well. The animation part is great explained and shown.
great introduction. sometimes it is hard to understand the speaking. Maybe it would help to have subtitles
Coupons
| Submit by | Date | Coupon Code | Discount | Emitted/Used | Status |
| --- | --- | --- | --- | --- | --- |
| - | 9/3/2021 | DISCUDEMY.COM | 100% OFF | 40000/4919 | expired |
| - | 9/12/2021 | FREEBIESGLOBAL.COM | 100% OFF | 40000/4971 | expired |
| Angelcrc Seven | 9/27/2021 | 5DFB34A7A7D6770F83A9 | 100% OFF | 40000/7193 | expired |
| Angelcrc Seven | 10/6/2021 | DISCUDEMY.COM1 | 100% OFF | 40000/1493 | expired |
| chris | 10/30/2021 | CD850F13CFEDB188D898 | 100% OFF | 1000/709 | expired |
| - | 11/8/2021 | 56838FD99245877CD312 | 100% OFF | 1000/861 | expired |
| chris | 11/17/2021 | 029F5E22197DD0D395D0 | 100% OFF | 1000/441 | expired |
| chris | 11/21/2021 | A675D863F9D661DD958D | 100% OFF | 1000/973 | expired |
| - | 12/24/2021 | 1D2588BB639E4DA1C497 | 100% OFF | 1000/993 | expired |
| Ignacio Castro | 12/27/2021 | CE458A7750A1C06BA50B | 100% OFF | 1000/902 | expired |
| - | 1/14/2022 | 93B3F929F1311F72A7A7 | 100% OFF | 1000/986 | expired |
| ANUBHAVJAIN | 2/12/2022 | 501CFAAD4A706ABBA335 | 100% OFF | 1000/777 | expired |
| - | 3/9/2022 | 7973071D6253BFDADA34 | 100% OFF | 1000/944 | expired |
| - | 3/14/2022 | 812289FF92EEF051DBCF | 100% OFF | 1000/982 | expired |
| Angelcrc Seven | 3/28/2022 | AB4CF5CBDE4090DB602F | 100% OFF | 1000/805 | expired |
| - | 4/24/2022 | 2B22EBDC8FEF629EEA22 | 100% OFF | 1000/726 | expired |
| - | 5/10/2022 | 0D9E915631CDDD99C7F3 | 100% OFF | 1000/919 | expired |
| Ignacio Castro | 5/26/2022 | C845744CE4AF272FC61F | 100% OFF | 1000/541 | expired |
| - | 5/30/2022 | 79312373E3FF71884CD6 | 100% OFF | 1000/991 | expired |
| - | 6/16/2022 | 169E02510068EF591CB9 | 100% OFF | 1000/737 | expired |
| - | 6/25/2022 | 601FD7205ED7BA4CE2D5 | 100% OFF | 1000/794 | expired |
| Ignacio Castro | 6/29/2022 | 8B7435CFA1384ACC27C9 | 100% OFF | 1000/976 | expired |
| - | 7/17/2022 | E0D009D03C431C9624CB | 100% OFF | 1000/961 | expired |
| - | 7/27/2022 | D7020FE3B946C2BD905C | 100% OFF | 1000/904 | expired |
| - | 7/31/2022 | 1833111285E909F9863A | 100% OFF | 1000/910 | expired |
| - | 8/9/2022 | ED224FA5F4CEDAB5AA91 | 100% OFF | 1000/839 | expired |
| - | 8/18/2022 | A62DA4E1CA87D70A1C7A | 100% OFF | 1000/855 | expired |
| - | 8/21/2022 | 1E465847449920B84022 | 100% OFF | 1000/507 | expired |
| - | 9/9/2022 | 5D0314DBDBD8228FAFA7 | 100% OFF | 1000/952 | expired |
| - | 9/12/2022 | 2FF79696DCDFF863C746 | 100% OFF | 1000/996 | expired |
| - | 9/21/2022 | A1D891E15C5FD2F3F03C | 100% OFF | 1000/996 | expired |
| - | 10/16/2022 | A028F153BFFC84C7353F | 100% OFF | 1000/926 | expired |
| - | 10/27/2022 | 35F549DFF77544AC3D53 | 100% OFF | 1000/854 | expired |
| - | 10/29/2022 | 32DF2FFB995D9ACA0A8A | 100% OFF | 1000/883 | expired |
| - | 11/9/2022 | B8916105D5043E116D7D | 100% OFF | 1000/515 | expired |
| - | 11/15/2022 | D0532295B0EA62CCC52A | 100% OFF | 1000/929 | expired |
| - | 11/20/2022 | 8BB458AA5DFCDD998CC9 | 100% OFF | 1000/968 | expired |
Charts
Price
Rating
Enrollment distribution
8/24/2021
course created date
9/2/2021
course indexed date