CompTIA A+ CompTIA Network+ CompTIA Security+ IT Fundamental
ALL in ONE : CompTIA A+, CompTIA Network+. CompTIA Security+. IT Fundamental. Complete Computer Network/ IT Fundamentals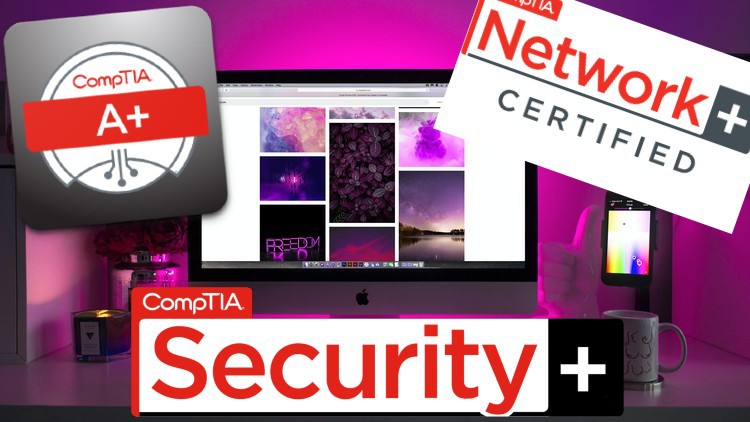 What you will learn
Learn IT Networking
Learn about Computer Networking
Information Security- Introduction to Basics of information security
Switching techniques
Go from basics to go further upto CCNA
OSI and TCP/IP model- layered Architectures
Describe computer networks and identify key components of networks
Mux and Demux
Understand the basics of IP addressing
Configure IPv4 and IPv6
Understand network hardware and their purpose
Understand the basics of IP addressing
Description
Get Certificates and Land a JOB with Comptia A+, Comptia Network+ & Security+
This is a program like no other!
Get Certified in 3 Major Certifications in just 1 Course!
Get Certified in...
Comptia A+

Comptia Network+

Comtia Security +
YESSS, ALL IN ONE COURSE!!
WHY SHOULD I TAKE THIS COURSE?
Technology is ranked as the #1 source of U.S. jobs. Are you looking to kickstart your career, improve your existing IT skills, or increase your chances of getting that IT job? Did you know 96% of HR managers use IT certifications as screening or hiring criteria during recruitment?*
Some jobs that use A+ certifications are Support Specialists (avg. $54,500/yr.), Field Service Technicians (avg. $46,000/yr.), and Desktop Support Analysts (avg. $60,000/yr.)**.
More Certifications = More $$
CompTIA A+ Cert with no other certifications = $47,500/yr.

CompTIA A+ Cert with CompTIA Network+= $84,250/yr.

CompTIA A+ Cert with CompTIA Network+, CompTIA Security+ = $92,080/yr.

CompTIA A+ Cert with CompTIA Network+, CompTIA Security+ & Project= $97,310/yr.

CompTIA A+ Cert with CompTIA Network+, CompTIA Security+ & Internship = $105,150/yr.
ROLES
Network Engineer: $51k - $104k

Administrator: $43k - $82k

Information Technology (IT) Director: $62k - $145k

Information Technology Specialist: $39k - $89k



WHAT'S INCLUDED?
SOOOOO much! This course is a great deal, check it out:
30 hours of video

FREE Textbook

JOB HELP

PDFs that detail all the exam objectives covered in each episode (valuable studying tool)

PDFs of the CompTIA A+ Core 1 exam objectives

End-of-chapter quizzes to test your knowledge

Q&A section where you have access to me and my team of teaching assistants to answer any questions you might have

Bonus videos launched from time-to-time with updated information, exam tips, study tools, and more

30-day money-back guarantee

Lifetime access

Certificate of completion
Enroll Now with Limit Discount
Take a MAJOR STEP TOWARDS SUCCESS!!
Course Created by: PaceIT Online
License: Creative Commons Attribution license (reuse allowed)
Thumbnail: DESIGNECOLOGIST from Unsplash
Content
Introduction
Introduction
Networking Applications
Introduction to DNS
Introduction to network adress
Wan Technology
Reviews
Parece bom , só acho que há mais conteúdo a abordar no que realmente aborda. Mas também compreendo a necessidade de sintetizar.
each part briefly describe fist part of A+ is i understand brefely of computer each section like os, installation, how to use os like administrative rights, control panel and how to identify troubleshooting. now network + i learn different types of lan and cableing.
Marcellus
February 19, 2022
I'm a complete newb, just studying a bit before I enter a cybersecurity boot camp, and I feel like I am taking in a ton of useful knowledge. It is explained in a very clear easy to digest fashion. I look forward to the rest of the course.
So far so good. Its dry material to begin with, so expectations are low already. self pace is good. recorded material seems a bit dated still... at least with these whats in a PC-101 starters.
CPU and parts are nicely explained as if we want to design a system, we could after knowing in detail how that works. Thanks for the course.
An excellent and comprehensive course on very important points and qualifies you for the field The way of explanation is easy and fun and the examples are excellent
It's nice to know that you can watch this course at the convenience of your mobile phone. I can literally learn anytime, anywhere! Awesome!
So far, I'm learning a lot and moving with a slowly but steady pace in studying the fundamentals of IT/Networking.
Coupons
| Submit by | Date | Coupon Code | Discount | Emitted/Used | Status |
| --- | --- | --- | --- | --- | --- |
| - | 1/4/2022 | 1D7334E0123DBA0CEBA7 | 100% OFF | 1000/842 | expired |
| Angelcrc Seven | 3/21/2022 | 961F963CD72C3211BBC7 | 100% OFF | 1000/967 | expired |
| - | 4/15/2022 | 03DCF63A086302A78157 | 100% OFF | 1000/940 | expired |
| Angelcrc Seven | 4/19/2022 | 65C8247439C34FF04B4E | 100% OFF | 1000/861 | expired |
| - | 5/7/2022 | E575A9BF3665076AB20B | 100% OFF | 1000/953 | expired |
9/20/2021
course created date
10/23/2021
course indexed date