Complete Positive Thinking Course - Happiness Psychology
The Positive Thinking Habit - Harness the Power of Positive Psychology to Manifest More Happiness In Your Life!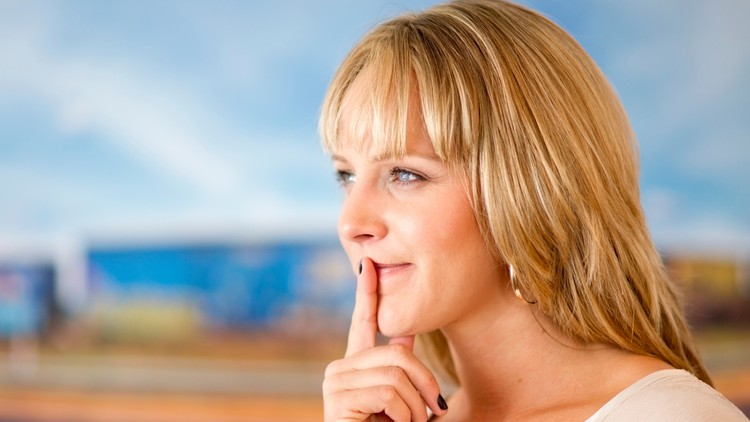 What you will learn
Positive Thinking
Positive Psychology
Happiness
How to Develop a Positive Thinking Mindset in order to live a happier and more productive life
Description
Complete Positive Thinking Course - Happiness Psychology
The Positive Thinking Habit - Harness the Power of Positive Psychology to Manifest More Happiness In Your Life!

Positive thinking is not something you're born with. It is a habit you can develop. And once you have the positive thinking daily habit, your life will explode with growth and improvement.
People who go through life with a "glass is half full" mindset are more successful, happier, and more productive than those who go through life with a "glass is half empty" mindset.
Whether you were born naturally optimistic or not does not matter. If you decide you want to embrace positive thinking on a daily basis in your own life, then this course will show you exactly how to do it.
Personal development expert TJ Walker will teach you his unique SelfieSpeak Programming (SSP) method for building a positive thinking mindset into your brain. This system isn't just theory or another collection of useful tips, it is a systematic way of reprogramming the negativity out of your brain.
We live in a 24/7 online media and social media world that screams out "negative, destruction, despair, unrest, failure" all day long. If you consume media the way most people do, and interact with your own cell phone the way most people do, then a negative thinking mentality is the most likely outcome. If you want to embrace life with a positive thinking mentality, you must change your relationship to traditional media, social media, and your cell phone.
This course will teach you how to embrace the positive in life. If you are ready to wake up in the morning with a smile on your face and feel good about your day to come, then you should sign up for this positive thinking course right now.
Here is what Udemy students say about this course:
"very well demonstrated how to advertise your self your own goal and why good habits can build positive attitude." Abhijeet Sankpal
"This course helped me to understand the flaws in my approach to a happier life." Aman Ojha
Content
Positive Thinking Can Be Your Path to Happiness and Success
Complete Positive Thinking Course - Happiness Psychology Promo video
Quick Win! 30 Seconds to Make Yourself Feel Positive
This Is Exactly What Positive Thinking Is
The #1 Most Effective Tool To Help Build Positive Thinking In Your Life
The Opposite of a Negative Does NOT Make a Positive
Quick Medical and Legal Disclaimer Here
Reminder - I'm Here to Answer all Your Positive Thinking Questions and Concerns
Here is What Is Different About This Positive Thinking Course
I'm a Positive Thinker, But Not a Mind Reader
The Negative World We Live In
The World of Positive and Negative Has Changed Completely
The Growth Mentality Assumption in Positive Thinking
Using Positive Psychology to Create Positive Thinking and Happiness
How Positive Psychology and Positive Thinking Relate to Happiness
Channeling Positivity Into Daily Habits
Master Influence Over Your Own Habits
Positive Thinking Relates to a Growth Mindset, Positive Psychology, & Happiness
Positive Thinking Depends on Building a Growth Mindset Using Positive Psychology
The 7 Spheres for Positive Thinking In Life
The 7 Habit Life Spheres
Download the 7 Habit Spheres Here
The 7 Levels Of Every Habit Sphere
Print Out the 7 Levels of Habit Spheres Here
How to Create Your Own Positive Thinking Habits
I Will Show You How I Construct My Positive Psychology Habits
Here Is my SelfieMedia Program
Here Is My SelfieSpeak Program
Conclusion to the Complete Positive Thinking Course
We Are Getting Close to the End of This Positive Thinking Course
Your Programming Must Change As Your Life Goals Change
Positive Thinking Sometimes Means Looking for Negative Feedback
Congratulations! You Are Now Ready to Life a Life of Positive Thinking
Reviews
Interesting about your phone being the main thing with negative and positive thinking ? Never thought of it like that ?
A great course on teaching you about Positive Thinking. I like the straightforward, no nonsense style of the instructor. He gave solid advice that I am going to follow and I'm looking forward to putting the information provided to good use and getting the results that I worked for.
What an amazing presentation, I learned a lot. One thing I was hoping is to have some recap from you at the end of the course. Thanks!
This was a fair but lengthy course to finish. Some suggestions were repetitive and in my opinion it was unnecessary. For example: the recording of voice on phone. I felt some aspects were dragged quite a bit and made longer which was not needed and rather it would've been better if you just moved to the next topic.
Amazing.. I've learnt how to make your daily goals and how you can achieve them. I'm so Glad that I'm taking this online course.
This guy is a empty talker. He has courses about positivity, about healthy food, and other habits.. and I don't learn anything in these videos. Udemy must control that the courses are useful and not an easy way to make money
great, I just deleted Facebook, Instagram and Netflix from my phone. I really want to start leaving a life of positive thinking.
It is good to mention what it is wrong, but I was looking for a way not just to get self trust doing audios, I was looking for the way to detect negatives thoughts and try to replace them by positive.
It's really good and helpful. I liked the part about the micro habits and routines. One thing that was unexpected (but maybe reasonable) is how much he talks about social media. I also don't fully understand why he assumes that you are a heavy poster on social media (I haven't posted anything on insta in like 6 months).
It was such a great experience for me and I have learnt a lot of things, that is going to help me in my day to day life. The thing which I want you to add in this course is self concept, ways to boost self esteem to stay more positive.
its really a good one and am willing to learn more on how i should improve on my positive thinking, and learnt a few tips on how i should improve my positive thinking in life is by using the selfie speak tool programming that could improve on my daily habits and achieving my daily goals, Inconclusion the course was interesting and enlightening.
Since I work in Telecom, cell phone takes a lot of my time and produce so many negativity in my day. This mind shifting well help me
I want to join that course who can change my inner negative thoughts for myself. So that I can see everything and everyone with some possibilities.
Es un buen curso, pero creo que se explaya mucho sobre por qué tomar este curso o a quién va dirigido. Es importante especificarlo, pero se puede hacer en una introducción sin mezclar información.
As a student, it helps me to view the world not only those positive parts but also considerating the negative parts, too. I really like this course. Thankyou, Mr. TJ! Hope to meet you someday, Sir. God bless!
Coupons
| Submit by | Date | Coupon Code | Discount | Emitted/Used | Status |
| --- | --- | --- | --- | --- | --- |
| - | 9/18/2020 | E3909DE4FB23295C1FE9 | 100% OFF | 40000/4918 | expired |
| - | 9/25/2020 | 3D4C837B084C8B16C027 | 95% OFF | | expired |
| - | 9/28/2020 | DC2B447A37F398C53185 | 100% OFF | 40000/2344 | expired |
| Angelcrc Seven | 10/9/2020 | DEE19BD5F6CD0AD9527E | 100% OFF | 40000/3024 | expired |
| SADBOY | 1/28/2021 | 8523432EE6AB86369E9B | 100% OFF | 40000/2752 | expired |
| - | 2/19/2021 | 18ED74C8C6E5B0630CC4 | 100% OFF | 40000/4361 | expired |
| jonathan | 4/7/2021 | 32B28A1A22F39ED7B77B | 95% OFF | | expired |
| - | 5/24/2021 | 20A795B5C04ED7F0D14C | 100% OFF | 40000/5206 | expired |
| - | 6/7/2021 | 0CD1770F310D59DEB10C | 100% OFF | 40000/4661 | expired |
| - | 7/16/2021 | 1BA31D8F14EE4E6A2CD3 | 95% OFF | | expired |
| - | 8/6/2021 | 3DC2F71164D63A188B42 | 100% OFF | 40000/1857 | expired |
| Angelcrc Seven | 9/13/2021 | CE1451D7ED7B07FF6ED2 | 100% OFF | 40000/1849 | expired |
| - | 9/17/2021 | THANKS01 | 95% OFF | | expired |
| - | 10/15/2021 | 6D6BE4D4E4E7B1AC7FFC | 100% OFF | 40000/1434 | expired |
| - | 2/8/2022 | 7FC05687846A128EE318 | 100% OFF | 1000/925 | expired |
| Angelcrc Seven | 3/11/2022 | E01B626222E3651FB2EF | 100% OFF | 1000/997 | expired |
| - | 4/2/2022 | 26B6A0FA6B174BA62B6B | 100% OFF | 1000/902 | expired |
| - | 5/5/2022 | F19AD1CD3A386DCF440E | 100% OFF | 1000/770 | expired |
| - | 7/20/2022 | 1B12A9DB3D74F0E4DDB3 | 100% OFF | 1000/925 | expired |
| - | 8/8/2022 | 6A0595DD8E31D4DC92FB | 100% OFF | 1000/930 | expired |
| - | 9/7/2022 | 09B1B96229B379710CDE | 100% OFF | 1000/962 | expired |
| - | 9/28/2022 | 7CC2C4C4D7AE8F2E29FB | 100% OFF | 1000/835 | expired |
| - | 10/19/2022 | 9C7CD3F8AADC2AC5CEA9 | 100% OFF | 1000/884 | expired |
| - | 11/1/2022 | D6E4B3D1F7DB594EF9AE | 100% OFF | 1000/316 | expired |
| - | 11/27/2022 | A18CA616A92FD9166EB4 | 100% OFF | 1000/921 | expired |
| - | 12/23/2022 | 194B61E3ED365B67B50A | 100% OFF | 1000/564 | expired |
| - | 1/13/2023 | 306F90771F8CE8AA73C1 | 100% OFF | 1000/614 | expired |
| - | 1/30/2023 | 2F5AB1B0E8CAF040D1A6 | 100% OFF | 1000/666 | expired |
| - | 2/8/2023 | 81E1B3C41C6F75830FE1 | 100% OFF | 1000/765 | expired |
| - | 2/27/2023 | 6F47E10117CCA4F08CD0 | 100% OFF | 1000/629 | expired |
| - | 3/10/2023 | F90A2143A44ABB5595F6 | 100% OFF | 1000/989 | expired |
| - | 3/18/2023 | 78ADBE84AA7AE3EB6A5D | 100% OFF | 1000/292 | expired |
| - | 4/6/2023 | 49CAB7B28B2BC2454190 | 100% OFF | 1000/331 | expired |
| - | 4/21/2023 | 02EF367E42C730219476 | 100% OFF | 1000/321 | expired |
| - | 5/5/2023 | 3A1C05666DE1CD90B01F | 100% OFF | 1000/263 | expired |
| - | 5/24/2023 | BFC43CFEF499E83C0AA5 | 100% OFF | 1000/261 | expired |
| - | 6/9/2023 | CCFD16B2F00FEB9623AD | 100% OFF | 1000/220 | expired |
| - | 6/24/2023 | FDF5D613349B8E94BFE1 | 100% OFF | 1000/350 | expired |
| - | 7/11/2023 | DBE1F29731630117A04D | 100% OFF | 1000/273 | expired |
| - | 7/29/2023 | 9897B806A38A95B0A0E1 | 100% OFF | 1000/775 | expired |
| - | 8/6/2023 | 653480DF5C9516EB99E1 | 100% OFF | 1000/334 | expired |
| - | 9/4/2023 | B0DF242F232D19735C1A | 100% OFF | 1000/656 | expired |
| - | 10/13/2023 | 5B826770E3663B9F9C48 | 100% OFF | 1000/852 | expired |
| - | 11/15/2023 | 6BB3657C97577D1341A4 | 100% OFF | 1000/349 | expired |
Charts
Price
Rating
Enrollment distribution
9/2/2020
course created date
9/16/2020
course indexed date