Character AI:Make & Talk to lifelike Famous Figure Character
Learn how to create and design digital characters using Character AI and chat with lifelike famous figures powered by AI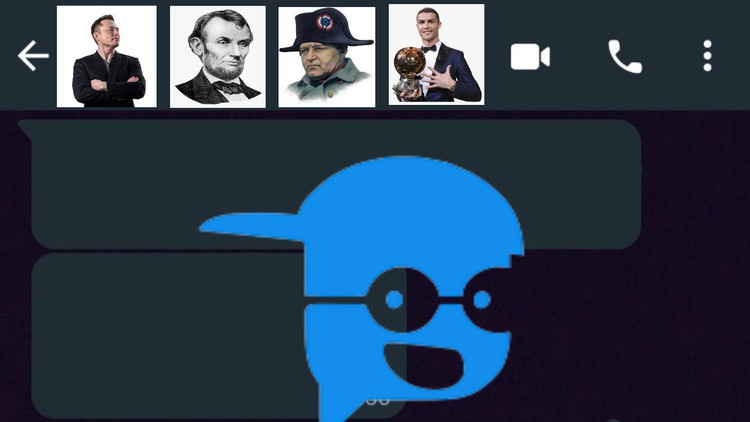 What you will learn
Learn how to create and design characters on Character AI platform
Learn how to chat with famous figures characters powered by AI
Learn how to set up AI personal assistant and AI helper
Learn how to monetise your expertise in creating digital characters
Description
Hi guys, Welcome to Character AI: Make & Talk to Lifelike Famous Figures Characters course. Here, in this course you will extensively learn how to create, design, customize, and interact or even communicate with hyper-realistic characters using Character AI that look and act exactly like real people. In terms of famous figurest characters available, Character AI has wide variety of options that you can create and customize based on your needs and personal preferences, those are including but not only limited to actors, actress, historical figures, politicians, singers, famous athletes, characters in game, characters in popular novels, famous philosophers, anime, and even animal characters. Therefore, by using Character AI, you will be able to turn your imagination into reality and breathe life into your projects as you have the full capabilities of not only creating and designing famous figures characters but also you can have conversation with the characters you've just created. This course will guide you step by step on how to utilise Character AI starting from exploring many different features available there, to creating characters from scratch and conducting special adjustment based on what you want. In addition, this course also comes with three fully guided projects where you will be guided step by step on how to create and design new character from scratch, in the first project, we will created a character of famous historical figure, in the second project, we will create celebrity character, meanwhile in the third project, we will create an anime character. At the end of the course, you will also learn several different strategies to start a business and monetise your expertise creating and designing characters using Character AI
First of all, before getting into the course, we need to ask this question to ourselves: why should we learn Character AI? Well, the answer to that question is actually pretty simple, despite the fact that Character AI is relatively a new platform, it was made available to use for public in September 2022, nonetheless, Character AI has gained popularity within the last several months and as it significantly becomes more popular and the demand of high quality digital characters also increases due to emerging digitalisation in today's market. Therefore, mastering skills in creating and designing digital characters using Characters AI would not only be beneficial but in fact necessary in the market. In addition, as Character AI also accommodates its users to have communication with AI powered famous figures, this particular feature will also be the determining factor of a new technology era which transforms imaginations in your head and make them into reality. Lastly, there are a lot of potentials where you can build sustainable business and generate stable income from having the expertise of creating digital characters and customising based on your customer or client's needs.
Below are things that you will learn in the course:
Exploring and navigating Character AI dashboard

Chatting with famous figures characters powered by AI

Chatting with famous historical figures powered by AI

Chatting with famous anime characters powered by AI

Generate images using Character AI

Learn languages using Character AI

Setting up AI personal assistant & AI helpers

Create your own character from scratch

Create your own room where characters can interact with each other

Learn how to monetise your expertise in creating digital characters
Content
Introduction
Introduction to the Course
Highlight of the Course
Whom This Course is Intended for?
Tools & Resources
Tools & Resources
Introduction to Character AI
Introduction to Character AI
Character AI Use Cases
Character AI Dashboard
Sign Up on Character AI
Exploring Character AI Home Page
Exploring Character AI Community Section
Character AI Features
Chatting with Famous Figures Characters
Character AI Images Generator
Chatting with Anime Characters
Chatting with Historical Figures
Chatting with Animal Characters
Learning Language on Character AI
AI Assistant & AI Helpers
AI Personal Assistants
AI Helpers - Psychologist & Fitness Coach
Creating Characters & Rooms on Character AI
Potential Character Ideas
Tutorial on Creating Character
Tutorial on Creating Room
Projects: Creating & Designing Characters
Creating Historical Figures Characters
Creating Celebrity Characters
Creating Anime Characters
Monetisation Strategies
Monetisation Strategies
Conclusion & Summary
Conclusion & Summary
Coupons
| Submit by | Date | Coupon Code | Discount | Emitted/Used | Status |
| --- | --- | --- | --- | --- | --- |
| - | 5/12/2023 | C69C90FD15751D8353D7 | 100% OFF | 1000/944 | expired |
| - | 5/13/2023 | 5FFF4DD1D0AA3964C329 | 100% OFF | 1000/973 | expired |
Charts
Price
Rating
Enrollment distribution
5/10/2023
course created date
5/12/2023
course indexed date