TOTAL: CCSP 2019 (Cloud Security) Practice Tests - 300 Qs
3 FULL 100-question exams, 300 total questions. Practice for the 2019 Certified Cloud Security Professional (CCSP) exam.
Network & Security
category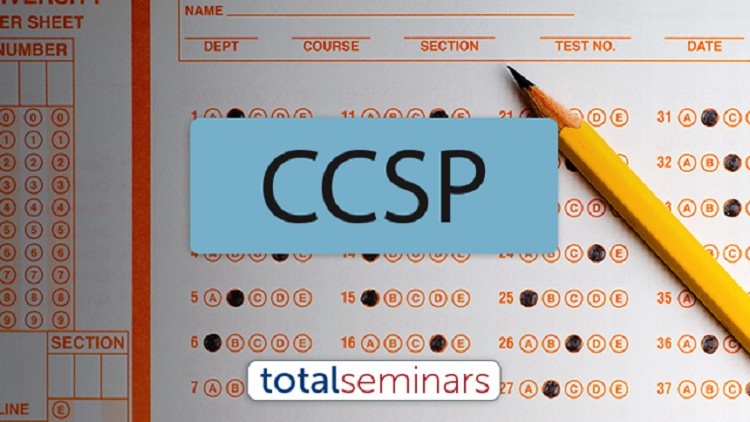 What you will learn
Students will have a clear understanding of which CCSP exam domains they need to study more.
Students will feel confident taking the CCSP exam knowing these practice tests have prepared them for what they will see on the real exam.
Students will learn additional knowledge from the question explanations to prepare them to pass the CCSP exam.
Description
Are you looking to prepare yourself for the (ISC)2 Certified Cloud Security Professional (CCSP) certification exam released October 2019? Did you know the average annual salary for CCSP certification holders is $133,330 per year*?
The exam vouchers cost $599, so the more you practice, the better prepared you'll be to pass the exam the first time.
Taking the same practice test over and over isn't as helpful because you'll quickly begin to memorize the test questions and answers. The best way to prepare is to take as many DIFFERENT practice exams as possible.
Not sure which practice test course to choose on Udemy? Check out our features and benefits:
FEATURES & BENEFITS
- 3 FULL practice tests, 100 questions each
- More practice for studying
- 100-question, 90-minute exam, domains weighted like the exam
- Practice like the real CCSP exam
- Answers linked to the domain
- Targeted studying, don't waste time studying for topics you already know
- Explanation of answers
- Better understanding of the content
- Exam questions written by a panel of experienced test writers*
- Know you're getting relevant, well-written exam questions that mimic the real exam
- Lifetime access
- Udemy's courses all have lifetime access, so use this practice test to brush up on your CCSP skills whenever you like
WHAT'S COVERED?
The CCSP exam covers 6 domains:
- Cloud Concepts, Architecture, and Design (17%)
- Cloud Data Security (19%)
- Cloud Platform & Infrastructure Security (17%)
- Cloud Application Security (17%)
- Cloud Security Operations (17%)
- Legal, Risk, and Compliance (13%)
IS THE CCSP EXAM RIGHT FOR YOU?
According to the (ISC)2 website, the answer is yes if you:
- "Are an experienced IT professional who's involved with IT architecture, web and cloud security engineering, information security, governance, risk and compliance or IT auditing.
- Are heavily involved with the cloud (or you'd like to be) in a global environment. You're responsible for migrating to, managing or advising on the integrity of cloud-based software, such as SalesForce, Office 365, Optum, Impact Cloud, JIRA Software, SharePoint or CTERA.
- Are an early adopter who loves being on the leading edge of technology.
- Are passionate about security.
- Want to differentiate yourself (or your business).
- Want to stay up-to-speed on rapidly evolving cloud technologies, threats and mitigation strategies.
In addition, many who pursue the CCSP find it useful for working with organizations committed to DevSecOps, Agile or Bimodal IT practices.
The CCSP is ideal for those working in roles such as:
- Enterprise Architect
- Security Administrator
- Systems Engineer
- Security Architect
- Security Consultant
- Security Engineer
- Security Manager
- Systems Architect***"
*Source: certmag .com
**Practice test questions are drawn from the McGraw-Hill CCSP® Certified Cloud Security Professional All-in-One Exam Guide, Second Edition.
***Source: isc2 .org
Reviews
I got a good deal - so this course was definitely not pricey. For the amount spent - I got more than what I needed. However, this course could have carried more weight-age or value if the author had spent time writing a few words on the wrong answers. The incorrect answer list had the same description for all the 300 questions. If you refer to any CCSP CBK and Official reference resources and review their questions and answers section - you will understand what I am talking about. I am not complaining - just hope you take this as positive feedback. The questions and difficulty level were great - could have been better with detailed explanation.
Most explanations just restate the question in the form of a statement and does not provide a great insight to the concept.
Ramakrishnan
March 6, 2020
I took these sample tests just a day before my real exam and I failed in 2 out of the 3 tests by a wide margin. I thought I was hugely under-prepared and became very nervous. The second and more important issue is that many questions had very confusing wordings in the question itself or the answers. For example, to one of the questions there were 2 responses "measured service" and "metered service", which in my opinion and according to official guide are one and the same. There were other glaring errors too.
1/16/2020
course created date
1/25/2020
course indexed date