Business Analysis Step-by-Step: How to build a Business Case
A Step-by-Step approach to Financial Analysis, Business Case Development, and Executive-level Decision-Making
Financial Modeling & Ana
category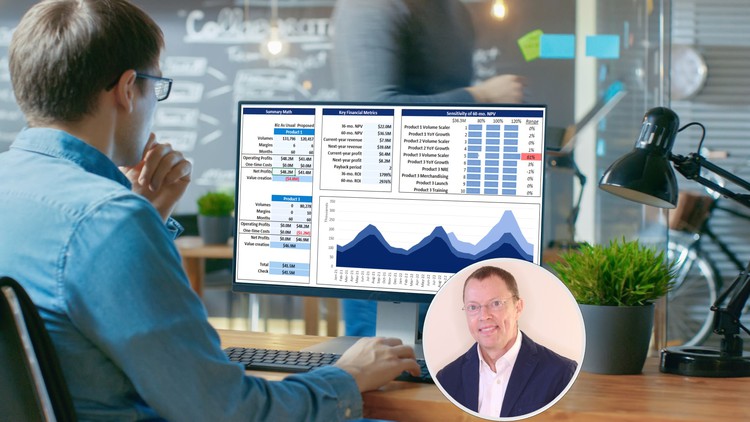 What you will learn
Understand what is meant by the term Business Case and the components that should be included in a powerful Executive-level deliverable.
Understand metrics such as Net Present Value, Return on Investment, and Payback Period that executives consider before approving a new business opportunity.
Learn about the most common business case mistakes and how to avoid them.
See how to use a framework to structure and summarize business case impacts in preparation for review and financial modeling.
Create a financial analysis with cash flows, financial KPIs, sensitivity analysis, and intuitive dashboard to illuminate the path to a successful outcome.
Learn Best Practices for Financial Modeling and Executive Communications.
Learn techniques for refining assumptions to ensure the most accurate projections.
Consolidate all components into an executive-ready Business Case Brief that is ready for presentation, review and approval.
Description
What do Executives mean when they ask for a Business Case, and what content to they expect in a robust Business Case? How can you think like an Executive to understand and weigh considerations like Net Present Value (NPV), Return on Investment (ROI), Payback period, Revenues, and Profits? How can you build a robust financial analysis, starting from scratch and covering everything from cash flows to key financial metrics to sensitivity analysis and key performance indicators? How do you build a dashboard that people can use to understand the business opportunity, and how do you ultimately package it all up for executive-level approval? In this step-by-step hands-on guide to financial modeling and executive-level business case development, you will learn all this and more. We will start by talking about Business Case fundamentals, including necessary content, key financial metrics and when an executive is likely to prioritize one over another, and how to use a framework to structure your opportunity in preparation for modeling. Then we will open Excel and build a robust financial model from the ground up, complete with Cash Flows, Summary Math, Key Financial Metrics, and Sensitivity Analysis – ultimately resulting in an intuitive and interactive Financial Dashboard. We'll then organize and communicate the content in a powerful Executive Brief that will position your business opportunity for presentation, review and approval.
Content
Business Case Fundamentals
What is a Business Case?
Business Case Fundamentals and Common Mistakes
Financial Metrics and Executive Considerations
Structuring business impacts in prep for Modeling
Developing the financial model to understand the business case financials
Introduction to the Financial Model
Modeling Business Case Inputs
Modeling Cash Flows
Modeling Key Financial Metrics
Summary Math
Running Sensitivity Analysis
Building a Dashboard to bring the financials to life
Setting and refining assumptions
About advanced modeling techniques: Regressions, Monte Carlo, Machine Learning
The Business Case Brief
Communicating the business opportunity in a powerful Executive Brief
Wrap-up
Wrap-up and Closing
Reviews
I consider myself a beginner, so terms like COGS are lost on me. But mostly, the definitions provided make sense and I can follow.
I don't have a strong background in this subject matter. I have run my own businesses, but mostly on instinct. This helps break down how to assess in numeric terms the current state of the business, and advances or improvements you are considering.
Charts
Price
Rating
Enrollment distribution
8/25/2022
course created date
10/3/2022
course indexed date