AZ-900 Azure Fundamentals practice tests - May 2022
Questions & answers with explanation to practice for the AZ-900 certification exam - May 2022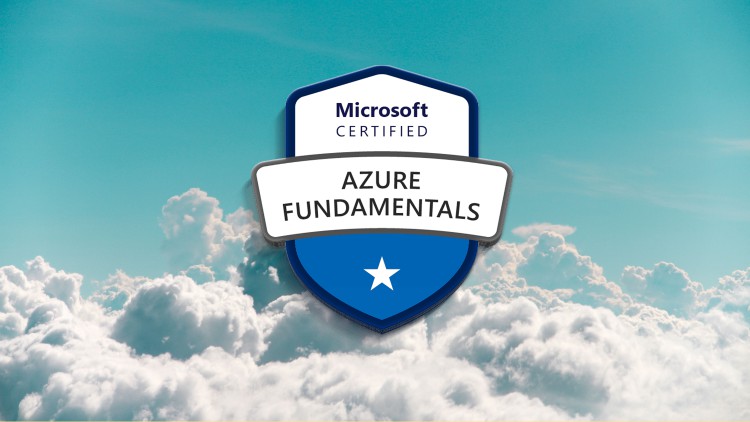 What you will learn
Take and pass the Microsoft Azure Fundamentals certification exam
Learn the main concepts of Azure services
Increase their Azure skills
Understand what services and solutions Azure offers
Description
Welcome to these practice tests for the AZ-900 Microsoft Azure Fundamentals! This set of practice tests will help you to practice and learn concepts quickly with questions asked in the actual exam certification. The questions are updated monthly. Last time updated May 3rd, 2022.
About the Microsoft Azure Fundamentals certification
Candidates for this exam should have a foundational knowledge of cloud services and how those services are provided with Microsoft Azure. The exam is intended for candidates who are just beginning to work with cloud-based solutions and services or are new to Azure.
Azure Fundamentals exam is an opportunity to prove knowledge of cloud concepts, Azure services, Azure workloads, security and privacy in Azure, as well as Azure pricing and support. Candidates should be familiar with the general technology concepts, including concepts of networking, storage, compute, application support, and application development.
Topics covered in the Microsoft Azure Fundamentals certification
Describe cloud concepts (20-25%)

Describe core Azure services (15-20%)

Describe core solutions and management tools on Azure (10-15%)

Describe general security and network security features (10-15%)

Describe identity, governance, privacy, and compliance features (15-20%)

Describe Azure cost management and Service Level Agreements (10-15%)
Each Practice test contains
60 questions from 6 categories, one-hour duration

A balanced number of random questions to cover each category

A detailed explanation for every question

Reference links for further studies
Content
Practice Test #6 Azure Fundamentals
Reviews
The questions are truly related with the content of the documentation and the explanations of the answers are for the most part fully explained. Everything is referenced. What I like the most is the paragraphs were clear and clean so the information was easy (well, you know) to process! Timing and proportion of subjects works great and the delivery of the results is fantastic, giving great insights as exactly were to pay more attention.
The practice exams do a great job at preparing you for the az900 exam. The questions are very similar to those found on the test. Some questions need to be better drafted, but taking the 6 practice exams and reviewing the concepts will get you through the certification.
Coupons
| Submit by | Date | Coupon Code | Discount | Emitted/Used | Status |
| --- | --- | --- | --- | --- | --- |
| - | 5/6/2022 | 1F5F9F5780E48D75F73F | 100% OFF | 1000/933 | expired |
| - | 5/10/2022 | 871A087316C7EC0FD444 | 100% OFF | 1000/985 | expired |
| - | 6/18/2022 | BC0AC3ABCA424FFD70F6 | 100% OFF | 1000/971 | expired |
| - | 7/5/2022 | 01FAE9F3D8F535412517 | 100% OFF | 1000/962 | expired |
4/12/2022
course created date
5/6/2022
course indexed date