1Z0-1072-21 OCI 2021 Architect Associate [Practice Tests]
1Z0-1072-21 Oracle Cloud Infrastructure 2021 Architect Associate practice test series.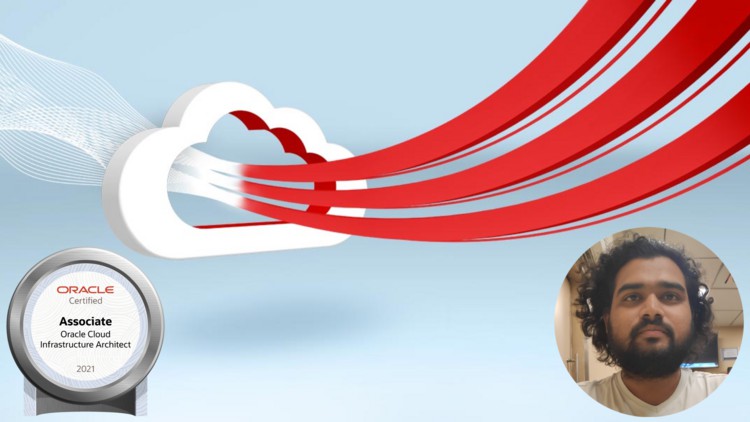 What you will learn
To clear OCI 1Z0-1072 Foundations Associate 2021 Certification
Basics of OCI
Practice of Exam question
Preparation of Exam
Description
OCI 1Z0-1072 Architect 2021 Associate
All latest questions are updated to clear the OCI Architect Associate Exam.
Enroll before 28th Feb 2022 and get your free certification!!!


We have 2 full-length tests exactly like the real exam.

Criteria to pass
Format: Multiple Choice
Duration: 90 Minutes
Number of Questions: 60
Passing Score: 65 %
Topics covered

Compute
Choosing the right compute

Compute Instance Configuration

Automatic scaling configuration

Description of OCI Computing Image Options

OS management description and configuration
Network
Implementation and management of virtual cloud networks

Public and Private Subnet Descriptions

Public and private IP addresses and virtual NIC descriptions

Virtual cloud network routing configuration

Security list and network security group configuration

Implementation and management of VCN connections

Understanding VCN connection options

Site-to-site VPN configuration

Fastconnect description

Configuring local and remote peering

DNS and traffic management configuration

Public and Private DNS Zone Descriptions

Traffic management configuration

Load balancing description

layer-7 Load balancer description and configuration

layer-4 Network load balancer description and configuration
Storage
Deploy and manage block storage

Understanding the performance layer of block volumes

Deploy block and boot volumes

Volume group, backup, clone configuration

Object storage configuration and management

Understanding the object storage layer

Object storage security description

Object storage versioning, lifecycle management, and maintenance rule implementation

File storage implementation and management

File storage configuration

File storage security description
Database
Understanding database options

Autonomous Database Configuration

DB system configuration and management

MySQL and NoSQL Database Services Description
Observation and Management
Understanding the observation and management platform

Monitoring configuration and alarm settings

Logging configuration
Identity and Access Management
Understanding AuthN and AuthZ

Compartment implementation

Implementation of conditional and extended policies

Configuring dynamic group and tag-based access control
Security
Understanding security services

Configuring Data Guard, Security Zones and Security Advisors

Vulnerability Scan and Web Application Firewall Configuration

OCI Vault Description and Configuration
All the topics on which questions can be asked are covered in this course. Answers to all the questions have been mentioned with brief explanations. Very helpful in clearing OCI Architect 2021 Associate exam.

Additional Preparation and Information
You can go on Oracles website they have excellent documentation and material to prepare. Try to do hands-on and practice. With this test series in addition you are guaranteed to be passing in your first attempt.


There is a special offer on certification on Oracle's website
Take OCI Certification Exams FREE till 28-Feb-2022. Register NOW!

Good Luck with your Exam!!!
Reviews
I had given this test yesterday. Got failed in 2nd attempt. Some of question were part of exam. Just there was lack of explanation for some of questions. So It seems dumps does not work all the times. Study is more important on topics.
12/24/2021
course created date
1/3/2022
course indexed date