Xero Accounting Software
Learn Xero accounting software in a comprehensive online course taught by a practicing CPA, CGMA, CPI, with BS tax
Money Management Tools
category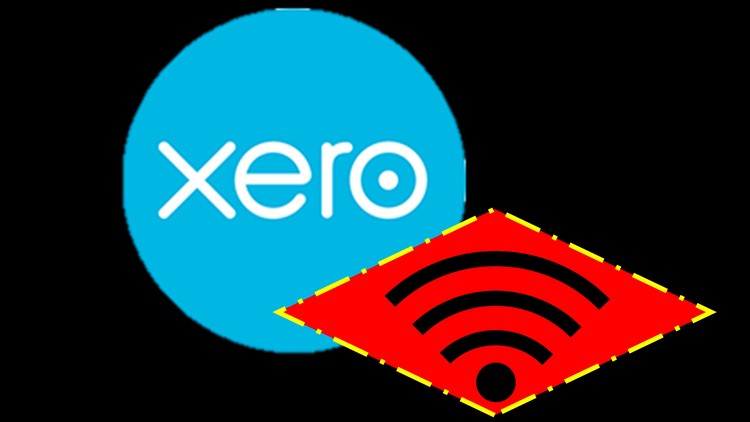 What you will learn
Set up Xero Account
Navigate Xero Software
Enter normal business transaction into Xero accounting software
Reconcile bank accounts using Xero accounting software
Generate and analyze reports including a balance sheet, an income statement, and supporting reports
Export Reports to Excel
Description
This course will start at the basics, assuming you know nothing about the software or accounting.
We will then go through the purchasing process, the downloading process, and the installation process. Xero often offers a free 30 day trial which is a perfect tool to practice with.
The first half of the course will be dedicated to navigating the software, getting a feel for the major components of the software, and the primary accounting cycles such as the customer section or revenue cycle, the vendor section or payments cycle, and the employee section or payroll cycle.
Once we learn the primary sections or accounting cycles we will analyze the forms and transactions within each section, considering the impact each has on the financial statements. major accounting forms will include invoice, bills, pay bills, purchase orders, deposits, and more.
The second half of the course will be in the format of a comprehensive problem, working through two months of data impute.
We will enter every standard type of transaction as we work through the comprehensive problem. The comprehensive problem format will provide context to the data entry process, so we understand how the data impute fits into the accounting workflow.
A comprehensive problem also allows us to do more than simple data entry, data entry generally being the easiest part of the accounting process. We will be able to see how to set up the system to make the data entry as easy as possible.
We will also be able to see the impact on the financial statements of every transaction we make and be able to check our work after each transaction.
Content
Getting Started - Getting Setup - Xero 2020
.10 Xero Free 30-Day Trial
Data Files to Download
1.05 Navigation Overview
Customer Cycle , Cycle, or Accounts Receivable Cycle - Xero 2020
Data Files to Download
1.15 Customers Section Flow
1.16 Customer Section Invoice
1.17 Customers Section Receive Payment
1.18 Customers Section Deposit from Clearing
1.19 Customers Section Sales Receipts
Vendor Cycle, Purchases Cycle, or Sales Cycle - Xero 2020
Data Files to Download
1.20 Vendors Section Bill Form
1.22 Vendor Section Payable Payment
1.23 Vendors Section Purchase Order
1.24 Vendors Section Check
Employee Cycle and Other Core Features - Xero 2020
1.25 Employee Section
1.28 Others Section
1.30 Reports
1.40 Help Options
1.45 Print & Export Reports to Excel
1.50 Backup Options
Balance Sheet Reports - Xero 2020
Data Files to Download
2.10 Balance Sheet
2.15 Balance Sheet Report Settings
2.20 Balance Sheet Edit Layout
2.30 Comparative Balance Sheet
2.40 Summary Balance Sheet
2.50 Memorize Custom Report Group
Profit and Loss or Income Statement Reports - Xero 2020
3.10 Income Statement
3.20 Comparative Income Statement
3.25 Vertical Analysis Income Statement
3.30 % of Expense Income Statement
Statement of Cash flows & Other Common Reports - Xero 2020
4.10 Statement of Cash Flows
4.20 Income By Contact Report
4.30 Aged Receivables Report
4.35 Aged Payables Reports
4.40 Sales Graphs
4.45 AR & AP Graphs
Course Project Start - Set Up New Company File, Preferences, & Users
Data Files to Download
6.01 Set Up Organization Details
6.02 Users Add & Manage
6.03 Add Apps, Currencies, & Subscriptions
6.05 Payment Services, Invoicing, & Features
6.06 Projects, Files, & Other Settings
Set Up Service & Inventory Items & Enter Inventory Beginning Balance
Data Files to Download
6.09 Objective
6.10 Items - Service Set Up Part 1
6.11 Items - Service Set Up Part 2
6.13 Items – Inventory Set Up Part 1
6.14 Items – Inventory Set Up Part 2
6.14 Items – Inventory Set Up Part 3
Add Customers & Vendors - Enter AR and AP Beginning Balances
6.15 Set Up Customers & Beginning Balances
6.20 Set Up Vendors & Beginning Balances
Add Accounts & Beginning Balances, Checking, Credit Card, Notes Payable, Equip.
6.25 Add Bank Account
6.26 Add Credit Card
6.27 Add Notes Payable
6.28 Add Equipment Account
Adjust Equity, Payroll Options, & Reports
6.35 Payroll Options
6.55 Generate Transaction Detail Report
Month 1 - Deposits from Owner & Loan, Purchase Furniture, Sales Tax Set Up
7.05 Record Owner & Loan Deposit
7.10 1 Record Purchase Furniture
7.10 2 Record Short-Term Investment
7.16 Sales Tax Set Up
Month 1 - Purchase Orders & Invoices
7.17 Purchase Order Part 1
7.18 Purchase Order & Add Inventory Item
7.20 Part 1 Create an Invoice with Inventory Part 1
7.20 Part 2 Create an Invoice with Inventory
Month 1 - Receive Payments Forms
7.25 Part 1 Receive Payment
7.25 Part 2 Receive Payment
Month 1 - Sales Receipt & Deposit
7.30 Part 1 Sales Receipt
7.30 Part 2 Sales Receipt Service Item
7.35 Deposit Records Group Deposits
Month 1 - Receive Inventory & Link Expense Form to Purchase Order
7.40 1 P.O. Billed & Paid Part 1
7.40 2 P.O. Billed & Paid Part 2
Create Invoice From Linked Billable Expense & Make Deposit
7.45 Invoice Created From Purchase Order Part 1
7.46 Invoice Created From Purchase Order Part 2
7.50 Receive Payment & Make Deposit
Month 1 – Enter Checks & Expenses & Pay Bills
7.55 Enter Check & Expense Forms
7.60 Pay Bills
Month 1 – Customer Jobs & Sub Customers, Projects, & Payroll
7.65 Projects
7.70 Pay Employees Part 1
7.71 Pay Employees Part 2
7.75 Sales Receipt Service Item
Month 1 – Reports & Review of Data Input
7.80 Generate Report Export to Excel
Month 2 - Loan Payments & Short Term Investment Sale
Data Files to Download
8.02 Consolidate Loans
8.03 Loan Amortization Table
8.05 Make Loan Payments
8.10 Short Term Investment Deposit
Month 2–Purchase Order, Enter Bill for Inventory, Sales Receipt, & Deposit
8.15 Purchase Order With New Inventory Item
8.20 Receive Inventory Requested With P.O. Enter Bill
8.25 Sales Receipts & Deposit
Month 2 – Advanced Payments & Apply Credit to Invoice
8.30 Advanced Payment From Customer
8.35 Apply Credit Or Advanced Payment to Invoice
8.40 Record Sales on Account
8.45 Advance Customer Payment or Deposit
Month 2 – Enter Bills, Pay Bills, Customer Payment, Pay Sales & Payroll Tax
8.50 Bills Track & Pay
8.55 Customer Payment & Deposit
8.60 Pay Sales Tax
8.65 Pay Payroll Taxes
8.70 Enter Bills & Pay Bills
Month 2 – New Service Items to Invoice, Finance Equipment, & Payroll
8.75 Enter Service Items & Invoices
8.77 Purchase Equipment with Debt
8.80 Payroll
8.90 Rental Income New Service Item New Income Account
Month 2 – Month End Reports
8.95 Comparative Financial Statements
Bank Reconciliations
9.02 Bank Reconciliation Objective
9.10 Bank Reconciliation First Month Part 1 Deposits
9.11 Bank Reconciliation First Month Part 2
9.14 Bank Reconciliation Second Month Part 1 Deposits
9.15 Bank Reconciliation Second Month Outflows
Month End Adjusting Entries & Reversing Entries
10.10 Short Term Loan Adjusting Entry
10.11 Short Term Portion Of Loan Adjusting Entry
10.15 Loan Payable Adjusting Entry #2
10.17 Reversing Entry Notes Payable
10.25 Accrued Interest Reversing Entry
10.25 Invoice & AR Adjusting Entry
10.26 Invoice & AR Adjusting Entry Part 2 Solution
10.35 Accounts Receivable Reversing Entry
10.40 Prepaid Insurance Adjusting Entry
10.45 Depreciation Adjusting Entry
10.57 Journal Report & Financial Statements
Bank Feeds
Data Files to Download
315 How Do Bank Feeds Fit Into My Accounting System
320 Project Outline
325 Set Up Bank Feeds
360 Download Transactions From Bank
365 Import Bank Data
370 Add Expense transactions
375 Add Capital Expenditures
376 Add Capital Expenditures Part 2
380 Add Inventory Purchase
385 Add Amount Paid for Investment
395 Add Bank Charge
400 Sales Tax Calculation
400 Sales Tax Set Up
405 Deposit Loan
405 Deposit Owner
406 Bank Beginning Balance
415 1 Upload Bank Transactions
415 2 Add Expenses
420 Add Insurance
425 Add Payroll Checks
430 2 Add Loan Payment
435 Add Draw
440 1 Receive Payments On Invoice
440 2 One Deposit Two Invoices
445 Sales Receipt & Bank Feeds
450 Bank Reconciliation
460 Credit Card Bank Feeds Upload
465 2 Add Credit Card Data to Financial Stmts
470 1 Reconcile Credit Card
475 Bank Rules Deposit Same Customer Different Account
480 Bank Rules Amount Limit
485 Bank Rules Split Into Two Accounts
490 Bank Rules One Vendor Two Expense Accounts
495 Bank Rules More Rules
Reviews
It's a good match for me as I finished BS Accountancy. I just have to practice more so I can familiarize myself with the application. Thank you!
The tutorial video is really helpful in understanding the process. Language is easily understandable.
So far my first course on Udemy and my fav. The instructor has a unique way of keeping things entertaining to a certain extent and yet informative. I learned a lot about Excel too! Keep it up!
Great teacher, however the way in which each section is introduced by Robert saying 'In this presentation…' in somewhat of an annoying way ends up being problematic when it's said like that repetitively. Just wish each section was introduced in a more decent way as he is a great teacher end of the day.
I was very informative and covers all aspects of the bookkeeping functions alongside the Xero learning... found some bits long winded but a well presented course for the absolute beginner
I learnt there is a lot more functionalities in Zero and how it can be used in relation to your bank.
Great way of teaching and having excellent knowledge. I found this course very helpful for me. I highly recommend it to others.
engaging and interesting perspectives with the comparison between the 2 softwares. Early moments yet for an in-depth appreciation though.
Just started but so far so good. Like how instructor explains how the accounting equation is affected with each transaction and/or entry.
I think this course is fantastic for someone who has little or no accounting knowledge, goes into so much detail, covers every step from start to finish
I definitely made made the right choice - Robert Steele is a great lecturer and his attention to detail and thoroughness in his teaching method has ensured that I finished this course with confidence.
This is my first time, I gave 1 star for an Udemy course. Instructor is speaking way too fast...rushing thru the lecture like a bullet train. I guess he is using AI voices, I get headaches after an hour. This course is more suited for those who are already using Quick Book. If you have no experience with Quick Book, this course is not suitable for you :(
The experience is very much good and learning more ideas and skills in accounting using the XERO Accounting Software.
yes, it is a good match. I need to gain some more knowledge regarding Xero so that I have a better chance of getting a job. This is helping me to understand Xero in more detail
really informative - i can relate alot to the quick books program as that is the accounting software i am using at the moment.
Coupons
| Submit by | Date | Coupon Code | Discount | Emitted/Used | Status |
| --- | --- | --- | --- | --- | --- |
| Lee Jia Cheng | 2/1/2020 | BED298BEFE9AFF221D8F | 100% OFF | | expired |
| Lee Jia Cheng | 2/20/2020 | 560EFDBB31BA4C62E9DF | 100% OFF | | expired |
| Lee Jia Cheng | 2/24/2020 | F6507CFF0CBB251BCE25 | 100% OFF | | expired |
| - | 5/20/2020 | 92F5F12EEA5D048896AC | 100% OFF | 40000/3256 | expired |
| Angelcrc Seven | 5/26/2020 | 9D8374BDAFC890E41D46 | 100% OFF | 40000/782 | expired |
| - | 11/9/2020 | 97DEA1CF58DFD9060CAE | 100% OFF | 40000/2491 | expired |
| Angelcrc Seven | 12/27/2020 | 5FB5B0CF46C465B23098 | 100% OFF | 40000/3952 | expired |
| - | 2/13/2021 | B06AFCBB3C7EBBD6616F | 100% OFF | 40000/609 | expired |
| - | 3/15/2021 | 585DB961FADE9320DDE3 | 100% OFF | 40000/3297 | expired |
| - | 4/27/2021 | 6DB8696A60A1D78812C9 | 93% OFF | | expired |
| - | 6/26/2021 | 1D5F922EB391B3683830 | 100% OFF | 40000/2218 | expired |
| Ignacio Castro | 11/21/2021 | 7B35B06460278422B52F | 100% OFF | 1000/978 | expired |
| - | 12/29/2021 | 2D37CA4B21AA9D494F87 | 100% OFF | 1000/968 | expired |
| Ignacio Castro | 1/15/2022 | 04AAF17A3255A41EA47D | 100% OFF | 1000/944 | expired |
| Angelcrc Seven | 1/27/2022 | AAAF4CBF00CE7D2E746C | 100% OFF | 1000/620 | expired |
| Angelcrc Seven | 2/2/2022 | 728CC600C8F7785BFE25 | 100% OFF | 1000/987 | expired |
| - | 2/11/2022 | 56DB1071505035A5D027 | 100% OFF | 1000/568 | expired |
| - | 2/23/2022 | 820B5B6E9A3327882F2B | 100% OFF | 1000/153 | expired |
| Angelcrc Seven | 3/10/2022 | AC2354B2993878C28946 | 100% OFF | 1000/396 | expired |
| Angelcrc Seven | 3/17/2022 | 5535BB48C2FEB147954F | 100% OFF | 1000/389 | expired |
| - | 3/27/2022 | C64F0D2ACEC8DCBFEFC7 | 100% OFF | 1000/329 | expired |
| - | 4/5/2022 | D3A61E6A2D671C14929F | 100% OFF | 1000/355 | expired |
| Angelcrc Seven | 5/4/2022 | F1595C4B8032FDC3D19D | 100% OFF | 1000/470 | expired |
| - | 5/27/2022 | F391E914940C136884D6 | 100% OFF | 1000/374 | expired |
| - | 6/2/2022 | E3C50AF43C962276C6B7 | 100% OFF | 1000/252 | expired |
| - | 6/18/2022 | A382C1268DFF164639CB | 100% OFF | 1000/501 | expired |
| - | 6/30/2022 | CB60A0B28489EE761538 | 100% OFF | 1000/385 | expired |
| - | 7/16/2022 | E018280913A867E2FB3A | 100% OFF | 1000/133 | expired |
| - | 7/27/2022 | B37E7B13A15BCC05B730 | 100% OFF | 1000/286 | expired |
| - | 8/18/2022 | 09940941D52F2567035A | 100% OFF | 1000/269 | expired |
| - | 8/26/2022 | BABCE7A68D15EAE1EF3C | 100% OFF | 1000/841 | expired |
| - | 9/11/2022 | D3AEE3B519EB1794D1F9 | 100% OFF | 1000/130 | expired |
| Angelcrc Seven | 9/19/2022 | 2A24E0C3117FE58F23BA | 100% OFF | 1000/210 | expired |
| - | 9/27/2022 | 5A5C0935BA86C7037128 | 100% OFF | 1000/307 | expired |
| - | 10/13/2022 | 877BBB156BDEEFB40E23 | 100% OFF | 1000/209 | expired |
| - | 11/12/2022 | 2DC1A085D766617A934E | 100% OFF | 1000/129 | expired |
| - | 12/6/2022 | 8308222B44C876B55357 | 100% OFF | 1000/976 | working |
Charts
Price
Rating
Enrollment distribution
1/25/2020
course created date
2/1/2020
course indexed date
Lee Jia Cheng
course submited by