Express course - Develop Web Apps/SaaS with PHP and ATK
Value your time! Learn efficiently. Fast pace. Carefully selected curriculum leading to real results.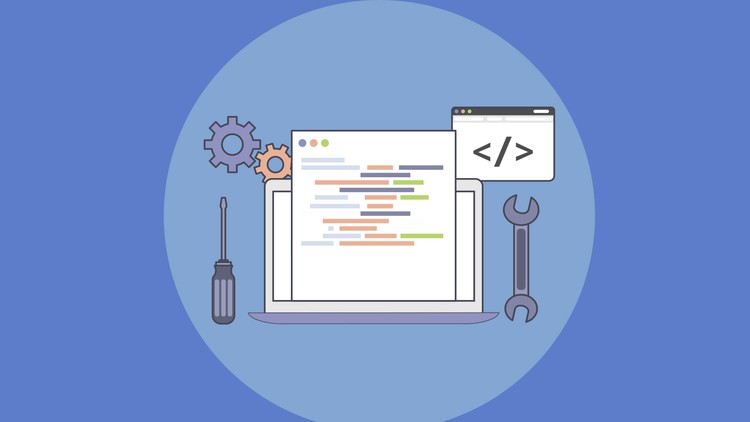 What you will learn
Create professional and interactive Web Apps
Create SaaS apps
Use Cloud Infrastructure (Docker, Heroku)
Understand and practice best code-patterns
Description
Hi, my name is Romans and I am a professional freelance Web application developer. I participated and built many SaaS apps, have worked as CTO for various web start-ups and have been a very active open-source contributor. I teach secondary students how to build useful web apps as a hobby.
I offer you this ORIGINAL COURSE where I will introduce you to a very powerful "PHP + ATK + Heroku" combination. To my knowledge it's the FASTEST and the most EFFICIENT approach for building powerful web apps.
How is this course different?
My goal is not to give you "introduction" to gazillion free web technologies, instead I will keep my focus on those core technologies and keep going deeper and deeper eventually enabling you to build and deploy sophisticated web apps. ATK is pretty new framework, but its core goal is to make web development simpler, more friendly, not more complex.

What about Laravel/Symfony?
In my course you'll learn an efficient way to build Web UI and work with Data. If you know one of Laravel/Symfony/Wordpress already, you can use it together with ATK.

How does PHP compare with Ruby/JavaScript/Python?
PHP is the most popular language for websites and web apps. It alway was. NodeJS is trendy. Ruby on Rails was trendy in 2006 and is now in decline. But there is a good reason why PHP remains #1 for web sites - it runs everywhere, it's easy to install, it's easy to learn and it's really fast. Don't take my word for it - verify it yourself on "Google Trends".
What does "Express course" mean in the title?
Most courses I've seen here will start at the very beginning and will dedicate some limited time on various technologies you need to build web apps. 3 lectures on HTML. 2 lectures on CSS and so on. Quite often you have to listen to over 200 lectures before you get your application online!
FOR EXAMPLE: many professional developers DON'T USE SQL language. They rely on "data abstraction frameworks". Also many Web Developers DON'T write CSS or HTML themselves. They use CSS frameworks. So, unless you want to be a Website Designer, there is no real need for you to master HTML/CSS. Yet other courses will insist on giving you a comprehensive introduction for all the fundamentals. Why spend your time on them now, if you might not need them in the future?
In my course I only teach you technologies which you will absolutely need to make Web Apps. Sometimes I'll suggest you where you can learn more about those supplementary technologies, but I remain very firmly focused on the goal.
What are the milestones?
If know nothing about web apps and you start my course now, then:
In one hour, you will know how to run your own web app in the cloud and use version control.
In two hours, you will be able to work with database and build interactive applications, and use 3rd party services for sending SMS messages.
In three hours, you will learn about relations, expressions and data aggregation.
In four hours, you will know how to make SaaS multi-user apps and send out nicely-looking emails.
In five hours, you will know how to work with files and accept on-line payments.
Additionally, we will be implementing lots of web apps. If you need, pause my videos and try following me with your own code editor. Also - work on assignments.
DO NOT SKIP LECTURES. To save time I rarely repeat things. Make sure you fully understand every lecture before moving on. If not - please post questions in "Q/A" section.
Other courses to learn?
After finishing this course, I recommend:
If you wish to be a better frontend/mobile developer - Learn React. It can interact with ATK / PHP through RestAPI.
If you wish to tweak UI - Learn CSS and dig deeper into Semantic UI.
If you wish to self-host your apps - learn more about Docker and Kubernetes. 
IMPORTANT: I'm still working to record videos in the curriculum. I typically release several videos every week. Because my material is NOT COMPLETE, I am giving you access to my course FOR FREE. Please consider that before leaving a review.

Content
..where you learn to built basic Web Apps in PHP within under 2 hours!
Fastest way to learn Web App Development. Introduction to the Course.
Setting up. Using basic Web UI components.
Static UI Components: Buttons, Labels, Menus, Tabs
Interactive UI: Tables, Grids, Forms
Building User Admin page with CRUD, MySQL, Forms and Tables
..where we build "The Party App" from scratch and deploy it online using Heroku.
Party App
Cloud Services
..where we build "Money Lending" app from scratch (Part1)
New app. Introduction to Relations.
MySQL Workbench
Admin for Users and Friends (CRUD)
References (relations)
Aggregating related records
Expressions - Math in SQL
Dive into ATK Data and PsySH
Send email from PHP and your own domain with MailJet
..where we build User UI for the "Money Lending App" (part2)
Goals for this section
Add public page, menu, menu and short description
Create model sub-class - Admin
Regular User Authentication and Logout
Conditions and traversing references
Adding page to see loans to a friend
Custom HTML lister with card-view to display friend list
Friend details, showing loans, repayments and view with custom HTML
JS interactions, quick-add record (loans and repayments)
Deleting Friend records through a nice custom UI
Reviews
Still a little confused about relationships within models and how they relate to many to many relationships in RDB
Can't Follow along, the course is outdated. The Agile toolkit UI which it is referring to has changed it's resources. Don't know how to run.
Too tough for someone with no programming knowledge. I would be happy to learn more : poh5678@hotmail.com But not sure if one year is too long for me. :)
Very helpful insights provided that helped me practice and understand ATK better. Would be even more useful if the scripts worked in the course are provided to the students.
There is quite a bunch of code which is added while the guy is talking about someting else. And I think that stuff like Github is out of scope.
The Agile Toolkit has 'getting started' and demo pages that cover must of what's here, so I haven't learned anything. I'm hoping to learn more about the actual toolkit's features in a bit more depth, hoping we'll get more into that as we go.
Shows use of mysl_* functions for db connection. mysql_* functions have been removed in PHP 7. There are now two alternatives MySQLi and PDO. Neither of which are discussed in the lesson. I spent 2 hours stuck trying to get connected to the db before I found this on stackoverflow.
Thank for this great quickstart! I would recommend it for anyone willing to learn ATK in a short space of time.
I'm liking the content and the pace. I'm a little frustrated by not having the correct resources in place ahead of time.
So far, good overview of Agile for web development. Looking forward to more in-depth information and examples.
The course was very easy to follow and quickly finished with great success. I could get all knowledge that I was eager to know before starting the course, to be able to use the framework for my needs. It gives a very good overview of all the framework's possibilities and the most important parts of it. Besides that, the author goes off the road whenever there is time and it makes sense, to show how to use the framework in a complete developing environment. It starts from setting up the core environment, continues with using great development tools, third party services and ends up with deploying everything to a Cloud via GitHub – and everything just runs like magic. It was just great and a lot of fun to do that course and get all this information. Romans work is really inspiring and shows how easy things can be done. He inspired me for my future work. Romans did a really great job in all the lectures, and the only negative thing I can say is that I am sad the lectures are over. I really hope you will do more lectures. My suggestion would be an advanced course maybe. Maybe what all UI designers (of course with the interaction of data) are eager to know, how the framework could be used with UI interactions. Such as dragging and dropping elements and trigger some actions when doing that. For instance dragging a friend to a group will trigger to save this friend to a specific group and so on. Please go on with another course. It was really fun and I can't wait to see more of it. You have done a great job Romans.
12/10/2017
course created date
7/11/2019
course indexed date