How to VLOG: Complete Beginner's Course
The perfect course for every beginner wanting to get started in vlogging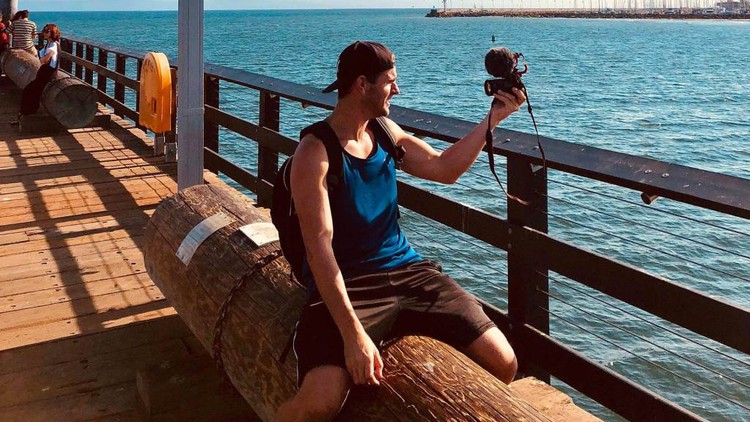 What you will learn
Film and share your passion with the world using video
Basic tips and strategies to get started as a vlogger
Description
* UPDATED JANUARY 2023 *
This course was created to help you get going with creating your own vlog; covering all of the basics from dealing with your fear of vlogging in public, basic equipment and the editing software you'll need.
Although there are hundreds of tutorials on "how to vlog" on YouTube, this course is a unique perspective after 7 years of experience vlogging on YouTube. The journey has been challenging but incredibly rewarding. I will share with you the mindset of vlogging and how it can help you grow your business or personal brand.
What makes me qualified to teach you?
I'm a self-taught video editor and full time vlogger that started off like you!
In 2016, I had zero video editing experience, no laptop, no students and no YouTube channel. Fast forward to January 2023, I have;
832+ videos on my main YouTube channel (I own 3 channels)

20,000+ YouTube subscribers (combined)

312,000+ students in my digital courses

6,500+ reviews (avg. 4.6/5 review rank)
Trust me, as I review my stats it sounds crazy to me too! I never expected in a million years to be in my current position with these achievements. I started with nothing. If I can do it, I am confident that you can do it too.
Content
Getting Started
What Should You Vlog About?
My Vlogging Philosophy
A Short Summary
5 Ways To Feel More Confident on Camera
Stop Copying Other Vloggers
Don't Do It For The Money
My 3-year Vlogging Journey
My Example YouTube Vlogs
Stop Focusing on Subscriber Numbers & View Counts
Vlogging in Public without Embarrassment (My Top 5 Tips)
Dealing with Judgement from Family and Friends
Results Don't Come Instantly (Real Examples)
Producing Your Vlogs
The Best Vlogging Equipment Setup for Beginners
Vlogging Equipment Guide for Beginners
The Best FREE No Copyright Music for YouTube & Amazon Prime Videos
My Top 2 Favourite No Copyright Music Providers
Free No Copyright Music Resources
The Best Video Editing Software for Beginner Vloggers
Making Eye Contact with the Lens
Make Engaging Vlogs (Using B Roll)
Create Awesome YouTube Thumbnails (with ZERO experience!)
Distribution: Uploading Vlogs to Amazon Prime
Introduction to Vlogging on Amazon Prime
My Amazon Prime Earnings Report (Explained)
Reach 100+ Million Prime Subscribers
How to Upload to Prime (Part 1 of 2)
How to Upload to Prime (Part 2 of 2)
How to Create Captions for Prime Videos
How to Avoid Content Policy Rejections on Prime
How to Meet Key Art Requirements
Video Requirements for Prime (using Premiere Pro)
How to Unpublish Videos from Prime
How to Modify Prime Publications
Prime Subscriber Membership Breakdown
Additional Resources, Reviews, Insights
How I Use Soundstripe to Pick the Perfect Background Music
It's Time To Start Your Own Vlog
Reviews
Thanks mate, you're a great teacher and I learned a lot. One thing I would add is that snappa sucks and Canva is much better and easier to use.
This is good. I was just going to start but prefer to have a step by step process to make it happen.
I took this course as i am planning to start my Youtube Channel. So want to know more about it. Yes this course is really informative
this course is teaching us from the scratch. It is easy and simple for beginners in vlogging. The tutor does not tell only the positives. Sharing even the negative experience is much beneficial to know what to expect and how to react to certain view. much useful course for new vloggers
Excellent course for beginners. Brad gives some tips and tricks that can help on your vlogging journey. Also, he talks about mindset. This is the most important section of the course in my opinion.
Christian
February 14, 2022
Great solid advice on how to get started and why should vlog in the first place. Enough to get you started without any ballast.
Loved the easy going approach - yet there was tons of very useful information. I appreciated the honesty as well as to the reality of creating a Youtube channel. Many Youtubers act like everything is instant success, or if you just follow their course it will be instant success and money just pouring in. Thank you for being real and honest!
Smashing insight, fantastic tips and experiences shared, exactly what I was looking for! Thanks Brad!
for me this course is amazing, I watched youtube daily and I never know how content provider create the video. from this course you will know step-by-step how to create content and vlog clearly, I enjoy myself to take this course, good luck Brad....
The Basics were interesting. But I wished there would have been some more inside tipps and tricks how to film engaging vlogs. Like Camera guidance or something.
Brad brings his passion for video editing and helping others on their YouTube Channel/journey to the forefront. Great tips. Learned a lot. Very inspiring. Love his Adobe Premier Pro courses, too. Highly recommend if you are thinking about vlogging.
Awesome! I'm enjoying and learning so much at the same time! Can't wait to complete the course and start Vlogging1
I really liked that Brad expresses his opinion about that you don't have to try to be like another particular vlogger, but just to be yourself. What I also liked was that Brad was so open and honest about his earnings as a vlogger. I believe that so many people think that they can become rich by vlogging. Brad's course shows that it takes a lot of work building up followers, and eventually earning very little from it. Also good that you tell the people in te course that you use your vlogging as a lead for your main business. The topic about adding footage about the story that your telling (B roll) was very usefull. I watched this course for a different purpose than vlogging, I'm going to make a video job application, and I'm defenitely going to use the extra footage in it.
Alexander
October 12, 2018
This was a very good basic introduction to the world of Vlogging. Thank you Brad! You are inspirational!
Got some great ideas ,some I would not have thought about like talking about something and showing the B roll , practiceing filming your self and editing to get over your fear .
Coupons
| Submit by | Date | Coupon Code | Discount | Emitted/Used | Status |
| --- | --- | --- | --- | --- | --- |
| - | 7/18/2020 | STAY_SAFE_JULY | 100% OFF | 40000/8449 | expired |
Charts
Price
Rating
Enrollment distribution
9/13/2018
course created date
5/16/2019
course indexed date