Video Production for E-Learning
Learn how to produce E-Learning videos to effectively support student engagement and retention.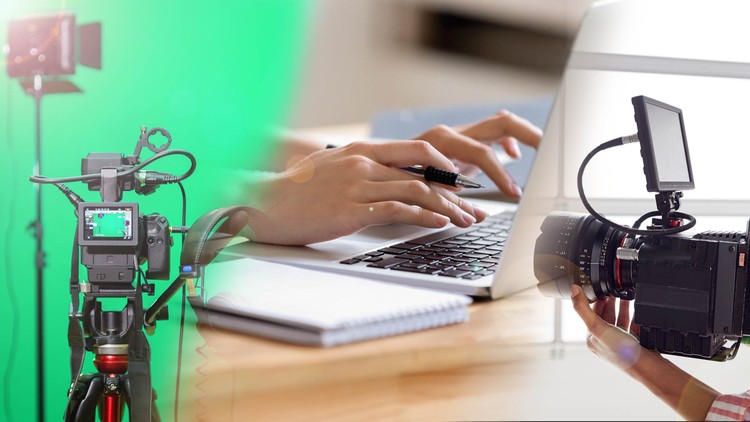 What you will learn
You will understand the benefits of video based learning, the different styles available and when each video style should be used.
You will be able to apply the ADDIE Instructional design model to a video production project, providing a structure to the learning material.
You will be able to effectively work with Subject matter experts, producing a script and storyboard following Instructional design guidelines.
You will be able to create a video resource following best practice guidelines for E-Learning, improving the learning experience for students.
You will be able to apply learning theories such as Cognitive load theory and Constructivism to video content, increasing student engagement and retention.
You will be able to add interactivity to your videos using E-Learning authoring software as well as other techniques to increase engagement.
Description
Learn how a Video Production changes when producing video for E-Learning using instructional design models, popular learning theories and E-learning best practices.
Video has now become a vital tool for online learning and anyone who works, or has an interest in the E-learning industry will now be required to have at least some knowledge of video and how to incorporate it successfully within online learning. Certain changes and considerations have to be made when developing videos to be used as educational resources, such as designing the script and storyboard alongside the subject matter experts and using certain filming and editing techniques making the video suitable for online learning which are usually overlooked.
We shall begin by covering the different video styles available and when each style should be used for your projects. You will then learn how to apply the ADDIE instructional design model to a video production project and then apply popular learning theories and E-learning best practices to an educational video resource to support student engagement and retention. Towards the end of the course we shall also cover various case studies of real world E-Learning video production projects.
I hope you enjoy the course and whether you come from an Instructional design or video production background, upon completion you should feel you have the required knowledge to produce video content specifically for E-Learning.
Content
Introduction
Welcome
ADDIE
ADDIE
Design
Design
Video Styles
Writing Your Script
Storyboarding for Video
Segmenting Your Content
Design
Development
Preparing for Filming
Equipment
Location and Framing
Lighting
Working With Your Presenter
Filming Techniques for E-Learning
Audio
Working With 4K Video
Using a Green Screen
Post Production Tips and Techniques
Applying Cognitive Load Theory to Video
Constructivism and Active Learning
Development
Implementation
Implementation
Interactivity
Navigation and Accessibility
Using Interactive Video Within Articulate Storyline 360
Implementation
Evaluation
Evaluation
Evaluation
Case Studies: Real-World E-Learning Video Production Projects
Case Study: Dentistry Demonstration E-Learning Video
Case Study: Nursing Demonstration E-Learning Video
Conclusion
Conclusion and the Next Steps
Reviews
Great to finally find a course that brings the fields of video and instructional design together. As the instructor mentions, video is increasingly relevant when it comes to designing online learning today. The course covers the basics of video production that I'm fine with myself as I come from a multimedia background. But where the course really shines is the application of learning design and adult learning theories to video production. I've yet to find another course like this. This was the missing piece I was looking for. Superb.
This course provides a lot of information and tips in order to make videos. Though it is targeted at E-Learning, one can also use the information for other videos as well.
Robert does a great job in laying the foundation for creating video content targeting the knowledge transfer. The videos in the course are easy to follow and well produced.
A well structured course with clear delivery. The videos/lessons are of a very high production value and the content was incredibly helpful. Recommended.
As an Instructional Designer myself, I'm finding an increasing need to work with video due to the popularity of video-based learning. As I come from an Instructional Design background rather than a video background, I was unsure on how to incorporate video within the E-Learning courses I am working on. This course is exactly what I was looking for as it perfectly covers the entire end to end development from the Needs Analysis/Scoping to the Implementation and Evaluation phases. The highlights for me were examples of different type of videos within E-Learning and when to use them, filming techniques for E-Learning and how to apply the learning theories I currently use in my role to video content. Highly recommend!
I enjoyed this course very much. It assumes a basic level of knowledge and gets straight into the business of creating good videos. The content is explained clearly and there some excellent technical demonstrations. I think it will really help practitioners improve.
I'm required to work with video a lot in my current position and I have an interest in video production in general, but I am now required to create video for educational purposes due to the type of content we now cover. I have always been comfortable with filming and editing but I had no idea on how to create courses and the development of eLearning. This course has helped me in how to work with the Subject matter experts (SMEs) by creating the storyboard and templates with them etc. Another huge bonus I have learnt on this course is how to take my videos one step further in terms of how to turn them interactive by putting more thought into the implementation.
I'm currently working on a blog that covers educational content for the readers and I have just started to add video. I'm comfortable enough with the post-production but I was unsure on how to develop/adjust my videos so they can be really engaging for the viewers. This course has helped me by covering the basics of video and what changes then need to be made. I particularly liked the section quizzes which solidified the points that were covered in each of the chapters. I thought the Case studies at the end were also a nice touch.
Charts
Price
Rating
Enrollment distribution
1/20/2020
course created date
9/29/2021
course indexed date