Useful Excel for Beginners
Learn the basics of Microsoft Excel and become an effective user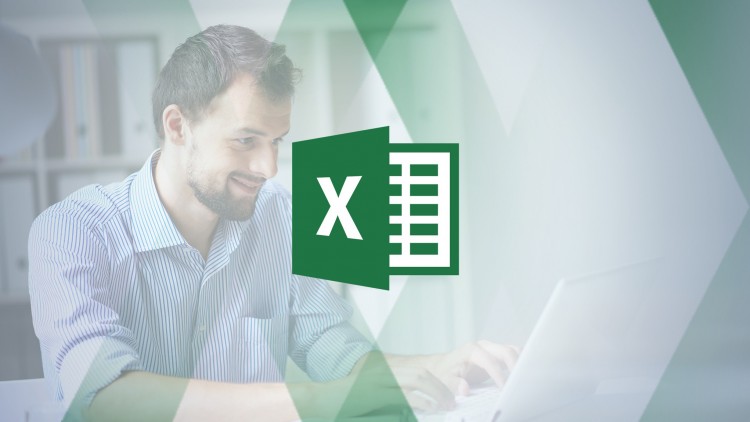 What you will learn
Learn the fundamentals of Excel
Become an effective user
Description
Welcome to the Useful Excel for Beginners course.
In this course, you will learn the fundamentals of Excel and become an effective user. The target audience for the course are those who have never used Excel before and those who are beginner level users. You would need a copy of Microsoft Excel for Windows since you will be practicing along with the course. I use Excel 2010 for Windows in the videos but any version with Excel 2007 for Windows or later would work. Excel Versions prior to 2007 have a different user interface but concepts will apply.
As the course is targeting beginners, it has been developed to be very easy to follow. We will be working with data related to a book store in the exercises. The files are available for download and you can follow along the videos while practicing.
The course covers the topics that you would need to know, to become a functional user. You can download the Table of Contents document from Chapter 1, to see all the topics the course will address. The course has 89 videos and runs for 9.5 hours.
Since this is a free course, Udemy does not offer certificates anymore.
Content
Introduction
Introduction to the Course
Basics of Excel
Basics of Excel
Workbooks and Worksheets
Fundamentals
CHAPTER 2: Basics of Excel
Entering Data
How to Enter data
Auto Fit
Keyboard Navigation
Auto Complete
Entering Numbers
Navigating edges
Navigating - First and last used cells
Selecting cells - Introduction
Selecting cells - Shift + Arrow
Selecting cells - Ctrl + Shift + Arrow
Selecting cells - Mouse Click and Drag
Selecting cells - Mouse Click and Shift Click
Selecting cells - All Cells & Used Cells
Selecting cells - Rows and Columns
Selecting cells - Non-contiguous cells
Selecting cells - Summary
Number Formatting - Introduction
Number Formatting - General and Text
Number Formatting - Number and Fraction
Number Formatting - Currency
Number Formatting - Accounting
Number Formatting - Percentage
Number Formatting - Date
Number Formatting - Time
Number Formatting - Summary
Inserting and deleting Rows, Columns and Cells
CHAPTER 3: ENTERING DATA
Formatting
Formatting - Introduction
Formatting - Bold, Italics and Underline
Formatting - Border
Formatting - Fill and Font
Formatting - Alignment
Formatting - Format Painter and Clear Formats
CHAPTER 4: FORMATTING
Editing
Editing - Editing Cell Content
Editing - Multiple Lines of Text
Editing - Ctrl + Enter
Editing - Auto Fill
Editing - Copy and Paste
Editing - Cut and Paste
Editing - Auto Fill Series
Editing - Sort
Editing - Filter
Editing - Find and Replace
CHAPTER 5: EDITING
Saving
Saving - Saving Excel documents
CHAPTER 6: SAVING
Viewing
Viewing - Freeze Panes
Calculations
Calculations - Introduction to Formula
Editing Formula
Introduction to Functions
Entering Functions
Types of Functions
MIN, MAX and AVERAGE Functions
Copying Formula
Cell References
Paste Formula
Counting Functions
Lookup Functions
Date Functions
Text Functions
SUMIF Function
IF Function
Errors
Calculations - Summary
CHAPTER 8: CALCULATIONS
Visualizing
Introduction to Charts
Creating a Chart
Chart Components - Labels
Chart Components - Background
Chart Components - Axes
Chart Components - Format and Design
Chart Types
Introduction to Conditional Formatting
Conditional Formatting - Format All Cells
Conditional Formatting - Format Only Cells
Conditional Formatting - More Rule Types
Conditional Formatting - Formula Based
Conditional Formatting - Summary
Illustrations
CHAPTER 9: VISUALIZING
Analyzing
Introduction to PivotTables
Creating PivotTable
PivotTable Summarization Types
PivotTable Tools
PivotCharts
CHAPTER 10: PIVOTTABLES
Tables
Creating a Table
Tables - Functionality
CHAPTER 11: TABLES
Sharing
Save & Send
Printing
CHAPTER 12: SHARING
Final Thoughts
Final Thoughts
Reviews
I am so happy for the fact that they put such a good and helpful course for some beginners like me for free, I didn't give 5 stars because of the caption. It has so many errors i hope yall take it seriously and give it a look and hire a good or eligible person for this post.
So far halfway through the course the lessons have taught me alot about the Basics of excel, I'm a Beginner but I'm learning alot so far.
really it was very good for me ,because it helped me a lot to learn . thanks for the company and the teacher
The delivery of information is clear and easily followed. There is a calmness to the presenter's voice which eliminates any stress a learner might bring to the course.
one the best course in excel. this course to became me as a data analytis in my future . this is my first step to learn the excel .many of them told as a excel is a ocean it is going lot of things inside the excel......yeah its true..
yes its a very good course for excel basic concepts and it explained in very easy way and in a understanding way.
This is a great refresher course. Somethings are even new to me. This course has helped me a lot at work! Thank you
It gets a little boring sometimes but i understand for the most part. I wish it came with a template to practice with.
Yes, this course is a very good match for me because it makes excel easier and the lecturer also explains even the most basic things very well. I am definitely learning a lot so far
Yes, I found it very helpful and the way you organized the course is really nice plus it is well presented. Thank you.
Ohh yes ...It is very beneficial to me for my work and it is in a very easy language and teaching method is so god so that I can understand it so quickly and easily .
Information is easy to comprehend, The pace is good, gives you time to look into the actual sheet while listening to the presenter.
It's very detailed. The tutor teaches in a step by step procedure making it easy to understand. The video quality isn't bad at all
Jebaselvi
February 2, 2023
I am very happy to join in "Useful Excel for Beginners " class. I have learned new things from his lessons everyday. His teaching methods are great. Very clear and concise. I'd like to continue my classes. Thank you & God bless Jebaselvi Moses
This course is well arranged especially for those who are beginners. The expert has explained vividly.
Charts
Price
Rating
Enrollment distribution
5/12/2013
course created date
7/29/2019
course indexed date