Design The Ultimate Upwork Profile 4 Successful Freelancers
How To Effectively Create & Get Your Upwork Profile Approved On The First Try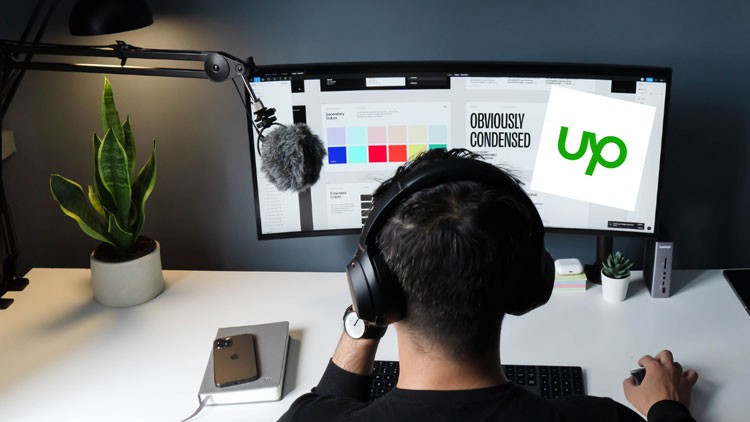 What you will learn
How to craft an exceptional Upwork profile
Proven client winning strategies
How to use these lessons on other remote work platforms such as Fiverr, Freeup, Tand optal
Description
This course teaches aspiring and existing freelancers how to craft an exceptional Upwork profile that is based on the same client winning strategies that other top performing freelancers in their niche are actively using on Upwork.
The primary benefits for students include:
Saving time by knowing exactly how to complete your Upwork profile

Getting your Upwork profile approved the first time it's submitted

Determining the maximum hourly rate you can fairly charge based on your current experience level

Developing a profile that is as effective as possible at converting a profile viewer into a lead or client

Creating a profile that gets invited to jobs as frequently as possible
Students should enroll if they plan to make an Upwork profile and are serious about creating one that consistently stands out against their competition on this remote work platform and massively assists them in charging top dollar as well as earning clients as easily as possible.
Upwork began over two decades ago by pioneering a better way of working, helping businesses find more flexibility and connecting talent with more opportunities.
Their mission to create economic opportunities so people have better lives has taken us so much further. As a result, they've become the world's work marketplace where everyday businesses of all sizes and independent talent from around the globe meet here to accomplish incredible things.
Bonus: Each lecture comes with a downloadable MP3 version so you can take us in your car, to the gym, while walking the dog and revisit all the valuable lessons in this course!
Content
The Upwork Profile Research Process
Nailing Your Niche
The Expert Watering Hole
The Double Agent
The Upwork Profile Crafting Process
Upwork Profile Backend Settings
Upwork Profile Major Components Best Practices
Upwork Profile Minor Components Best Practices
Wrap Up
Summary and Next Steps
Help Your Fellow Students
[Bonus Lecture]
Reviews
I have to admit that the value I have gotten from this course is truly exceptional, I had always struggled with understanding upwork but thanks to this course, I now know how to navigate my way and the best thing about this really is that the same principles given in this course can also be applied on any other freelancing platform.
Sarfaraz
February 11, 2022
my experience about this course ,This course is not for beginners students for those who know or use already the Upwork platform best for those students. Thanks for my own I learn some thing from this course
What I like most about this course is that it is brief and informative. I am new to upwork and I am glad I took the course
The explanation of this course just amazing. I have learnt many thing from this course. Though I am very Newbie in this way. I hpoe this course will help me from lot of side. Thank you.
I'm amazed with how Robert explained everything about Upwork Profile set up. I'll be glad to have a chat with him soon!
I was having difficulties creating my upwork profile but with this lecture, I'm more than ready to get it done. Thank you so much Scott and Robert for making this video as explicit as possible.
I learned new techniques on how to make my profile and Upwork gaming stronger. The course is short but concise and informative. Recommended!
Coupons
| Submit by | Date | Coupon Code | Discount | Emitted/Used | Status |
| --- | --- | --- | --- | --- | --- |
| Lee Jia Cheng | 8/29/2020 | EXPAUG31 | 100% OFF | 40000/6653 | expired |
| Angelcrc Seven | 10/16/2020 | DTUUPEXPOCT192020 | 100% OFF | 40000/5055 | expired |
| - | 12/11/2020 | DTUUPEXPDEC142020 | 100% OFF | 40000/4446 | expired |
| - | 1/20/2021 | DTUUPEXPJAN232021 | 100% OFF | 40000/7283 | expired |
| Angelcrc Seven | 4/24/2021 | DTUUPEXPAPR262021 | 100% OFF | 40000/3970 | expired |
| Angelcrc Seven | 11/17/2021 | DTUUPEXPNOV222021 | 100% OFF | 1000/587 | expired |
| Angelcrc Seven | 2/28/2022 | FREEFEB | 100% OFF | 1000/995 | expired |
8/8/2020
course created date
8/29/2020
course indexed date
Lee Jia Cheng
course submited by