Ultrasonic Testing Level 1 Training
An introduction to Non-Destructive Testing & an A-Z guide on The Ultrasonic Testing.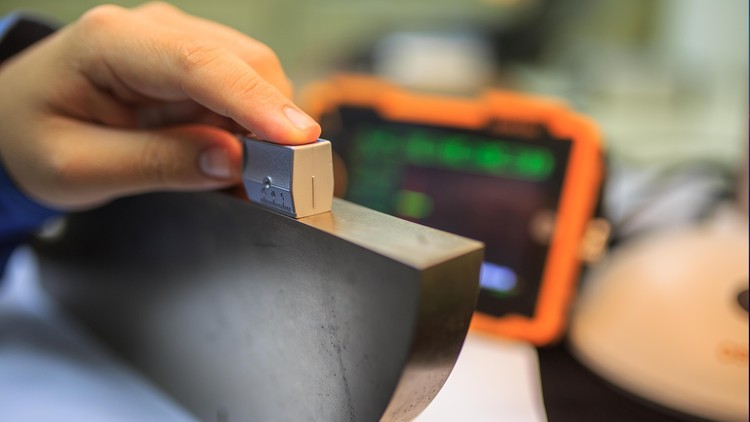 What you will learn
Understanding the physical principals of Ultrasonic Testing
Learning how the Ultrasonic Testing devices work
Mastering the calibration of an Ultrasonic Testing System
Getting ready to pass the Ultrasonic Testing Level 1 Examination
Carry out tests according to an established procedure under the supervision of a level II (2) or level III (3) personnel.
To have the practical skills of UT required for a Level I (1) technician.
Description
This course teaches you how to perform ultrasonic inspection from beginning to end.
The course provides you with Level 1 training in the fundamentals of Ultrasonic Testing methods. It will introduce you to the basic concepts and principles and includes hands-on training using Ultrasonic Testing equipment settings and functions.The Ultrasonic theories presented will provide the knowledge of Ultrasonic Testing required and enable you to work with individuals qualified and certified to gain needed experience for qualification as Level 1. While the practical manipulations will give you the essential steps that you will need to calibrate the ultrasonic testing equipment, perform the inspection, collect and interpret the data.
This course consists of two handbooks: The first handbook made by the instructor is the official of the training. It covers all the topics presented through the 35 lectures. While the second one (offered as bonus) is the official one of the TWI (International Institute of Welding) training.In addition to that, the course includes 35 lectures alternating between the different lecture types, with regular quizzes and exams to enable you to check that your are following the topics covered.
We'll begin by taking a closer look at the general concepts of ultrasonic testing, I'll then take you throw the fundamental properties of ultrasound starting with the generation of the ultrasonic wave and the mean physical phenomena that govern it.
Next, we'll discuss the most famous Ultrasonic Inspection Techniques and the equipment used to perform them so that you be able to perform them effectively.
We'll then take a look at the reference blocks used for calibrating the equipment, and how the inspected part variations that may affect the test result.
Finally, we'll explore the types of defects, and the most useful evaluation techniques so that you can decide whether the flaw is accepted or it needs to be repaired.Having the proper theoretical knowledge of ultrasound is critical to running a successful inspection, I'll introduce you to this knowledge and how to practice them effectively in Ultrasonic testing level 1 training.
Content
Introduction to Non-Destructive Testing
Historical perspective of the use of ultrasound
Comparison with other commonly used NDT methods
Fundamental Properties of Ultrasound
Definition of ultrasonic vibrations
Relationship of frequency velocity and wavelength
Diffraction theory
Modes of particle vibration
Generation of Ultrasonic Waves
Piezoelectric crystal types and characteristics
Search unit construction
Search unit characteristics: resolution; sensitivity
Test Material Characteristics
Velocity
Sound attenuation
Acoustic impedance
Sound Beam Characteristics
Dead zone; Near zone; Far zone
Intensity variations
Probe diameter and frequency effect
Angular Incidence
Reflection
Refraction
Mode conversion
Snell's Law
Critical angles
Ultrasonic Inspection Techniques
Through transmission
Pulse echo
Angle beam
Immersion testing
Ultrasonic Testing Equipment
Basic pulse echo instrument
Ultrasonic Testing Equipment Controls
Information displays: A scan, B scan, C scan, digital readouts
Ultrasonic Reference Blocks
Types of Calibration Blocks
Calibration Methodes
Inspected Part Variations
Effect of surface roughness
Surface curvature
Grain size
Discontinuity Variations
Shape
Coutour of discontinuities
Defect Syzing Methods
Level 1 Exam Questions
Ultrasonic Testing Level 1 (UT-1) Quiz
Reviews
While I appreciate taking NDT History 101, anyone who knows enough about what NDT is, is probably knowledgeable enough to know specifically what they're looking for and why. Like I said, the facts are nice, but I knowingly chose UT specifically and I'm just anxious to get to the part where I learn about NDT line I chose and paid for. I admit I may be a little impatient, but I just find that, unlike an art tutorial where you need generalized knowledge and skills, this is a trade that requires a very specific skill set. A foreman wont ask for a plumber to help out an electrician because they helped out a friend once, they'll save money and hire an electrician apprentice who's specifically learning those skills. Otherwise, it is at least reassuring to know that the presenter is at least familiar with all forms of NDT.
In depth description of advantages and disadvantages of the different techniques. Definitely recommend!
The lectures are informative but I can't quite understand the accent of the speaker, I have to go back again to that part to fully understand. Thank you and more power to you, sir.
Although the content and material provided in video is very good , the only problem is with the audio of the course which is little unclear. the resource provided is good too.
I cannot understand the instructor's accent. I am really sorry, I don't like saying this and I tried very hard but this course is unbearable. I just can't focus on the content. Can I get my money back?
Audio is awful. Speaker tries to find words, he did not try to practice beforehand, his voice is monotonous, just a constant voice which is boring and sleeping, he is not prepared for this at all and any others
faltou equações. muito tempo falando sem texto ou figura. um arquivo sem imagens. parte principal de calibração ficou incompleto, faltou muitos esclarecimentos.
ThomasAquinas
January 21, 2021
I learnt quite a lot about ultrasonic measurement. There were a lot of theories that I couldn't wrap my head around, but most of the basic ones which I understood has helped me appreciate the whole concept. Thanks to the Tutor Mustapha, and to Udemy for hosting this course.
It was very nice session in which all the information relevant to the UT covered very well. And the most delighting part of this session was the introduction of all other NDT testing processes.
I wanted to do something on testing. I am from ECE background. hoping to learn some more new things in coming lectures.
Excellent course and well explained concepts. Theory heavy which will suit learners who are looking to sit examinations or looking to get their first certification but may not be suited to those only looking for the basics of practical application.
fue de gran utilidad y aprendizaje, sin embargo va muy rapido que me detuve a traducir en varios videos, asi mismo los subtitulos todos son en ingles y yo los esperaba en español opcion que se oferta el curso, de lo demas todo bien.
The course has good content and does help the learner to gain a fair insight into NDT testing with Ultrasonics. However the presenter (or presenters some times sounds like another person presenting) speaks very quickly which can make it difficult to understand hin (or them) at times. I feel the corse is fairly priced and gives a learner an opportunity to understand what working as an NDT assessor may entail, at least from a thoretical point of view.
Definitely a good course for me, however it was very difficult to understand the instructor, obviously the person doing the transcript didn't understand either, as the transcript had some crazy verbiage...nowhere in this course did the instructor use the word "Queen" as indicated along with a lot of other ridiculous misunderstood filler words. Also, I think actual examples utilizing the formulae would be quite beneficial. Perhaps a course on just formulae examples is in order.
Way too much theory. Lacks any useful practice information. Very poor visual aides. Leaves you with nothing new to use except a few fancy words.
Coupons
| Submit by | Date | Coupon Code | Discount | Emitted/Used | Status |
| --- | --- | --- | --- | --- | --- |
| - | 9/8/2019 | FREE_UT_COURSE | 100% OFF | 1000/975 | expired |
| - | 9/19/2019 | FREE-ULTRASOUND | 100% OFF | 5000/387 | expired |
| - | 1/12/2021 | FREELAUNCH | 100% OFF | 40000/3353 | expired |
| - | 1/17/2021 | LEARNFORFREE | 100% OFF | 40000/1578 | expired |
| - | 1/23/2021 | LAST-CHANCE-JANUARY | 100% OFF | 40000/1871 | expired |
| - | 3/21/2021 | FREELEARNING | 100% OFF | 40000/3167 | expired |
| manto | 5/23/2021 | FREE-ELEARNING | 100% OFF | 40000/3349 | expired |
| - | 5/31/2021 | FREE_LEARNING | 100% OFF | 40000/376 | expired |
| - | 6/7/2021 | LEARN-FOR-FREE | 100% OFF | 40000/363 | expired |
| - | 6/26/2021 | FREE-LEARNING | 100% OFF | 40000/1446 | expired |
| Angelcrc Seven | 7/9/2021 | PLEASE-REVIEW-5STARS | 100% OFF | 40000/1117 | expired |
| - | 7/26/2021 | FREE-UPSKILLING | 100% OFF | 40000/464 | expired |
| - | 7/28/2021 | LAST-CHANCE | 100% OFF | 40000/1084 | expired |
| Angelcrc Seven | 8/10/2021 | NEW-SKILLS | 100% OFF | 40000/773 | expired |
| Angelcrc Seven | 9/5/2021 | FREE-UPSKILLING-SEP | 100% OFF | 40000/1016 | expired |
| - | 9/26/2021 | UPSKILL-NOW-FREE | 100% OFF | 40000/628 | expired |
| - | 10/30/2021 | LAST-CALL-OCTOBER | 100% OFF | 40000/417 | expired |
| - | 11/13/2021 | BLACK-FRIDAY-PRESALE | 100% OFF | 1000/995 | expired |
| - | 11/17/2021 | PRE-BLACKFRIDAY | 100% OFF | 1000/392 | expired |
| - | 11/22/2021 | BLACKFRIDAY | 100% OFF | 1000/755 | expired |
| - | 12/8/2021 | NEW-SKILLS21 | 100% OFF | 1000/609 | expired |
| Angelcrc Seven | 12/20/2021 | FREE-LEARNING-21 | 100% OFF | 1000/551 | expired |
| Angelcrc Seven | 1/27/2022 | FREE-2022 | 100% OFF | 1000/853 | expired |
| - | 2/1/2022 | JAN-LAST-CALL | 100% OFF | 1000/268 | expired |
| Angelcrc Seven | 3/22/2022 | FREE-MARCH2 | 100% OFF | 1000/381 | expired |
| - | 3/28/2022 | FREE-MARCH3 | 100% OFF | 1000/430 | expired |
| Angelcrc Seven | 4/3/2022 | RAMADAN2022 | 100% OFF | 1000/706 | expired |
| - | 4/29/2022 | APRIL-LAST-CALL | 100% OFF | 1000/932 | expired |
| - | 5/20/2022 | MAY22-ROUND1 | 100% OFF | 1000/600 | expired |
| - | 5/25/2022 | MAY-REVIEWS | 100% OFF | 1000/350 | expired |
| - | 5/31/2022 | MAY-REVIEW-ROUND2 | 100% OFF | 1000/128 | expired |
| - | 6/12/2022 | JUNE22-ROUND1 | 100% OFF | 1000/417 | expired |
| - | 6/15/2022 | JUNE22-ROUND2 | 100% OFF | 1000/101 | expired |
| - | 6/22/2022 | JUNE22-ROUND3 | 100% OFF | 1000/344 | expired |
6/27/2019
course created date
7/3/2019
course indexed date