Ultimate guide to GCSE Math past exams (0580)
A comprehensive guide to Math past exams for both the core and extended curricula.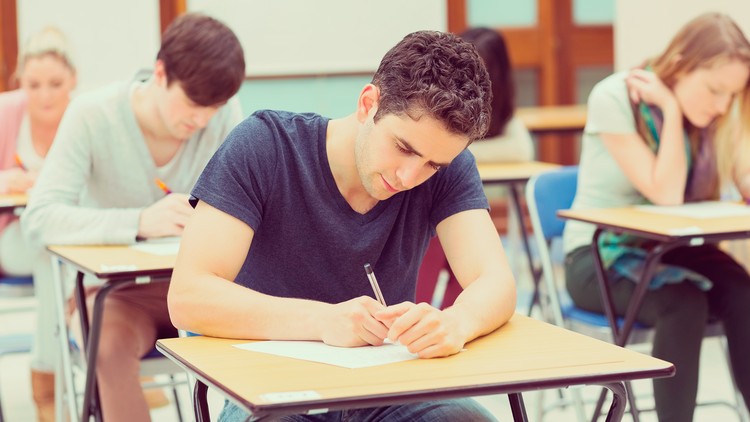 What you will learn
At the end of the course, you will be very well prepared to tackle your exams as you will know how to answer them systematically.
Give you a great foundation to apply your knowledge to actual exam questions.
Description
**This is in no way associated with Cambridge International Examinations, who own the registered trademark of IGCSE**
Welcome to Ultimate guide to GCSE Math past exams (0580). This course will cover heaps of past exam papers for GCSE Math starting with 2016 and going all the way back to 2014.

Note - this course covers topics in the core curriculum and the extended one.

In the course, I will show you how to systematically answer past exam questions efficiently and accurately. One thing you'll notice is that a lot of questions are repeated over the years so doing past exams is a fantastic way to test your knowledge of the curriculum. On that note, I will be assuming you have an underlying understanding of the topic.
If you're someone who has a couple of years till you start IGCSE/GCSE, then I suggest you have a look at my Learn basic high school maths the easy way course to kick things off. I'll take you through all the basics you need to be really good at before starting GCSE.

I'm always here to answer your questions, so please be sure to get in touch with me.
Thanks so much for being here folks. If you knew me personally (and I hope that we do get to meet one day), you'd know how humbling I find this adventure with you. See you on the inside :)

Content
2016 February/March Paper 1 (Core)
Questions 1 - 6
Questions 7 - 12
Questions 13-18
Questions 19-24
2016 February/March Paper 2 (Extended)
Questions 1 - 6
Questions 7 - 12
Questions 13 - 18
Questions 19-21
2016 February/March Paper 3 (Core)
Questions 1 - 3
Questions 4 - 6
Questions 7 - 9
Question 7b)
Question 8
2016 February/March Paper 4 (Extended)
Questions 1 - 3
Question 2
Questions 4 - 6
Questions 7 - 9
Questions 10&11
2015 October/November Paper 1 (Core)
Questions 1 - 6
Questions 7 - 12
Questions 13 - 18
Question 15
Questions 19 - 24
2015 October/November Paper 2 (Extended)
Questions 1 - 6
Questions 7 - 12
Questions 13 - 18
Questions 19 - 23
2015 October/November Paper 3 (Core)
Questions 1 - 3
Questions 4 - 6
Questions 7 - 10
Question 10
2015 October/November Paper 4 (Extended)
Questions 1 - 3
Questions 4 - 6
Questions 7 - 10
2015 May/June Paper 1 (Core)
Questions 1 - 6
Questions 7 - 12
Questions 13 - 18
Questions 19 - 21
2015 May/June Paper 2 (Extended)
Questions 1 - 6
Questions 7 - 12
Questions 13 - 18
Questions 19 - 24
Question 19
2015 May/June Paper 3 (Core)
Questions 1 - 3
Questions 4 - 6
Questions 7 - 9
Question 8
2015 May/June Paper 4 (Extended)
Questions 1 - 3
Questions 4 - 6
Questions 7 - 9
Questions 10&11
2015 February/March Paper 1 (Core)
Questions 1 - 6
Questions 7 - 12
Questions 13 - 18
Questions 19 - 21
2015 February/March Paper 2 (Extended)
Questions 1 - 6
Question 6
Questions 7 - 12
Questions 13 - 18
Questions 19 - 22
2015 February/March Paper 3 (Core)
Questions 1 - 3
Questions 4 - 6
Question 4
Question 7
Questions 7 - 9
2015 February/March Paper 4 (Extended)
Questions 1 - 3
Questions 4 - 6
Questions 7 - 9
Questions 10&11
2014 October/November Paper 1 (Core)
Questions 1 - 6
Questions 7 - 12
Questions 13 - 18
Questions 19 - 22
Question 20
2014 October/November Paper 2 (Extended)
Questions 1 - 6
Questions 7 - 12
Question 12
Questions 13 - 16
Questions 17 - 19
2014 October/November Paper 3 (Core)
Questions 1 - 3
Question 3f)
Questions 4 - 6
Questions 7 - 9
2014 October/November Paper 4 (Extended)
Questions 1 - 3
Questions 4 - 6
Questions 7 - 10
2014 May/June Paper 1 (Core)
Questions 1 - 7
Questions 8 - 14
Questions 15 - 21
Question 17
Questions 22 - 26
2014 May/June Paper 2 (Extended)
Questions 1 - 6
Questions 7 - 12
Questions 13 - 18
Questions 19 - 22
2014 May/June Paper 3 (Core)
Questions 1 - 3
Question 3g)
Questions 4 - 6
Questions 7 - 9
2014 May/June Paper 4 (Extended)
Questions 1 - 3
Questions 4 - 6
Questions 7 - 9
Questions 10&11
Bonus lecture
Reviews
Hi, I just wanted to thank you for this course. I had to pass an important entrance exam to get into an education institution (to study IT). I was very disappointed to find out that my entrance exam included a basic maths test to get in (the last time I studied maths was about 10 years ago back in school, lol!). Well, long story short, using this course and some other resources from the net. I managed to cram hard for a couple of weeks and I managed to pass the test and get onto the course I wanted. So in a nutshell, this course is only basic level maths, but if the basics is all you need, this course is really great. Just what I needed to give me a 'crash course' in basic maths. Can't thank you enough. Thanks! :)
8/3/2016
course created date
4/4/2020
course indexed date