How to Travel More Around your 9-5 Job
Achieve more positivity, freedom and fulfilment by supercharging your travel potential around your busy lives and 9-5s.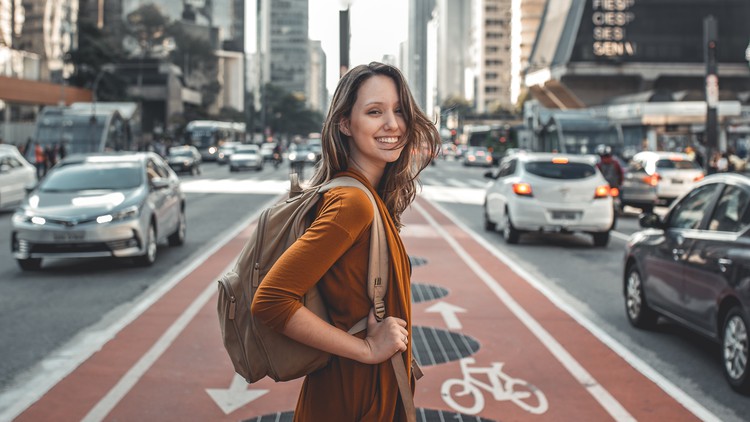 What you will learn
Travel mindset mastery - you will be able to start identifying what has been holding you back from travelling more and how to overcome limiting beliefs
Have more clarity on your travel aspirations for the future
How to create a simple strategy to achieve your best travel year, which can be applied repeatedly using my go-to time and money hacks.
Organisation tips and resources
Description
This course is a toolkit that will help you to go from feeling uninspired and frustrated to achieving a sense of freedom and fulfillment, as you learn how to travel more around your job - using my simple, "go-to" hacks that enabled me to travel 8 times in 1 year!
I have created this course to help you travel more around your full time job. I truly feel your pain as I used to work my corporate 9-5 feeling frustrated and stuck. Forward on 2 years and I found ways to overcome obstacles by discovering time, money and organisation hacks - PLUS my mindset (I like to call this my secret ingredient!).
I began to realise something. The more I travelled, the more POSITIVE and FREE I felt! So I've made it my mission to help you travel as much as possible in order to experience this too.
Be able to identify what's been holding you back from travelling more in the past.

Have a simple 'travel-more' strategy in place, that can be used again and again using my go-to hacks.

Have more clarity on your travel aspirations
What is included in the course
My course comprises 5 modules, structured in the following order:
Module 1: Travel Dreams

Module 2: Mindset Mastery

Module 3: Time Tracking

Module 4: Money Matters

Module 5: Organisation Rules
In addition to the video recordings and slides, you will receive the following resources in the 32-page course workbook to really help you to dig deeper and really make this course work for you:
Annual leave maximiser

Travel mindset transformer

Pre-travel checklist and budgeting prompts

Savings tracker & 'trade offs' workbook
The strategies I'll share with you have been tried and tested by me - in fact, they allowed me to travel 8 times in 1 year around my corporate 9-5 job. Pretty crazy right?!
Guess what? We are no different!
I know what you're thinking, what makes me so special?
Let me be totally honest here, I'm not special at all. I was just like you, working a 9-5 job and dreaming of living a life where I was able to do more of what I truly love - travelling.
This is why I had to come up with a solution because I recognised how much travel benefited my well-being and realised how much it lit me up.
So I turned my pain into passion, and have made it my mission to help you do the same.
WHY I'm the right girl to teach you this:
1. I know exactly what you're going through, having worked a 9-5 corporate job, feeling frustrated and stuck - with an overwhelming desire to explore this beautiful planet.
2. I know strategies that work, having used them myself. Overcoming such obstacles as money, time, organisation and (most importantly) mindset, has resulted in my ability to travel abroad 8 times in the space of 1 year.
3. I understand the huge importance of travelling for our health, to boost positivity and give a true sense of fulfilment. For me, travel isn't just a hobby, it's like a magical kind of therapy! I truly believe that by travelling more, we can achieve a better sense of freedom and ultimately more happiness in our lives.
Content
Travel Dreams
Travel Dreams
Mindset Mastery
Mindset Mastery
Time Tracking
Time Tracking
Money Matters
Money Matters
Organisation Rules
Organisation Rules
Conclusion - You did it!
Are you ready to take control of your travel dreams?
Reviews
Thank you for this brilliant and inspiring course! I love that it covers a range of tips for travelling around a busy work life. It's helped me realise how easy it can be to get to my dream places, thanks to the resources I've already got a trip planned! :) Fantastic workbook, so pretty to look at and I really enjoyed doing the activities in there! Definitely recommend this course to anyone who needs some inspiration around travel
Great course Charlotte- you really know your stuff. Full of useful hints and tips for travelling more around the busy 9-5. I'd recommend this course. Glad your enjoying what your doing and happy travelling! :)
5/12/2021
course created date
5/20/2022
course indexed date