Proven Travel Hacks for Southeast Asia
Discover the Best Food, Places and travel tips in SE Asia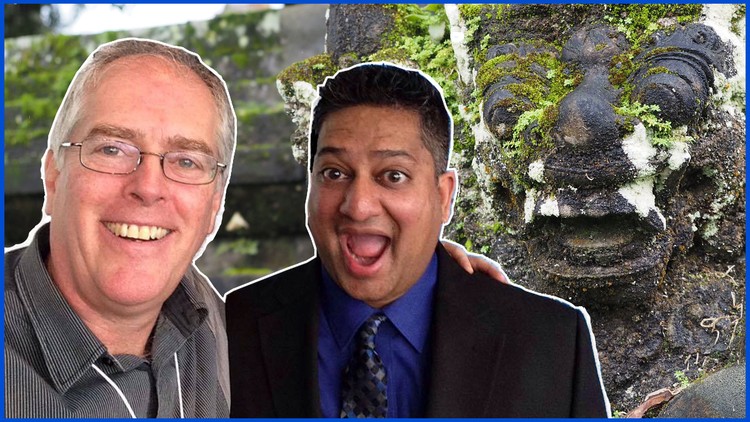 What you will learn
The best practises for travelling thru SE Asia
Description
Ricky Shetty and Scott Paton take you on a journey throughout SE Asian countries like, Indonesia, Singapore, Malaysia, Thailand and the Philippines. Seasoned travellers, they share their favourite travel hacks for each country.
You'll learn the best ways to get around, where to stay, what foods to make sure you sample and much more!
Discover:
The best places to visit

How to travel safely

What food you must try
The countries discussed are:
The Philippines

Malaysia

Indonesia

Thailand

Singapore
Scott and Ricky are world travellers with over a 100 countries visited between them. Ricky has been to 80+ countries with his wife and three children under 6. Scott has been to 60+ countries as a single traveller. Between them, they have experienced just about any situation you might run into (except being kidnapped).
If you are excited to visit Southeast Asia, this course is a great place to start!
Enrol today!
The Philippines, officially the Republic of the Philippines, is an archipelagic country in Southeast Asia. In the western Pacific Ocean, it consists of about 7,641 islands that are broadly categorized under three main geographical divisions from north to south: Luzon, Visayas, Mindanao.
Malaysia occupies parts of the Malay Peninsula and the island of Borneo. It's known for its beaches, rainforests and mix of Malay, Chinese, Indian and European cultural influences. The capital, Kuala Lumpur, is home to colonial buildings, busy shopping districts such as Bukit Bintang and skyscrapers such as the iconic, 451m-tall Petronas Twin Towers.
Indonesia, officially the Republic of Indonesia, is a country in Southeast Asia and Oceania, between the Indian and Pacific oceans. It consists of more than seventeen thousand islands, including Sumatra, Java, Borneo, Sulawesi, and New Guinea.
Thailand is a Southeast Asian country. It's known for tropical beaches, opulent royal palaces, ancient ruins and ornate temples displaying figures of Buddha. In Bangkok, the capital, an ultramodern cityscape rises next to quiet canalside communities and the iconic temples of Wat Arun, Wat Pho and the Emerald Buddha Temple (Wat Phra Kaew).
Singapore, officially the Republic of Singapore, is a sovereign island city-state in maritime Southeast Asia.
Content
Lifestyle of SE Asia
Sightseeing
Food
Accommodation
Transportation
The Countries of SE Asia
Philippines
Malaysia
Singapore
Indonesia
Thailand
Wrap Up
Next Steps
Help Your Fellow Students
Reviews
Very low quality content, just 2 guys chatting to each other the whole time and no useful information really!
The course content consists entirely of headshots of two people talkng about their experience for an hour. They seem like nice guys. But there is no structure, no usable notes, maps, or other printables. It seems like they just thought they would make a vlog while travelling and call it a course. That's alright if you don't call it a course in my view.
I think it would be advantageous to include more detail as to the places you have personally visited & how you arrived there if they were less travelled destinations. (Include a few more personalized pics of the process) Your reviews are too general. Ricky has a lot of interesting things to say but he should slow it down a little. No matter how may times I replayed certain parts, I could not understand what he said & yes, English is my first language. :) Ex: Bhutan is the world's most....? Happy Trails you two!
I have been to 90 countries including all that were mentioned as well as the the points of interest . I just wanted to hear about these gentlemen's experiences, so am enjoying their presentation. As I am now 79 years old, I will not likely be going back to Asia so am not taking the course for tips.
Coupons
| Submit by | Date | Coupon Code | Discount | Emitted/Used | Status |
| --- | --- | --- | --- | --- | --- |
| - | 6/24/2019 | TRAVELHACKSBHW | 100% OFF | | expired |
| - | 7/13/2019 | TRAVELHACKS0 | 100% OFF | | expired |
| - | 12/3/2019 | 92BCC41A9172BEC66C2C | 100% OFF | | expired |
| Lee Jia Cheng | 3/13/2020 | MARCH15PROVEN | 100% OFF | | expired |
| Angelcrc Seven | 7/20/2020 | PTHSAEXPJULY232020 | 100% OFF | 40000/528 | expired |
| - | 9/17/2020 | PTHSAEXPSEPT202020 | 100% OFF | 40000/1683 | expired |
| Angelcrc Seven | 10/13/2020 | PTHSAEXPOCT162020 | 100% OFF | 40000/762 | expired |
| Angelcrc Seven | 12/16/2020 | PTHSAEXPDEC182020 | 100% OFF | 40000/709 | expired |
| Angelcrc Seven | 1/8/2021 | PTFSAEXPJAN102020 | 100% OFF | 40000/1706 | expired |
| - | 3/5/2021 | PTHFSEXPMARCH52021 | 100% OFF | 40000/142 | expired |
| Angelcrc Seven | 10/6/2021 | PTHFSEXPOCT82021 | 100% OFF | 40000/1207 | expired |
| - | 11/17/2021 | PTHSAEXPNOV222021 | 100% OFF | 1000/696 | expired |
| Ignacio Castro | 12/1/2021 | PTHFSEXPDEC52021 | 100% OFF | 1000/543 | expired |
4/19/2019
course created date
6/24/2019
course indexed date