TOTAL: New CISSP Practice Test Course 1 of 3 525 Q's
3 exams, 526 total questions. Practice for your Certified Info Systems Security Professional (CISSP) exam.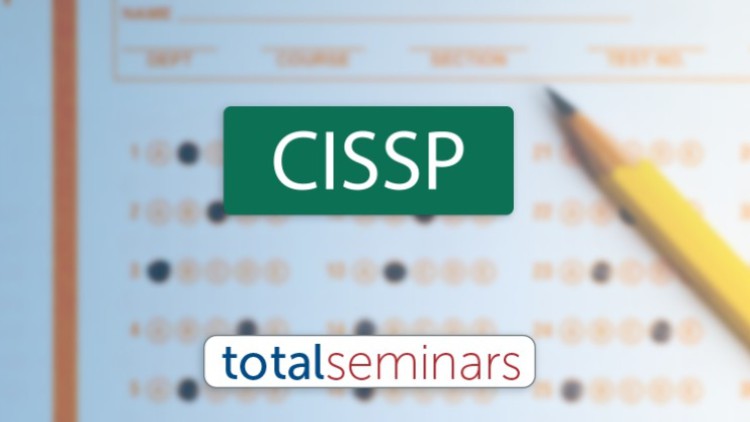 What you will learn
Students will have a clear understanding of which CISSP exam domains they need to study more.
Students will feel confident taking the CISSP exam knowing these practice tests have prepared them for what they will see on the CISSP exam.
Students will learn from the question explanations additional knowledge to prepare them to pass the CISSP exam.
Students who master the concepts covered in these practice tests will be well prepared to succeed on the CISSP exam.
Description
This is CISSP Practice Test Course 1 of 3 from Total Seminars covering the latest exam from (ISC)2 released May 2021.
Are you looking to prepare yourself for the (ISC)2 CISSP Certification exam? Did you know the average annual salary for CISSP certification holders is $138,647 per year*?
This practice test course is designed to help prepare you for the CISSP exam. The exam vouchers cost $749**, so the more you practice, the better prepared you'll be to pass the exam the first time.
Practicing the same questions over and over isn't helpful because you'll quickly begin to memorize the test questions and answers. The best way to prepare is to practice as many DIFFERENT questions as possible.
Not sure which practice test course to choose? Check out our features and benefits:
FEATURES & BENEFITS
3 practice tests, 525 total questions
- More practice for studying, 50% more than the leading competitor on Udemy
175-question, 90-minute exam, 3-hour time limit to take the exam, passing grade of 85, domains weighted like the exam
- Practice like the real CISSP exam
Wrong answers linked to the domain they came from
- Targeted studying, don't waste time studying for topics you already know
Pause or stop the exam whenever you like
- Practice on your own time, at your own pace
Detailed explanation of answer
- Better understanding of the content, also understand why the wrong answers are incorrect
Exam questions written by a panel of experienced test writers***
- Know you're getting relevant, well-written exam questions that mimic the real exam
Lifetime access
- Udemy's courses all have lifetime access, so use this practice test to brush up on your CISSP skills whenever you like
WHAT'S COVERED?
- Security and Risk Management (15%)
- Asset Security (10%)
- Security Architecture and Engineering (13%)
- Communication and Network Security (13%)
- Identity and Access Management (IAM) (13%)
- Security Assessment and Testing (12%)
- Security Operations (13%)
- Software Development Security (11%)
IS THE CISSP EXAM RIGHT FOR YOU?
According to the (ISC)2 website, the answer is yes if you:
- Are an experienced, high-achieving information security professional.
- Are involved in designing, developing and managing the overall security posture of an organization, from cybersecurity strategy to hands-on implementation.
- Want to gain more respect from your peers and boss, while you strengthen your skills and confidence as a security professional.
- Appreciate a challenge and want to feel the exhilaration of passing this rigorous exam and joining our elite community.
- Need a certification that is DoD 8570 approved. (It's listed in the categories: IAT Level III, IAM Level II, IAM Level III, IASAE I, and IASAE II.)
WHAT CAN YOU DO WITH A CISSP CERTIFICATION?
- Security Consultant
- Security Analyst
- Security Manager
- Security Auditor
- Security Architect
- IT Director/Manager
- Director of Security
- Network Architect
- Security Systems Engineer
- Chief Information Security Officer
*Source: Global Knowledge 2020 IT Skills and Salary Report
**Source: isc2 .org
***Practice test questions are drawn from the McGrawHill CISSP® All-in-One Exam Guide, Ninth Edition
10/15/2021
course created date
4/5/2022
course indexed date