Time Management Mastery: 10X Your Time, Join the New Rich
Extreme Time Management Strategies through Deep Work & Outsourcing: 10X Your Time & Money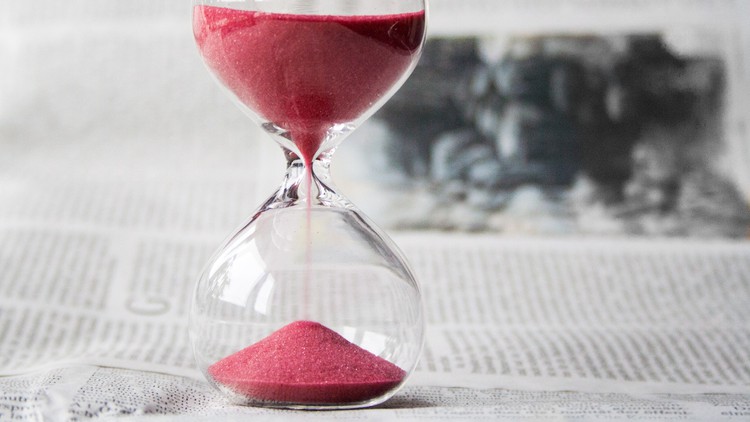 What you will learn
Learn to eradicate time management obstacles like perfectionism, procrastination, and distractions in your daily lives
Learn to transfigure the stagnant life you were accustomed to
Use the currencies of the new rich: Time, freedom, decentralization & mobility
Learn how to double your income, cut your working hours in half, and at least triple your free time
Learn secret techniques you can use to make the most out of your time
Learn to develop extreme focus and outscore your competitors
Description
Time management is essential for the growth and success of any individual. The majority of the world's billionaires or successful people have excellent time management skills. They use their limited time so productively that the rest of the population finds it hard to emulate.
Good time management skills aren't about the amount of time available to implement a task. It's about making the little time you have to be as productive as possible.
If you are desperate to improve your time management skills, you are in the right place. This course will teach you how to multiply your time through outsourcing and deep work. You'll also learn how to eliminate common obstacles like procrastination and perfectionism that only slow you down while working.
If you've previously tried ineffective time management courses, this offers a break from that. We'll not only teach you about time management but also about "Joining the New Rich" as well. The new rich are those who abandon the deferred-life plan and create luxury lifestyles in the present using the currency of the new rich: time & mobility. This is an art and a science that Tim Ferriss refers to as lifestyle design.
With the practical nature of this course, you'll almost certainly improve your finances & time management skills as soon as you start implementing the lessons from the course.
Time management directly correlates with your cognitive abilities. During this course, you will be learning all that and more. Additionally, you will be exposed to secret techniques and strategies which will impact your life forever.

See you inside!
Content
Time Management
Introduction
Course Materials
Defining Time Management
How Time Management works?
Importance of Time Management
Key Elements of time management
Effective Time Management
Introduction
Defining Effective Time Management
Planning, identifying & allocating your time
Where did the time go?
Task Management Skills
To-do Lists
Be Flexible
Time to Think
Learning to Say "No"
Working Smart
Rewarding Yourself
Getting Organized
Introduction
Keeping a diary
Avoiding cherry picking
Making use of checklists
Taking a Break
Avoiding Time Wasters
Start with the Difficult Stuff First
Don't waste time on things you don't like
Be aware of your favourite tasks
Handle personal interruptions
Communicate via email
First Things First
Be Honest with Task Deadlines
Defining task deadline
Avoid the unnecessary
Avoiding distractions at Work
Break a deadline into milestones
Set fake deadlines for others
Flag problems early
Reviews
Good as he accumulated time management knowledge from the expert of this field like Tim Ferris from 4 hours work week, deep work etc.
This course is very important for my job and personal time management. After learning I know how to manage my time effectively.
yup , it was wonderfull to watch this course and learn from it exactly .. things got easier in my mind and I'm thinking to use most of the things i learnt from it in my daily life routine , I am sure it is going to help me the most in my career
I AM GLAD I TOOK THIS COURSE BECAUSE I WILL BE ABLE TO ORGANIZE MY SELF IN THE OFFICE AND AT HOME IN ORDER TO REACH TARGET, MAINTAIN BALANCE IN LIFE , MANAGE AND INCREASE STRESS AMONG OTHER IMPORTANCE OF TIME MANAGEMENT.
Thank you for the opportunity, I truly appreciate and enjoyed Time Management Mastery. my favorite is TDI Target Daily Income.
The information given is relevant, but mostly can be found in Youtube. I believe the course could be made more effectively, by now it's just like listening to lecture.
The first portion of this course was way dull and easy to find on the internet. But I found it helpful when the instructor dived deeply
Great voice, easy to understand even at 2x speed, lessons are simple and digestible, very happy with this course!
Le cours reprend les points essentiels développés par Tim Ferris et Cal Newport, ainsi que des principes basiques en matière de gestion du temps et d'organisation. Je n'ai rien appris, mais c'est un bon topo des idées principales, soit comme aide-mémoire pour se rebooster, soit pour aborder ces notions avant de les approfondir.
Both the instructors were good and concept were far better and ease to grasp. I already knew some of them, but it was good to make notes of it. Must enroll for anyone who does not know the concept and importance of time management. You can learn a little bit more than you already know.
it was average mostly. most of the ideas , i have come across before. But all in all it was a good reminder of how to effectively manage time.
Самые базовые вещи изложены. На уровне видео на YouTube "How to time management". Выглядит как пересказ какой-нибудь книги о тайм менеджменте с касанием базовых вещей вроде "делигируйте задачи" и "не тратьте ваше время попусту", а ещё на Email не стоит часто проверять, вот так. Ни о каких 10X Your Time & Money и речи быть не может. Прошел потому что по промокоду получил, покупать ни в коем случае не стоит.
the presentations in this course are very crafted, straight to the point short, and precise, not to mention that there are easy to grasp good work keep it up
This course clearly explains that time is very important in our life, that it should not be wasted since there is no way to buy time, therefore it is essential to organize it efficiently and effectively to be able to have a balance between professional work, family and social life.
yah its very useful for me. I am decided to make to do list. its very important fro me. I am very thankful to joining this coarse.Thank you .
Coupons
| Submit by | Date | Coupon Code | Discount | Emitted/Used | Status |
| --- | --- | --- | --- | --- | --- |
| - | 12/20/2021 | DECEMBERGIFT | 100% OFF | 1000/913 | expired |
| - | 2/1/2022 | SPECIAL22JAN | 100% OFF | 1000/966 | expired |
| - | 2/1/2022 | C0CF81BDEB29D8AA588C | 100% OFF | 1000/901 | expired |
| Angelcrc Seven | 2/1/2022 | 0CE27686E5B68AE25192 | 100% OFF | 1000/847 | expired |
| - | 2/2/2022 | 63738B1B2A8524ECB050 | 100% OFF | 1000/988 | expired |
| Angelcrc Seven | 2/2/2022 | 5311E1E0F8FBBC470E38 | 100% OFF | 1000/721 | expired |
| Angelcrc Seven | 2/2/2022 | 45E82DFC60F02EE2A196 | 100% OFF | 1000/220 | expired |
| Angelcrc Seven | 2/2/2022 | 68B564FEF118F3B20EF2 | 100% OFF | 1000/422 | expired |
| Angelcrc Seven | 2/2/2022 | 9A440B6845E75A2019AC | 100% OFF | 1000/349 | expired |
| Angelcrc Seven | 2/2/2022 | 3B8D6CFBE75044EEE8EC | 100% OFF | 1000/788 | expired |
| Angelcrc Seven | 2/2/2022 | F648AFF4F560AA44BB67 | 100% OFF | 1000/251 | expired |
| Angelcrc Seven | 2/2/2022 | E155C68117AEBFBDFFD5 | 100% OFF | 1000/379 | expired |
| Angelcrc Seven | 2/7/2022 | 528F65B265874C58263F | 100% OFF | 1000/950 | expired |
| - | 2/8/2022 | 9CC5F65349C803379B93 | 100% OFF | 1000/957 | expired |
| Angelcrc Seven | 2/8/2022 | 88858D5F0F0718B59C34 | 100% OFF | 1000/733 | expired |
| Angelcrc Seven | 3/1/2022 | AA7071C30746D962C886 | 100% OFF | 1000/925 | expired |
| Angelcrc Seven | 3/4/2022 | 8EA682CD433254D09493 | 100% OFF | 1000/924 | expired |
| Angelcrc Seven | 3/6/2022 | 6C6FE5FFCDE8C4D2598A | 100% OFF | 1000/793 | expired |
| - | 3/8/2022 | C3FB3635F79C7202FFE3 | 100% OFF | 1000/702 | expired |
| - | 3/16/2022 | 7014DA713DD8D676E21A | 100% OFF | 1000/940 | expired |
| Angelcrc Seven | 3/26/2022 | 17EF5BAFD62D7BA2AF31 | 100% OFF | 1000/586 | expired |
| - | 4/2/2022 | 07DC8D5543AEEAFC2BB2 | 100% OFF | 1000/969 | expired |
| - | 5/4/2022 | D7EF46E00229E2F1E0CF | 100% OFF | 1000/960 | expired |
| Angelcrc Seven | 5/15/2022 | 6A9CF401C18876702B32 | 100% OFF | 1000/965 | expired |
| - | 5/25/2022 | 556DE36A2224E474FE39 | 100% OFF | 1000/770 | expired |
| - | 5/29/2022 | AB5B5E0B8635FDEA68B6 | 100% OFF | 1000/849 | expired |
| - | 6/2/2022 | DED0721E17FDA7D4DE1B | 100% OFF | 1000/961 | expired |
| - | 6/6/2022 | 917690B530862902D0AB | 100% OFF | 1000/939 | expired |
| - | 6/15/2022 | 0533917F19837D30F44B | 100% OFF | 1000/974 | expired |
| - | 7/3/2022 | 953B572648133AD1C2AD | 100% OFF | 1000/913 | expired |
| - | 7/7/2022 | 8A3C06A10C596DCCC5DC | 100% OFF | 1000/988 | expired |
| - | 7/9/2022 | 47DEF6D24F96BE54BAA4 | 100% OFF | 1000/793 | expired |
| - | 7/22/2022 | 36468960F38E9B659A8A | 100% OFF | 1000/968 | expired |
| - | 7/31/2022 | 6D57348681CEE8757241 | 100% OFF | 1000/852 | expired |
| - | 8/1/2022 | 857CCF4CB429FC1AEF4F | 100% OFF | 1000/708 | expired |
12/8/2021
course created date
12/20/2021
course indexed date