Thrive During a Breakup
From breakup to a break through. Get over them, gain happiness and find freedom.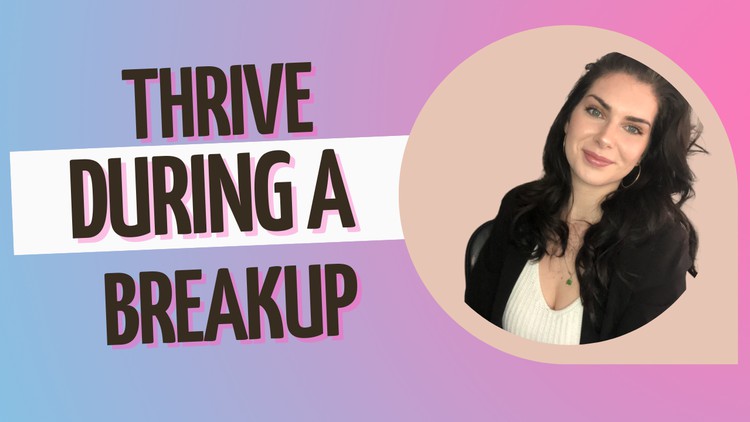 What you will learn
How to navigate a breakup so it doesn't break you
How to be happy even while grieving a loss of a relationship
How to self-soothe
How to become the best version of yourself
How to make sure that the breakup doesn't define you
How to detox and how to start fresh in the most empowering way
How to ensure you won't make the same mistakes in future relationships
How to have self-love and self-compassion during a break-up
How to navigate the many ups and downs of a breakup
How to increase your happiness quickly and easily
How to let go
Description
I recently went through a breakup of a long-term relationship and let me tell you, the first few days were an absolute hell. I honestly wanted to die. I couldn't eat, I couldn't sleep. I've never been in so much pain in my whole entire life. I just wanted the pain to go away, but I couldn't imagine myself ever being happy again.
After a few days, I had enough! So as a Life Coach I asked myself "How would you guide a client through a break-up? What would you say? What would you recommend?" I then really though about the answer and I started applying it.


Very shortly afterwards, the depression turned into anxiety. Few days after that, I started seeing glimpses of happiness, joy and freedom. A little while after that, those glimpses expanded and now, I'm THRIVING.
As a Life Coach I have the honor of guiding and helping others. This time I went through hell myself, and by applying simple techniques that I have learned and created throughout the years, I went through the journey myself. And although I shouldn't be, I am surprised how amazing I feel. How free, how confident, how happy. And I want you to feel the same way because breakups are hard, they can be so hard, but they can also mean a fresh start. You can thrive during this time. You may be at the bottom now but if you look up things can only get better, and there are many things we can do to make ourselves feel not only better, but better than we have ever before!
Join me find a new found freedom and THRIVE.
Content
Module 1
Introduction
The First Stage
The Cycle of Grief
Self-Soothing
Module 2
Get out there
Define Yourself - Free Yourself
Increase Your Happiness
Module 3
Detox Your Past
Design Your Future
Module 4
Reflection
Breaking Patterns
Self Love and Compassion
Module 5
The Ups and The Downs
Let Go
Reviews
Thank you so much!!! I was ruined after my breakup and now I'm actually happy. You not only helped me to get over him, but now I'm looking forward to my future without him! With your help I realised how bad the relationship was and how much better my life is now that he is not in it. Thank you thank you thank you xxx
I'm so grateful for this course, I already feel so much better. I don't miss him as much, and I know I will get to the right place soon!
6/16/2022
course created date
6/19/2022
course indexed date