The Python Programming A-Z Definitive Diploma in 2022
The Hands-On Guide to Master Modern Python and Data, to Advance your Dev and Data Career in no time!
Programming Languages
category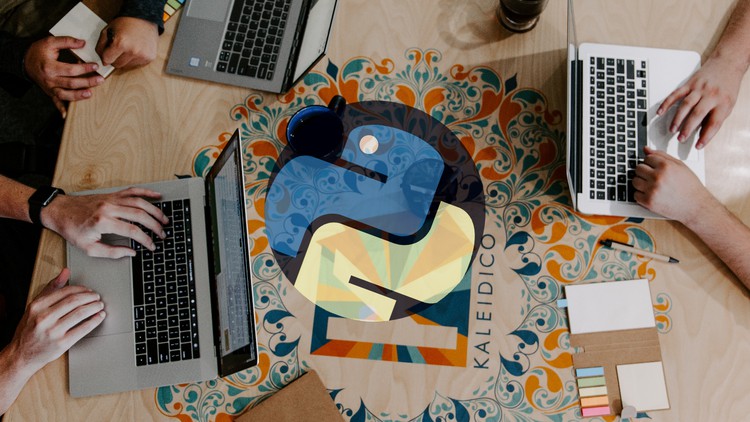 What you will learn
Basic and Advanced Python concepts to become a Rockstar Python Developer
Python tools, keywords, best Practicing, high level descriptions
All bout Variables, Data Types, Literals, Techniques, Importing and Formatting.
Hands-on different types of Operations, Decision Making and Repetitive execution for sequences
Designing Data Structures
The Design of Functional Programs
Object-oriented design Principles
Files Handling, Modules and its Operations
Scientific computing for Data with NumPy
Data Visualization with Matplotlib and pyplot
Using Databases with Python
Description
Hi, Welcome to The Python Programming A-Z Definitive Diploma in 2022.
Your complete Guide to Python Programming.
Almost Python is currently used for everything in Software Engineering.
Although it is very easy to learn, but, it is very useful and powerful.
Its fields are so many, and by learning python, it will be very easy for you to get higher Jobs in the largest companies such as Google, Dropbox, Spotify and many more.
Simply you can do multi scale tasks with python , because it is multipurpose professionally and quickly with fewer lines of code.
Also, python works everywhere.
Among its most important fields are: data science, machine learning, web application development, desktop application development, cybersecurity, and many other fields that cannot be confined to one video.
Plus, you can use it on any operating system you use.
Its programs can be written and executed with any text editor or any ide easily.
I will help and support you through this step-by-step course. Because the most important thing for me is to help you to get the most out of this course.
By the end of this course you'll be a Professional Python Developer, And you have all the skills that Python experts have. Also, you'll have all the ability to build multi scale apps.
Develop Python Apps, Data Analysis, Present and visualize information, Manage Database using Python 3.9. All of that and many more.
In this course, we will start from very easy basic topics such as Variables, Data types, IO Formatting, Operations, Conditional statements, loops, Data Structures, Functions, and many others, then we will move on to advanced topics such as Object Oriented Design, and also how to deal with Data Science libraries and Modules of all kinds, then we will move on to learn how to use Databases with Python . All of this and more, supported by practical examples.
I will be available to assist and support you line by line during this course.
This course is carefully prepared, to save you time, and to increase your focus while learning without feeling bored.
Content
First Step to Python
Introduction to the training
Working environments and start coding
Keywords and Identifiers in Python
Syntactic unit of imperative Python
Indentations and whitespaces in Python
Useful high level descriptions using comments
Challenge 1
Variables to store values
Variables overview in Python
Assigning and Changing values
Assigning multiple values
Constants
Numeric literals
String literals
Boolean literals
Special literals
Collections literals
Categorization of Data Types
Numbers in Python
Lists in Python
Playing with list items
Tuples in Python
Strings in Python
Sets in Python
Dictionaries in Python
Challenge 2
IO importing and formatting
Output using a built-in function
Formatting and enter inputs
Library importing with examples
Computations and perform operations
Arithmetic operations
Comparison operations
Logical operations
Assignment operations
Identity operations
Membership operations
Challenge 3
Conditions to perform decision-making
The conditional if statement
The conditional if else
The conditional if, elif and else
The nested if
Repetitive execution using loops
The while loop
The for loop 1
The for loop 2
Challenge 4
Lists and collections
Lists and methods level 1
Lists and methods level 2
Lists and methods level 3
Lists and methods level 4
Challenge 5
Tuples and collections
Tuples and methods level 1
Tuples and methods level 2
Tuples and methods level 3
Challenge 6
Sets and collections
Sets and methods level 1
Sets and methods level 2
Sets and methods level 3
Sets and methods level 4
Challenge 7
Dictionaries and collections
Dictionaries and methods level 1
Dictionaries and methods level 2
Dictionaries and methods level 3
Challenge 8
The Design of Functional Programs
Defining functions
Function arguments and parameters
Inserting a collection as an argument
Return and the expression
Using More arguments
The arbitrary arguments
Build a recursive function
lambda design
Lambda arguments
Lambda in your program
Object-oriented design Principles
Objects and Classes level 1
Objects and Classes level 2
Objects and Classes level 3
Objects and Classes level 4
Files Handling and operations
Files Handling level 1
Files Handling level 2
Files Handling level 3
Files Handling level 4
Modules in Python
Modules level 1
Modules level 2
Modules level 3
Scientific computing in Python
First step with NumPy and arrays
NumPy level 1
NumPy level 2
NumPy level 3
NumPy level 4
NumPy level 5
NumPy level 6
NumPy level 7
NumPy level 8
NumPy level 9
NumPy level 10
Visualize your Data
Matplotlib level 1
Matplotlib level 2
Matplotlib level 3
Matplotlib level 4
Matplotlib level 5
Python with DB
Connect to Database with Python
Create Table in Database using Python
Insert Data into Table using Python
Display data from DB Table in Python
Update Table Data using Python
Reviews
The sections are properly separated and well organized. Simply explain that is understandable at once. Add more examples to each section.
Oguadinma
December 30, 2021
The course was great. I enjoyed the coding exercises. It helped me refresh my memory of what I have learned and never to forget them again. Thank s a lot
Its Very Good course for me and its very very helpful in my life. Thank You for making this course.....
I completed the course but its not providing certificate, when i try to get certificate it shows failed to load. Dont waste your time and money in this fake course.
Concepts are not clearly explained by tutor, directly applying unwanted examples even if you are beginner for this course, don't carry up this course, Waste of time & Money by going through this course.
I liked the course, it was well explained and helpful, but i would give it a five stars if their was more challenges on it and more exercices.
The course is a complete introduction to achieve an begginer/intermedium level, there are some topics that are very basic like classes or the sections of librarys. But it's a great course if you are new into python programmin language.
This course is easy to learn and save my time videos are not so lengthy .all over it gives me fantastic experience.
I'm learning a lot. And the instructor is really precise and explain everything, so that every the lesson will be understandable.
Great so far. I am a true beginner and this course already is making me feel hopeful that I can learn and comfortable with the tools.
how to code is clearly explained by examples. Person can try it himself after watching videos. Examples are good chosen
Teacher is awesome I just love the course . I have seen bad review before joining it , they are expecting too high . For complete python this is best course . I just love this course . Do not believe other people . this is awesome course . thank u instructor
This course has taught me a lot of techniques in searching information. and made my confusions clear. Thank you to the professors in this course and all contributors who are in course!
Good to learn basics but not very well explained. Last chapter on matplot & SQL were not at all good. He just rushed without explaining anything.
there should be teacher facial video in few lecture which would have more impact on student overall a good course!!
Coupons
| Submit by | Date | Coupon Code | Discount | Emitted/Used | Status |
| --- | --- | --- | --- | --- | --- |
| - | 12/7/2020 | 20B86EC23A47E78DCE6D | 95% OFF | | expired |
| Angelcrc Seven | 12/8/2020 | 6BE9A572AA6720BECE1B | 100% OFF | 40000/16439 | expired |
| - | 12/15/2020 | A15705F0A2942F6906B4 | 100% OFF | 40000/13665 | expired |
| Angelcrc Seven | 1/4/2021 | 7BE98EF63B3DC9066A2A | 100% OFF | 40000/10023 | expired |
| Angelcrc Seven | 1/18/2021 | D0BAB6925AE9FC151395 | 100% OFF | 40000/6327 | expired |
| Angelcrc Seven | 2/7/2021 | 6FF99C7C7EC843A4361B | 100% OFF | 40000/8461 | expired |
| - | 2/17/2021 | 57655BA5CC5B199FE57E | 100% OFF | 40000/10281 | expired |
| - | 3/4/2021 | BFA7A4B96F86562A9263 | 100% OFF | 40000/7461 | expired |
| - | 3/17/2021 | 8AF1DC038E1E608FFBDA | 100% OFF | 40000/5747 | expired |
| - | 3/25/2021 | 77ED60D8E0C970FAF434 | 100% OFF | 40000/4655 | expired |
| - | 4/3/2021 | AB9A973A5BFB1972407B | 100% OFF | 40000/2507 | expired |
| - | 4/15/2021 | 5BA565F0A87DB7B463B7 | 100% OFF | 40000/2754 | expired |
| - | 4/24/2021 | 0C7C102CC08E89D0C997 | 100% OFF | 40000/6144 | expired |
| - | 5/5/2021 | CE0089FECEE524BFC308 | 100% OFF | 40000/17113 | expired |
| Angelcrc Seven | 5/19/2021 | 9F79B64776DD359A96CE | 100% OFF | 40000/5760 | expired |
| Angelcrc Seven | 6/2/2021 | B0BB9B57369C0965AEDC | 100% OFF | 40000/3045 | expired |
| Angelcrc Seven | 6/21/2021 | 5CBE4C68FB2500B1C7A0 | 100% OFF | 40000/7440 | expired |
| Angelcrc Seven | 7/5/2021 | BEBC438CBC07E299757B | 100% OFF | 40000/11631 | expired |
| Angelcrc Seven | 7/17/2021 | D3D95243006AF21258B2 | 100% OFF | 40000/7139 | expired |
| - | 7/26/2021 | 9EA7EC4CD904E7E7DBE8 | 100% OFF | 40000/5759 | expired |
| - | 8/9/2021 | 13EACB81728923D7CA29 | 100% OFF | 40000/3886 | expired |
| Angelcrc Seven | 8/17/2021 | DE2F470916A923081696 | 100% OFF | 40000/3907 | expired |
| Angelcrc Seven | 8/24/2021 | 048355991071D1B667AD | 100% OFF | 40000/4352 | expired |
| - | 9/3/2021 | 7A8AD57AF0D3EC9DF2C0 | 100% OFF | 40000/2536 | expired |
| Angelcrc Seven | 9/16/2021 | A7B9B514634F9FE5F399 | 100% OFF | 40000/2832 | expired |
| - | 9/24/2021 | 7D78F792F657DE2430EB | 100% OFF | 40000/1768 | expired |
| Angelcrc Seven | 10/9/2021 | AC1A4E1D62D79B3CF878 | 100% OFF | 40000/5610 | expired |
| Angelcrc Seven | 11/3/2021 | F080E31991DA49C96121 | 100% OFF | 1000/591 | expired |
| Angelcrc Seven | 11/24/2021 | 736FB1505F2CA5777D78 | 100% OFF | 1000/658 | expired |
| Angelcrc Seven | 12/12/2021 | 34F28D5DFBAC22F20A8C | 100% OFF | 1000/927 | expired |
| - | 12/21/2021 | 5C3FD81A3611080D2D7D | 100% OFF | 1000/950 | expired |
| Angelcrc Seven | 12/28/2021 | 3202BE981A4B39AAAAFF | 100% OFF | 1000/952 | expired |
| - | 1/4/2022 | F5BA114B438334D6D26D | 100% OFF | 1000/984 | expired |
| Angelcrc Seven | 2/3/2022 | AF41C7B5AB9CE5316CC4 | 100% OFF | 1000/920 | expired |
| Ignacio Castro | 2/22/2022 | 7A4E69220B839FF5A819 | 100% OFF | 1000/962 | expired |
| - | 3/15/2022 | A7F4D8DA0C0F3FE1C6FB | 100% OFF | 1000/974 | expired |
| Angelcrc Seven | 3/23/2022 | 5E97E5110BCF00990BB6 | 100% OFF | 1000/961 | expired |
| Mauricio | 3/29/2022 | 7686CDD85AFC295168B7 | 100% OFF | 1000/808 | expired |
| Angelcrc Seven | 4/12/2022 | 558BC0C0B292787C06DA | 100% OFF | 1000/759 | expired |
| - | 4/22/2022 | A78B2B04DF55FD06E132 | 100% OFF | 1000/584 | expired |
| - | 4/26/2022 | 2EA3468F1CAF766F6371 | 100% OFF | 1000/814 | expired |
| - | 5/5/2022 | 72AAD11D2192DF96CDE6 | 100% OFF | 1000/944 | expired |
| - | 5/19/2022 | 1B55D26C95EF90EC2CC7 | 100% OFF | 1000/947 | expired |
| - | 5/26/2022 | 1EC3D81D9033982BE950 | 100% OFF | 1000/612 | expired |
| ANUBHAVJAIN | 6/7/2022 | E19C99F163D5F46A38EF | 100% OFF | 1000/701 | expired |
| - | 6/14/2022 | B187747B3D49010B651B | 100% OFF | 1000/886 | expired |
| - | 6/21/2022 | 2DB24DEFF172A3D5122D | 100% OFF | 1000/986 | expired |
| - | 7/5/2022 | 36072DDFBC620911442B | 100% OFF | 1000/908 | expired |
| - | 7/20/2022 | B7DA76F2E2908ED6B3E1 | 100% OFF | 1000/581 | expired |
| - | 7/26/2022 | 95E4038FFC25C42B6FAF | 100% OFF | 1000/975 | expired |
11/24/2020
course created date
12/7/2020
course indexed date