On-Camera Charisma for YouTube Stars - YouTube Marketing
The Ultimate in YouTube Marketing is You Being a Dynamic, Charismatic Host. Here are the Secrets Used by YouTube Stars
Video & Mobile Marketing
category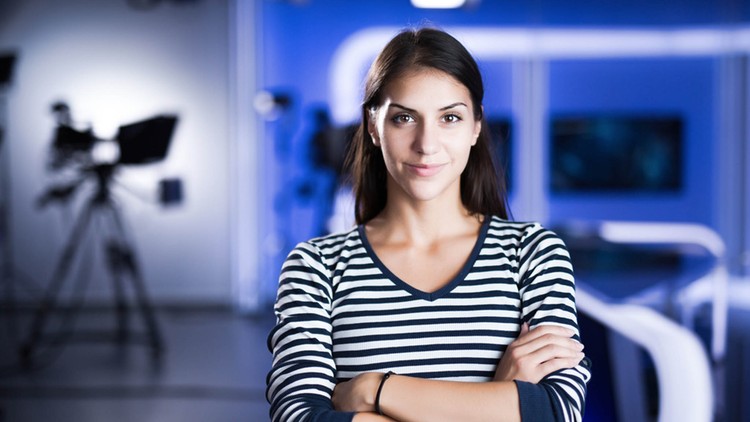 What you will learn
Make compelling videos
Speak in a confident manner on video
Look relaxed and authoritative on camera
Master fundamentals of media training, teacher training, public speaking, presentation skills and communication skills
Ace media interviews
Description
The On-Camera Charisma for YouTube Stars - YouTube Marketing Course is designed to help you boost your charisma for the camera. The best way for you to improve your own YouTube Marketing is to look and sound great in every video.
You can spend all of your time and money on thumb nail images, key words, back links, SEO and descriptions, but if you look or sound scared or boring, your YouTube videos and your YouTube marketing will all be for nothing.
Many YouTube marketers and would-be marketers never reach their full potential because they lack confidence in their on-camera presence. If you want to become a YouTube Superstar, you need to know how to look and sound fantastic and fill of confidence in every video.
Don't let your poor on-camera performance ruins your YouTube marketing efforts. You can speak with authority in every video you make for YouTube, as well as Facebook, Instagram, Twitter and Linkedin.
On-camera Media Training is essential in the modern world. Every day, there are more and more opportunities to speak and present in front of video cameras. You can be a YouTube Star! These techniques also work if you are creating an online video-based course, being interviewed on CNN, hosting a YouTube Channel, creating video proposals for clients, creating a Facebook How-to Video page, or giving a speech via Skype video and you need to look and sound your best when speaking in front of a video camera.
In this On-Camera Charisma for YouTube Stars - YouTube Marketing Course you will learn insider secrets from the world of high level media training, public speaking, presentation skills, communication skills and teacher training practices.
You will learn how to do the following:
Look your best on camera
Make videos easily, without stress
Connect with your viewers, students, fans and tribe members
Host a program, online show or course
Keep the camera from adding 15-20 pounds to you
Select flattering clothes
Frame messages
Answer questions from reporters
Master makeup essentials
Save massive time when recording your own videos
Master the simplest editing technique of all
Exude on-camera confidence
This YouTube Marketing/media training course is for people who are in a hurry! You can get in and out in 2 hours with this executive media training on-camera course.
You will never be intimidated again by opportunities to appear on camera. You will know that you can speak with poise and confidence when creating videos or when being interviewed by journalists on TV.
This course covers beginner, intermediate and even advanced tips for all aspects of being on camera related to media training, public speaking, presentation skills, communication skills and teacher training practices.
Message from the instructor: "I'm not here on Udemy to make so-called 'passive-income.' I show up for work every day. I answer your questions every day. More important, when you post a video of yourself speaking on camera, I will watch you and give you unique, personalized critiques based on my 30+ years of coaching 10,000 plus executives and personalities around the globe communicate more effectively to the media and on camera." TJ Walker
Are you ready to stand up from behind the camera and move to the front of the camera where you and your ideas can be seen and heard? then enroll now!
Please note: This is a course about speaking on camera, not writing or creating special effects. If you are looking for a course on media training, public speaking, presentation skills, communication skills and teacher training that uses lots of music, sound effect, and PowerPoint slides, this course is not for you. But if you are looking for a skilled and experienced practitioner who can actually demonstrate every aspect of theory on who to speak on camera and to the media, then this is the course for you.
Please note that this is a concise less than 2 hour course for people who are in a hurry. If you want to know everything there is to know about media training, you may wish to check out TJ's 26 hour complete media training course.
★★★★★"The course is beyond imagination. Tools and tips of TJ Walker are clear straight to the point & very helpful. Unlike most of the instructors, TJ Walker is brief, exact, not repetitive in fact, there is so much information delivered in a couple of minutes videos that makes me wonder if the length of the videos is measured correctly! The absolute cherry on the cake is a personal review with suggestions for improvement for any videos that students post in QA as a part of the course assessments. Answers are often quick as just a couple of minutes from posting a question/link. This course deserves 10 stars !!!" Udemy student Daniella Lartides
Enroll today in the On-Camera Charisma for YouTube Stars - YouTube Marketing Course
Content
Look and Sound Your Best On Camera From Now On
Quick Win! Simple Trick To Seem Confident and Charismatic!
This Isn't Dangerous Sky Diving, Just Do It!
Get Personalized Feedback on Your Video Performance Right Here Now
Here Is How You Get Over the Two Biggest Performance Humps
What To do If You Are Not Good Looking!
Exciting New Update to this Course
Do This So You don't Waste Time On Your TV Studio
This Is How To Benefit from The Rest of the Course
Course Update! Live Instructor Office Hours are Now Available
Media Training Essentials: Looking Comfortable, Confident and Relaxed on Video
Sell the Message by Selling the Messenger
Sit Like This to Look Your Best
Here Is Where to Look On Camera
Never Look Bored or Scared Again
Move Like a Seasoned TV Pro
Never Let the Seat Swallow You Up
Standing In Front of the Camera With the Greatest of Ease
Dressing for TV and Video Success
Your Turn to Be On Camera
How the Media Pros Rehearse Their Interviews
Everybody Needs Makeup to Look Their Best
Here is Why You Need Makeup
Makeup Tips Just for Women
Makeup Tips Just For Men
Preparing Your Own Makeup Routine
Establishing Your Makeup System
You are the Producer of You TV
Anything You Can Type You Can Now Speak on Video
Have an Even Greater Presence on YouTube
Facebook Live Will Never Scare You Again
The Video Advantage In All Your Proposals - Quick Win!
Hype Versus Reality - Why Most People Never Create Simple Video
Mastering the Human Side Of Looking and Sounding Your Best on Video
Your Proposals will Stand Head and Shoulders Above Your Competitors
Your Clients Will Find You Their Most Responsive Partner Ever
Your Website Can Be Video-Centric
Now You Can Answer Frequently Asked Questions Just Once!
Talk Your Customers Through Your Whole Business Process
Your Exciting Video Newsletters Will Outshine Text Newsletters
Your Client Video Testimonials Will Prove Your Credibility Beyond a Doubt
Project Your Best Face on Skype and Zoom
Deliver Keynote Speeches Without Ever Leaving Home
Supercharge Your Public Relations Efforts With Video
The Crisis Communications Secret Weapon
Drastically Reduce Your Time Training Employees and Others
Bonus Reading PDFs Media Training, Teacher Training, Public Speaking, Presenting
Books for You Here
Yes, You Are Graduating! The Conclusion
Turning the Tables and Making You the Judge - Feedback
Your Insecurities About Facing a Video Camera are Gone Forever - Conclusion
Final Bonus Lecture re 90% and More Discount on Future Courses & Opportunities
Reviews
Mohammad
December 11, 2022
Great course, great teacher, great content. The only reason I've taken away a star is that the course does seem to be a bit older and geared towards TV and not specifically Youtube. Even though most of the material is still relevant, Youtube seems to be a later add-on to the material. That made me feel like the title was a bit click-baity and even a bit deceptive.
Excellent course for professionals who do not have experience to be on camera but need to be. By learning these these new skills and exercising them will open up new opportunities ! Thank you TJ for this course.
I signed up for the course in order to get tips in how to make myself feel more comfortable with camera and to know more about the charisma and the ways it can be lifted. One part of my expectations is met but the other is not that much because overall for me it felt like more business oriented (for entrepreneurs). My motivation to enroll was the thoughts of creating a Youtube channel but the focus of this course is bit different. Surely entertainment is business related too behind the scenes, but some stuff is not as applicable depending on format and content of the channel. However, I will definitely come back from time to time to rewatch some of the materials (and book materials are also appreciated, thank you very much) and overall I think it is a good material for those who have a product to sell + TJ has a great charisma so it is a pleasure to watch and listen to him :) I have not completed the homework yet so will do after bit deeper understanding of what I am going to do and such. Thank you for the interesting content.
It is a very useful course and I don't think any update is required for now. Thank you so much it is the best course on Udemy
TJ is such a great teacher. I never feel bored watching his videos. TJ gives us a confidence boost, and now I'm ready to start my first YouTube Videos. However, I would also like to know how to talk in a public environment for example, when speaking in front of a camera in public.
this is a theoretical course .......it was best ...if the video part is practical....with what happened in the background ......how to prepare the background instrument.........but the resource is very helpful......for video production
TJ is simply amazing on discussing this course! It is brief and comprehensive that you can apply to your daily lives.
It's early in the course, so it's hard to tell, but so far, I like T.J. and his energy, and the content is speaking directly to what I wanted in signing up for this course.
This course helped me with quick practical tips on how to both look and sound better on camera. Just as important this course helped me get over the fear of being on camera, inspired me to practice, and finally, motivated me to take advantage of video media opportunities.
He presents his material well, like he knows what he's talking about and he makes it interesting. He made me feel a little more comfortable with the idea of posting a video.
Direct to the point, very engaging and friendly instructor, very natural and relaxed way to engage with the spectators, I'll put to practice all his recommendations :)
It's interesting. I thought all along that I need a bunch of knowledge to be charismatic in front of camera. But TJ Walker, made me realized that doing just the basic and simple things produce greater results. I am applying all that I've learned in my videos. I will send you a video Sir TJ. Thank you very much!
Hi there, just finished the course. I find your course really helpful and I got more compliments from colleagues on zoom calls now lol that was surprising. I already put many of your other courses on my wish list! I am a real estate agent in Toronto working on making youtube videos. My feedback for this course is, how to give call to action in videos? For us it's either subscribe to our channel/call us for a consultation/ get my FREE Guide/Checklist (a lead magnet)/contact me today if you want to buy/sell... etc. I always find it kind of awkward to ask for those things, and for us people it will help tremendously if we can have the exact script, body language, I know everyone is different but any guidance would be great. Maybe the answer is in another one of your course, if that's the case please send me the link and I'll sign myself up :) Thank you again! Hope we will talk again soon.
What an incredible course! Lot's of practical tips, encouragement, and even real feedback from TJ. I'm very happy and feel more empowered to move forward with video after completing this course.
Hi, All I would like to address is you have explained in the most simplest manner; which just boost any individual confidence to face the camera. Thank you so much.
Coupons
| Submit by | Date | Coupon Code | Discount | Emitted/Used | Status |
| --- | --- | --- | --- | --- | --- |
| - | 8/1/2019 | KAMLESH100 | 100% OFF | | expired |
| Lee Jia Cheng | 4/6/2020 | SPICYPROMO | 100% OFF | 40000/5657 | expired |
| Lee Jia Cheng | 5/27/2020 | 881B08B209DB8D349CB2 | 100% OFF | 40000/4586 | expired |
| Lee Jia Cheng | 6/14/2020 | 0095119A147F1FBAA269 | 100% OFF | 40000/2095 | expired |
| Angelcrc Seven | 7/18/2020 | 47DE3231A8ADE7ADAF9D | 100% OFF | 40000/2171 | expired |
| Lee Jia Cheng | 8/11/2020 | E89CDC2C77E38BA2857B | 100% OFF | 40000/2508 | expired |
| - | 9/28/2020 | BF5D3BE623777A08E1C2 | 100% OFF | 40000/2150 | expired |
| - | 10/19/2020 | A4A156D0582776ACFDA9 | 100% OFF | 40000/1768 | expired |
| - | 11/23/2020 | C1C733AF90BC95865A7C | 100% OFF | 40000/2844 | expired |
| Angelcrc Seven | 12/9/2021 | D83BC4A0E18F449B8E2F | 100% OFF | 1000/960 | expired |
| - | 5/10/2022 | THANKS055 | 94% OFF | | expired |
| - | 6/9/2022 | 962CE27374734EA2D24B | 100% OFF | 1000/882 | expired |
| Angelcrc Seven | 6/23/2022 | 5DAA9B301FE4E9D30E81 | 100% OFF | 1000/975 | expired |
| Angelcrc Seven | 7/14/2022 | C89D2261C3654505B622 | 100% OFF | 1000/974 | expired |
| - | 8/23/2022 | 5ECC828CFFCE6AB6C9BD | 100% OFF | 1000/856 | expired |
| - | 12/20/2022 | 6382091D4D5702A39F56 | 100% OFF | 1000/995 | expired |
| - | 12/30/2022 | 27A0C3F8E7CCD5174B2A | 100% OFF | 1000/988 | expired |
| - | 1/30/2023 | CFC2FA87BA6AC5EB898C | 100% OFF | 1000/800 | working |
Charts
Price
Rating
Enrollment distribution
10/16/2018
course created date
6/26/2019
course indexed date