The Negotiation Mastery Blueprint For Freelancers
Learn how to master the art of negotiation, win higher paying clients and get paid what you're worth as a freelancer.
Personal Transformation
category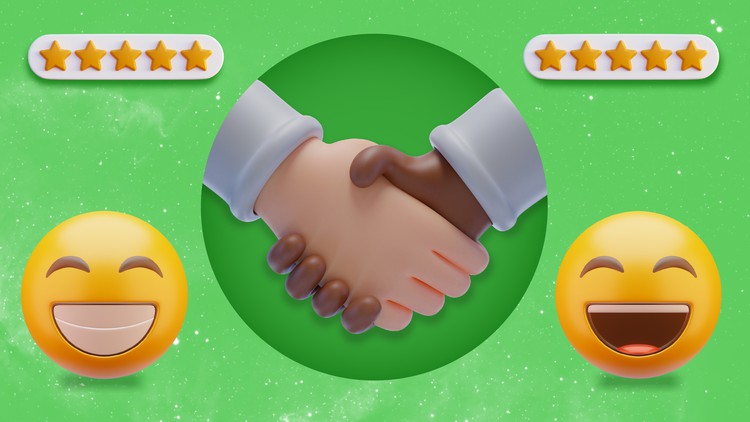 What you will learn
Go into every negotiation full of confidence that you can manage the conversation towards the result you want personally.
Earn more as a freelancer and win higher paying clients who pay upfront every time for projects.
Understand the art of negation and be more composed and persuasive in any form of conversation.
Be seen as a credible and trustworthy expert, who can demand a premium for your services and expertise.
Become a professional who is respected by high-paying clients, who have big budgets for interesting projects.
Learn how to communicate in a way that persuades any client or person to agree with your thinking.
Description
Your life is a negotiation.
Lots of little negotiations, in fact.
Which all compound to help shape the results we achieve in our life.
You deal with clients everyday as a freelance.
Client who want the best talent for the best price.
And the trouble is many clients understand the art of negotiation and persuasion.
Leaving freelancers feeling resentful and uncomfortable when clients drive down their pricing.
All whilst still expecting the same level of service and delivery.
Is this fair?
I'll leave that for you to decide.
Because you most likely feel this on a regular basis.
The good news is it doesn't have to be this way.
As freelancer, you can take the power back.
You can have the advantage in every single conversation you have with a client (or person).
Which will allow you to create agreements, and a life) which is more inline with your needs and desires.
We created The Freelancer Negotiation Mastery Blueprint as an in-depth course for any freelancer wanting to take the power of their future back into their own hands.
Purposefully built for freelancers who want to master the art of negotiation and have more confidence when discussing pricing and agreements with clients.
If this sounds like a skill you'd like to acquire and use on a daily basis, we'll see you inside the course.
Content
Introduction
What we'll learn inside the course
How to win every negotiation in future
A Very Important Message
Using pricing anchors with confidence
How to build unshakeable confidence
The art of selling the benefit
Unlocking your clients true needs
The legendary 'Selfless Closing Strategy'
How to always get paid upfront
Creative & profitable agreement strategies
Manage expectations like a CEO
A message for the a very ambitious freelancer
Reviews
I really loved how he explained the art of selling, step by step from aquiring client's, negotiating and acing a good deal all at once ?. thanks ?
Exceptional as always Scott. You are one of my favorite teachers. I will surely be going to have a meetup with you. Let me know if you travel to the UK.
I'm a Turkish speaker and I learned English and so far, it was very much easy for me to understand whatever he is trying to teach. Keep up the good work Scott.
The one big thing that I learn from this course was about 'Selfless Closing'. There's nothing wrong on recommending a cheaper option to the potential client.
This course has helped me make a big change in my lifestyle and I am so much more productive because of it.
I really enjoyed taking this course and I got a lot of value from it. The instructor has helped me so much and I feel so much more confident with my negotiation now, it has lifted a lot of stress.
Allenkurt
February 6, 2022
This is a great course for anyone who wants to improve their negotiation and gain more experience with freelancers efficiently.
Charts
Price
Rating
Enrollment distribution
1/14/2022
course created date
1/18/2022
course indexed date