The Complete Telecommuting Course - Remote Work - Work Life
Telecommuting - Remote Working - Tools for Working from Home - Better Organization for Work Live Balance & Productivity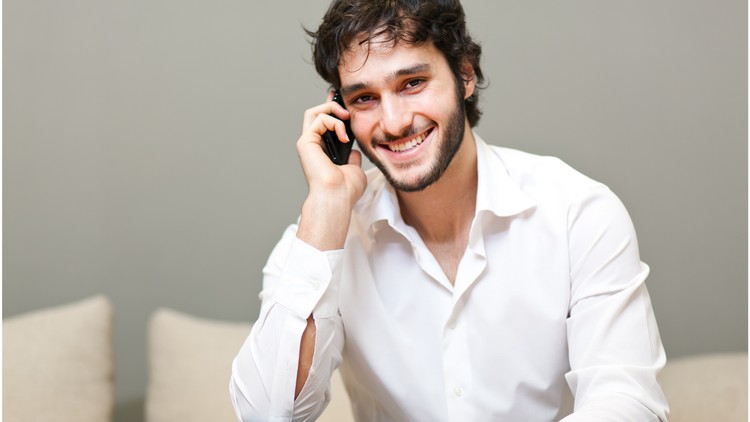 What you will learn
Telecommuting strategies for success
Remote working tactics
Work life balance
Organization for home offices
Video conferencing
Daily routines
How work effectively without a typical office infrastructure
Description
The Complete Telecommuting Course - Remote Work - Work Life
Telecommuting - Remote Working - Tools for Working from Home - Better Organization for Work Live Balance & Productivity
Telecommuting and remote working from home can be a great way to live a professional life if you plan accordingly and learn this new way of doing business.
The recent public health crisis has forced millions of executives around the globe out of their offices. Now, working from home, telecommuting, is the new norm. Unfortunately, it's also normal to feel frustrated and inefficient working from home.
Personal development expert TJ Walker has been working from home and telecommuting off and on since the 1980s. He shares beginner, intermediate, and expert tips on how to thrive in this home working environment.
In this course, you'll learn everything from how to look your best in a Zoom meeting to how to deal with noisy kids and neighbors, how to establish firm start times and quit times to make your day more efficient, and to keep you from going crazy.
If you are new to the telecommuting and remote working game, this course is for you. And if you've been telecommuting for years and still don't feel like you have the right rhythm down, this course is also for you.
Working from home is no longer an occasional evening or weekend activity. Telecommuting is the new normal. Yes, they are huge advantages in not having to commute or spend time on trains and in traffic. But they are even greater distractions and temptations coming to you from your family, your refrigerator, and your cell phone.
If you are ready to jump-start your telecommuting efficiency, then sign up for this course today.
Here is what Udemy students say about this course:
"it's been very helpful and I had a great experience, class very interesting and was much understandable." Shiva Ramya
"One of the Best Courses of all Time, The complete Telecommuting is Excellent and the content and knowledge is excellence TJ Walker is one of the best trainers and I suggest others to enroll the course." John Erol
This Telecommuting course is ideal for anyone searching for more info on the following: remote work - work from home - working remotely - remote - remote working: how to succeed in the new workplace - work life balance. Plus, this course will be a great addition to anyone trying to build out their knowledge in the following areas: work life balance - virtual meetings - video conferencing - virtual teams.
Content
Make Telecommuting Work for Your Career and Life
Promo Video The Complete Telecommuting Course - Remote Work - Work Life
Quick Win! Do This To Eliminate Your Biggest Distraction
2nd Quick Win! Spend 2 Minutes Cleaning Your Workspace Each Day
Why You Might Want to Listen to My Advice on Telecommuting
Your Questions and Concerns Addressed Right Here
Remote Working that Supports Your Lifestyle and Vision
Create a Positive Image for Your Telecommuting Life
Wake Up and Start When You Want to, But the Earlier the Better
Carve Out Your Deep Work First
You Get to Schedule Your Own Time - That's the Good News AND the Bad News
Create A Home Work Environment That Fosters Productivity
Make A Comfortable Home Work Environment for Yourself
The Three Most Beautiful Words for Telecommuters - Do Not Disturb
Headphones Are the Telecommuters Best Friend and Ally
You Have Been Promoted to Chief Technology Officer for Your Home Company
Use a Rational Process for Getting the Equipment You Need
Sourcing the Right Equipment for You
Purchase the Fastest Internet Connection You Can Afford
Establishing Your Work Routines
Getting Your Response Time Right - Faster Isn't Always Better
Don't Forget to Schedule Downtime and Vacations
Don't Go Crazy
Protect Yourself from Isolation
Collaborations will Keep You Sane
Remote Working Can Make Getting Direct feedback More Difficult
Navigating Virtual Office Politics
Sorry, But If You Work With People, You Will Still Have Office Politics
Don't Fall Victim to 'Out of Sight, Out of Mind'
Part 1 Conclusion
Get Ready to Work from Home
Part 2 Live streaming and Video Conferencing
If You Can't Have Face Time with Colleagues, then You Need Video Conferencing
Quick Win! Here is How to Look Your Best in Front of a Video Camera
Setting the meeting objective -- a critical factor to success
Coronavirus Update and Impact on Video Conferencing
Part 3 Using the Telephone for Maximum Benefit
The Telephone Is Still An Important Business Tool
Quick Wins! Do THIS To Look and Sound Great on Skype Phone Calls
Never Confuse Personal Phone Use with Business Telephone Use Again
Why Your Phone is the Best Secret Business App Ever
Part 4 Working from Home Means Self-Discipline Is Your New Boss
Building Your Self-Discipline Habit
Quick Win! Discipline Yourself The Way Big Corporations Manipulate Behavior
This Is What Self-Discipline Is and Why It Matters to You
The Ugly Truth Most Experts Won't Tell You about Self-Discipline
Part 5 Mastering the Home Workout
Not Leaving Your House Is No Excuse for Physical Decline
Quick Win! Let's Do One Rep Now
This Is Why It Is So Hard to Do Home Workouts
Here Is Why You SHOULD and SHOULD NOT Listen to Me
Conclusion
You Should Be Super-Prepared to Work From Home Now
Congratulations! You Are Now Ready for a Successful Telecommuting Career
Reviews
nothing special covered in the course. The other courses that I have purchased from TJ walker are far better
Hi TJ, great course. I am already a telecommuter (due to Covid 19), and I have previously taken several of your courses so I knew what to expect, more or less. I found this course to be very useful, and I believe it will help me improve my telecommuting skillset and success. Thank you again for a fantastic learning experience.
Great course that helps you build all the Motivation and Confidence you need to apply amazing techniques to be an effective/successful telemarketer.
I really wanted extra tips on how to be more successful when telecommuting. It never hurts to learn new things or to get refreshers on things that you may have forgotten.
Seems like it could be a positive for me. Beginning of the course feels more like oriented towards the kind of things that TJ does rather than more routine work. I am an accountant working for an individual with several non-related entities.
its been very helpful and i had an great experience, class very interesting and was much understandable.
Yes it is a great way for me to learn the tips about WFH as I will be starting to WFH in a new firm next week.
One of the Best Courses of all Time,The complete Telecommuting is Excellent and the content and knowledge is excellence TJ Walker is one of the best trainers and i suggest others to enroll the course.
Always love the way of TJ to explain clearly in different subjects! Looking forward to learn more...love this course! TJ lists a life long experience and tips here!
Great and interesting course! TJ gives great tips on how to work remotely, foster productivity, and build self-discipline. I wished I had discovered this course sooner.
Coupons
| Submit by | Date | Coupon Code | Discount | Emitted/Used | Status |
| --- | --- | --- | --- | --- | --- |
| Angelcrc Seven | 5/30/2020 | B9CE3D46DBF44BA21BFC | 100% OFF | 40000/7940 | expired |
| Lee Jia Cheng | 6/3/2020 | 8E1F48E73F62169F617B | 100% OFF | 40000/3382 | expired |
| - | 6/23/2020 | DA84887F37CA0ADF8E24 | 95% OFF | | expired |
| - | 8/31/2020 | 495F6B196E620FFB4359 | 100% OFF | 40000/3651 | expired |
| Lee Jia Cheng | 9/7/2020 | 418A84F960B7AD8C6D24 | 100% OFF | 40000/2223 | expired |
| - | 10/12/2020 | 10616871EE9D3D16258E | 100% OFF | 40000/2064 | expired |
| - | 11/12/2020 | 00B20F0B98E30D19D079 | 100% OFF | 40000/2364 | expired |
| - | 12/24/2020 | 880DBFBE90CFFA91BFC8 | 100% OFF | 40000/1760 | expired |
| - | 1/19/2021 | 7E6CE502FCFC5E7C71A5 | 100% OFF | 40000/2097 | expired |
| - | 2/22/2021 | E1F0686426F37F61F137 | 100% OFF | 40000/1940 | expired |
| - | 5/21/2021 | ABD0AA07A2F7D1DC26BC | 100% OFF | 40000/3660 | expired |
| - | 7/19/2021 | 6A028743A1D68FB9A8EE | 100% OFF | 40000/2048 | expired |
| Angelcrc Seven | 8/12/2021 | 984695268BFD0734C7C3 | 100% OFF | 40000/1970 | expired |
| Angelcrc Seven | 9/21/2021 | 306FFFDC3288E1C2FA16 | 100% OFF | 40000/802 | expired |
| - | 10/30/2021 | 7E4084CB60B96C9B24F1 | 100% OFF | 1000/844 | expired |
| - | 12/25/2021 | 8289C4231F809FC6F922 | 100% OFF | 1000/953 | expired |
| Angelcrc Seven | 4/15/2022 | 60C2F174E9F0BE118990 | 100% OFF | 1000/997 | expired |
| - | 5/5/2022 | 641F1B8313D181AD21C1 | 100% OFF | 1000/997 | expired |
| - | 8/23/2022 | 31CC2827A0837A64F8CE | 100% OFF | 1000/969 | expired |
| - | 10/21/2022 | 5100211E48FD0407142F | 100% OFF | 1000/990 | expired |
| - | 11/4/2022 | 2BBD1D205EF3CFF2C523 | 100% OFF | 1000/584 | expired |
| - | 11/11/2022 | D54D0C85DD63AD106A12 | 100% OFF | 1000/780 | expired |
| - | 12/5/2022 | 53600BF082E94D0DA496 | 100% OFF | 1000/982 | expired |
| - | 12/20/2022 | 479B49CC8063A1112B2B | 100% OFF | 1000/737 | expired |
| - | 12/27/2022 | C9DE0E1642B4FF01E901 | 100% OFF | 1000/573 | expired |
| - | 1/4/2023 | 50D553F9E804E902A034 | 100% OFF | 1000/543 | expired |
| - | 2/28/2023 | 1F3EA233D570256F266D | 100% OFF | 1000/790 | expired |
| - | 3/28/2023 | E84EB7983825B3DE9A0B | 100% OFF | 1000/460 | expired |
| - | 4/25/2023 | B83921DEA88788724DE0 | 100% OFF | 1000/305 | expired |
| - | 5/5/2023 | 155CA9B4CAE92EEEA6AE | 100% OFF | 1000/144 | expired |
| - | 6/13/2023 | 5D0D9EB6648B7414AA7D | 100% OFF | 1000/400 | expired |
| - | 6/25/2023 | CEEAE16D66491E15079E | 100% OFF | 1000/737 | expired |
Charts
Price
Rating
Enrollment distribution
5/11/2020
course created date
5/22/2020
course indexed date