The Complete Storytelling Course for Speaking & Presenting
Your Storytelling Abilities Will Make Your Presentations and Speeches Memorable and Engaging!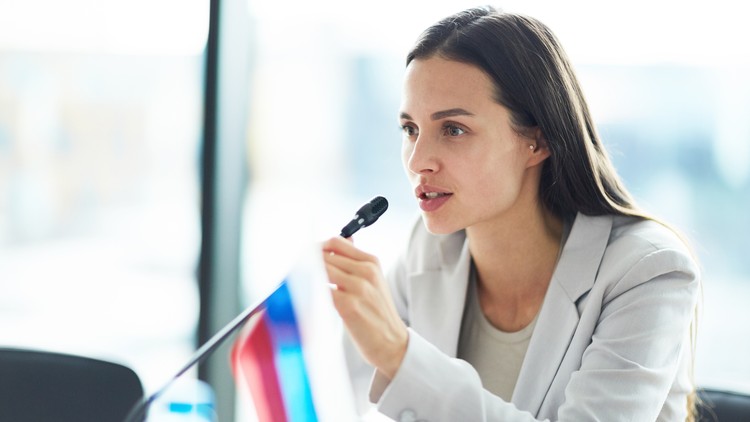 What you will learn
You will become an excellent storyteller in your presentations
Have confidence in your ability to captivate any audience
Speak in a memorable manner
Influence audiences
Become the most charismatic version of yourself
Selling with Stories
Virtual Sales Presentations
Pitching Yourself
Remote Selling
Communicating to Drive Change
How to be a Purpose Driven Leader
How to Discuss a Raise
Description
The Complete Storytelling Course for Speaking & Presenting
Imagine yourself with the storytelling ability to captivate every audience. You can become a captivating speaker and presenter after you earn the techniques of expert storytelling.
Becoming good at storytelling is not a difficult art reserved for highly talented and gifted. Speaking expert TJ Walker breaks down all the steps needed to become comfortable and skilled at storytelling.
This comprehensive storytelling course is the longest and most thorough of any on this platform. The course will not only serve you well in the short term but provide a handy reference for you on every aspect of storytelling for years to come.
Attention: TJ Walker will personally critique your storytelling abilities. Each student is asked to post several videos of themselves delivering stories. This is the most meaningful and helpful part of the storytelling course.
****
Please note: this is a course on how to tell stories while presenting and delivering speeches. The instructor demonstrates and teaches this storytelling skill by speaking directly to you, the student. If you are looking for a course with lots of graphics, edits, sound effects, and other distractions, this course is not for you.
Here is what Udemy students say about this course:
"I've always been a storyteller and it's been a blessing to me. But still, it's really important to polish these skills and T.J. Walker puts lights on the missing or forgotten details! It's easy to throw rock's but I'm going to move emotional mountains with my stories- chin- chin!" Kim Thomas Wroldsen
"So much content so well organized and beautifully delivered" Mahesh Yadav
"I think TJ has over-delivered in every aspect, I have taken multiple courses in this category but I think TJ's course is one of its kind and is a complete guide and beats many. I love his delivery, suggestions, and style." Umair Maqsood
"This man is my father figure. I admire him and love him as if he were family. It's a strong word but through the passion of engagement, I believe we are kin. These seed(s) he's planted in this course and into our conscious are the seeds that will empower us to make an ever-lasting effect on others in the world! Truly a remarkable course. It would be an honor to one day meet this guy." Matthew Martinez
"The most complete storytelling course, It is long because ideas are reinforced by providing lots of examples which for me is the best way to learn. Totally recommended." Elizabeth Lopez
"One of the best, if not best Udemy classes I've taken (and I've taken a lot). The content is detailed and enjoyable." Rizy Al
"I am still in progress finishing the course. So far, creating setting and dialog for presentation point is making an impact" Harda Elnanda
"I am learning quite a bit from this training... The best so far is learning the trick to get the Audience to Ignore the mistakes that you might make.." Belinda Steeneveld
"This is totally imho: a very good and useful (for me) course. It consists of several smaller courses, so information repeats from time to time, but you can skip it if you wish. Video-timing is convenient. Tips are understandable and easy, you won't find here super-extraordinary techniques, but you will find things that do work (which may seem obvious, but people do not often use them). It is obvious that (and why) TJ is a great professional. I've carried out a lot of useful information and definitely like this journey, thank you a lot!" Alexandra Shafran
This course is designed to help students improve in the following additional areas: Selling with stories, virtual sales presentations, pitching yourself, virtual interviewing, remote selling using stories, sales training, and communicating to drive change.
And so much more...
This Storytelling course is ideal for anyone searching for more info on the following: storytelling - storytelling for business - story - public speaking. Plus, this course will be a great addition to anyone trying to build out their knowledge in the following areas: public speaking.
Content
You Will Become a Master Storyteller!
Quick Win! Here is Where to Find Great Stories
What to Cut When Time is Short
The Perfect Way to Start Every Presentation
If You Aren't a Natural Born Storyteller, You Need to Watch This
The Only Thing Every Great Speaker Has In Common
The Secret to Creating Great Stories
Trick for Getting Your Audience to Ignore All Your Mistakes and Flaws
Assignment: Testing Your Storytelling Communication To Make Sure It Works
Exciting New Update to this Course
The Difference Between Storytelling for Professionals v Theatrical Performers
The Biggest Decision You Will Ever Make About Your Storytelling Future
Course Update! Live Instructor Office Hours are Now Available
These Elements Are a Part of Every Great Story
Assembling the Basic Build Blocks of Your Stories
The Real Reason We Are Telling These Stories Is...
Your Characters will Come ALIVE
Even Deeper Character Development
You Can Be the Star of Your Own Show
Here is Where All the Action Takes Place
Why Nobody Wants to Hear About Your Happy Family
Dialogue will Bring Your Stories to Life
Sharing Feelings IS Professional
Lights! Action! (And no Camera)
Put the Audience On Their Edge of Their Seats
It's OK Not to Love Storytelling
Surprise!
End with a Bang!
Tie Your Message to Your Story
Extra Ingredients for A Spicy Story
The Easy Way to Have 100% Confidence In Your Stories, But You Might Not Like It!
The Clean, Dirty Little Secret
This Is the Way To Practice Your Story For Maximum Impact
Your Turn
Learn To Critique Your Own Speaking Skills More Effectively By Critiquing Others
Select the Winning Message for Your Audience
Not All Messages Are Created Equal
This Is the Story That Will Motivate Your Audience to Action
Don't Be Greedy! One Handful Only Please!
Building a Strong The Frame for Your Stories
Matching Your Stories to Your Audiences
Make Sure Your Audience Can Relate to Your Story
Sure, It's OK to Tell Other People's Stories
You Don't Always Have to Have a Happy Ending
End On a Positive Note
A Turtle and a Rabbit?
The Story Behind Stories
Why We Tell Stories
The Ultimate Test for Your Story
Winning the Credibility Factor
Don't Forget, You Are a Natural Storyteller
The Real Danger Most Speakers Face
This Is Where Your Best Stories Have Been Hiding
Yes, There Was Communication Invented Before Texting
What You Don't Know About Bad Stories
Storytelling Your Way to Power
Don't Gamble On Your Stories. Test Them Instead.
Testing Your Stories and Keeping Only the Winners
You Have to Like Your Own Stories
The Free Digital Focus Group for Your Stories
Testing On Those Who Really Matter
The Stagecraft of Storytelling
Your Mouth AND Your Body Have a Story to Tell
Great Body Language for Your Presentations
Never Let These Two Classic Body Language Blunders Slow You Down
Big Picture - Make Everyone You Work With Feel Comfortable Working With You
Your Nerves Will Never Show Again
You'll Never Fall for These Body Language Myths Again
Here Is Exactly What to Do With Your Hands
The Composed, Confident Video Star
Never Spotlight Your Blunders and Mistakes Again
You are Now Ready for Prime Time TV
The Number 1 Tip for Curing Body Language Problems Is...
The Real Way to Improve Your Body Language Confidence
Confident Briefing to Colleagues and Others
Keynote Speeches Will Showcase Your Calm and Confidence
Use a TelePrompTer Like a Network News Anchor
Making Sure Your Clothes Are Communicating Your Positive Story
Your Body Language Partner - The Friendly Spotter
Using the Full Range of Your Voice in Storytelling
Using Your Voice for Maximum Storytelling Impact
Famous Bad Voices
Record Your Voice
Diagnosis Your Own Voice
Feedback from Others
Defining Your Exact Problems
Listen to Natural conversation
Don't Lower Your Voice
How to Improve Your Voice Other Techniques
Nobody Every Complained About a Speaker for Being Too Funny
Having the Most Fun Possible in Your Story
Make Fun of Yourself
You Aren't Jerry Seinfeld
Your Comedy Laboratory
Your Worst Moments Are Comedy Gold
Don't Seem Like You Are Trying Too Hard
Avoiding the Hack
Showing the Fun
Your Humorous Voice
The Funny Self-Talker
The Bottom Line on Humor
Your Humorous Story
Avoid These Common Storytelling Blunders
Don't Do This
The Biggest Blunder of All
Don't Cut That
Should Be Obvious, But Is Not
Less Is Not Always More
More Is Sometimes Less
Advanced Tips on Storytelling
Let's Take Things Up a Notch
The Best Written Stories Are Often Not Written At All
Read Your Audience
Make Your Audience a Part of Your Story
Tell Me Something New
Complexity Makes Your Characters More Interesting
Share the Pain
The Story Image Lives On
Where Is This Going
Here Is The Best Way to Thank People
A New Twist on An Old Story
Abstraction Is Your Enemy
Show N Tell, Not Just Tell
All Five Senses
Increase the Tension
Think Like a Movie Director, Not a Typist
Be Active, Not Passive
Just Tell the Story Already
No, You Don't Want to Be Concise
Want People Say They Want Is Not Necessarily What They Want
Order Matters
Make Your Hero Relatable
Stories Make Advice Less Annoying
Leave People Feeling Up About Something
The Motivation of Your Hero
TED Talks - The Storytellers Disney World
What do All Great TED Talks have
What Makes a TED Talk
Passion for an Idea Worth Spreading
Tell a Story
Plan Your Visuals
Timing is Everything
Style AND Substance are Essential
Great Writers Read Great Writers
Apply to Speak at TED
Frequently Asked Questions About Storytelling
Your Questions Are Answered Here
How Long Should a Story Be
What Is the Best Way to Start a Story
Can You Make Up a Story
Should You Memorize a Story
How Do You Remember Your Stories
Is It Ever a Bad Idea to Tell a Story
Can a Story Backfire
What Is the Maximum Number of Stories You Can Use
Ask Your Questions Anytime
TJ's Stories about Storytelling and Public Speaking
Demonstration Time
A Masterclass in Storytelling
Presenting the WRONG Way to the Media
Clintonian Eye Contact
My Zombie Client
Teaching Clients NOT to Act
Surrounded by Machine Guns!
The Crying Beauty Pageant Winner
You Never Have to Lurk In the Shadows Again
The Fluttering Bird Flying to Nowhere
'I Can't do This' Becomes 'I Can Do This'
My First Time on TV as 'The Fonz'
Speaking To a Small Audience of 5,000 People
My Worst Presentation Ever!
I Was The Skunk At the Party
Fearlessness Is Often the Best PR Tool
King for a Day
TJ And the Cat Lady
Why Did You Wear That Ugly Tie
Less Is More
The Missing Link
A Nobel Experience
The Fetal Position
On My Hands And Knees Begging!
Yes, My Stint on Reality TV
Brought Down to Earth
My Stagecoach to Pumpkin Moment
Me and Ben Affleck
Pre-YouTube Days Driving to One TV Station At a Time
Familiarity Breeds Contempt
Ups and Downs and Ups and Downs
The Least Listened To Talk Show Host Ever
Nothing Beats a Good Gimmick
Sometimes, Experience Just Means You Are Old
Some Media Stars Are Approachable
You Will Never Guess One Early Role Model
Waiting Til the Last Minute Is Always a Bad Idea
Treated Like a King...And a Mark
A Complete and Total Meltdown
There Is Always Time for Anything Important
Me and Mr. Rogers in '68
Presenters Don't Get Paid What They Are Worth, They Get Paid What They Ask For
Nobody Knows Anything
Riveted...On a Dairy Farm
The World's Worst Vacuum Cleaner Salesman
The Wrong Fit
The Lowest Arena for Presentation Skills
Presentation Skills On Video Will Sell You
Showing Up On Time and Avoiding Drama
It Can't Get Any Worse Than This
Diamonds And Gold for You!
Larry King's Public Speaking Secret
A Story I Don't Tell Anywhere Else But Here
The Best Worst Presentation I Ever Saw
And The Winner of The Worst Dressed Award Is...
This Superstar Is So Happy To See Me
Going Into a Talking Career By Being Told 'Don't Talk'
My First and Favorite Motivational Speaker
Some People Just Watch To Hear You Present For The Entertainment
Cult Leaders Have Great Presentation Skills
TJ the Carnival Barker!
The Show Must Go On
Here Is Your Chance To Learn from Some of the Best Storytellers on the Planet
Learn Storytelling and Presentation Skills from Your Role Models
Oprah Winfrey
William F. Buckley
Amy Cuddy
Martha Stewart
Bill Clinton
Tony Blair
Bill O'Reilly
Dick Clark
Winston Churchill
Steve Harvey
Ronald Reagan
Robin Williams
Rush Limbaugh
Ellen DeGeneres
Jesse Jackson
Joan Rivers
Fidel Castro
Barack Obama
Samantha Bee
Barbara Walters
Bill Maher
Larry King
Nelson Mandela
Emeril Lagasse
Les Brown
Rachel Ray
Eleanor Roosevelt
Steve Jobs
Johnny Carson
Warren Buffett
David Letterman
Judge Judy
Billy Graham
Dr. Phil
Joel Osteen
John F. Kennedy
Malcolm X
Margaret Thatcher
Martin Luther King Jr.
Abraham Lincoln
Pat Robertson
Zig Ziglar
Franklin D. Roosevelt
Teddy Roosevelt
Anthony Robbins
Deepak Chopra
Gary Vaynerchuk
Suze Orman
Adolf Hitler
Secrets to Integrating Storytelling Into Your Presentations and Speeches
Making Your Great Stories a Part of A Great Speech
Quick Wins! Appear to Speak Without Notes, Avoid Verbal Tics, Teleprompter Trick
You Can Fulfill Your Exact Public Speaking Goals Once You Identify Them
Look Supremely Comfortable and Confident Every Time You Speak
Use the Eye Contact Tricks of the Masters
Learn to Like and Even Love the Sound of Your Own Voice
Starting Your Speech At Exactly the Right Spot
Become a Five for Five 100% Speaking Success
A Trick 1000 Times More Effective Than Practicing In Front of A Mirror
Every Great Speaker Uses These...Every Awful Speaker Avoids These
Professional Analysis Of Your Stories Now
Give Life to Ideas With Your PowerPoint, Not Death
Use 1 Idea to Make Your Slides #1
Passing the Ultimate Public Speaking Test With Flying Colors
Testing Your Speech With Focus Groups For Free
More Evidence That Your Speech Is Working
More Is Sometimes More When It Comes To Public Speaking
Let's Get Rid of the Verbal Tics, Uh, Um, Err, Ya Know Right Now
Master the Quickest, Easiest Way to Eliminate Verbal Tics
Now You Know Where the Tics Come From
You Are Not Alone
Hit the Pin, Not the Sand Trap
Don't Let the Ding A Ling Get You
Eliminating the Source of Your Speaking Discomfort Once and For All
Appear More Confident By Using Smaller Words
You Will Avoid the Data Dump Blues
Never Worry About Remembering Again
The Number 1 Tip for Eliminating Nerves
A Focus Group To Make You Better
Speaking On Video
The Video Advantage In All Your Proposals - Quick Win!
Hype Versus Reality - Why Most People Never Create Simple Video
Mastering the Human Side Of Looking and Sounding Your Best on Video
How This course Will Improve Your Business
Your Proposals will Stand Head and Shoulders Above Your Competitors
Your Clients Will Find You Their Most Responsive Partner Ever
Your Website Can Be Video-Centric
Now You Can Answer Frequently Asked Questions Just Once!
Talk Your Customers Through Your Whole Business Process
Have an Even Greater Presence on YouTube
Speak Your Thought Leadership
Your Exciting Video Newsletters Will Outshine Text Newsletters
Facebook Live Will Never Scare You Again
Project Your Best Face on Skype and Zoom
Deliver Keynote Speeches Without Ever Leaving Home
Supercharge Your Public Relations Efforts With Video
The Crisis Communications Secret Weapon
Drastically Reduce Your Time Training Employees and Others
Eliminate Your Fear of Public Speaking
Before We Start, Here is the #1 Tip to Improving Your Communication Skills
Eliminating Speaking Anxiety
Avoid Fake Solutions That Don't Work
The Process of Eliminating Fear
The Fear of Boring
Rehearse Your Presentation On Video
Cheat the System
Practice Makes...Comfortable
The Confident Speaker's Attitude
Long-term Speaking Goals and Conclusion
Public Speaking On Conference Calls (Doesn't seem like public speaking, but is)
Never Confuse Personal Phone Use with Business Telephone Use Again
Why Your Phone is the Best Secret Business App Ever
Planning Your Successful Phone Environment
Final Preparation for Your Successful Phone Meetings
Making Sure Your Phone Passes Your Friend Test
Planning for Winning Conference Calls
Look Prime Time Ready for Your Video Calls
Placing Phone Calls Like the Consummate Professional
Always Knowing the Best Time to Call Clients and Prospects
Now You will Never Wake Up a Client in the Middle of the Night
Answering the Phone so Everybody Knows You are Ready for Business
Your Clients Will Never Think You are Screaming At Them Again
Knowing How to Sound Your Very Best - Every Time
Being a Professional to Every Generation, Regardless of Your Own Preferences
Best Voicemail Messages for Success
Take 1, Take 2, Take 3 Until You Get It Right
Never Be Busy for Clients and Bosses Again
Making Your Phone Disappear At the Perfect Moments
Better Than the Best Hollywood Goodbyes
PowerPoint Presentations Don't Have To Be Awful If You Follow These Techniques
You Will always Deliver a Great Speech, The PowerPoint is Beside the Point
It is Your Presentation, Not a PowerPoint Presentation
A Guaranteed 2-Part Test for Your Slides
How You Will Never Use Your PowerPoint Slides as a Teleprompter
Advanced PowerPoint and Visuals
Final Thoughts on PowerPoint
Drastically Reduce How Much Time You Have to Spend Preparing Your Speeches
Let's Start Saving Time Right Away!
Save Time by Focusing On Your Exact Goal
Faster Ways to Come Up with the Perfect Messages
Tips on Final Preparation of Your 5 Message
Your Examples Will Resonate
Use This Cheat Sheet! Time Management Public Speaking
Create PowerPoint Quickly and Effectively
Final Thoughts on Saving Time
Public Speaking While Using a Teleprompter
Learn the Secret to Communicating Effectively Using a Teleprompter
Video Benchmark
Learn How to Make Self-Corrections So That You Always Look Great
Master the 4 Key Elements That will Make Your Teleprompter Use Seem Effortless
The Perfect Speaking Speed for You
Volume
Head Movement
Pausing
Putting All 4 Together
Use 2 Prompter Screens In a Way that Nobody Will Notice
Full Speech Practice
Politician Role Models
TV Role Models
Potential Disasters
Reasons Not to Use a Teleprompter
Secrets from Reagan
Final Thoughts on the Teleprompter
Become a Professional Speaker And Get Paid to Speak
Presenting Your Message, And Getting Paid for It
Here is How to Pick a Profitable Niche
Be the King of all Media for Your Niche
Develop a Tribe That Will Follow You Into Battle
Making Sure Your Business Model is Profitable
Marketing
Setting Speaking Fees
Speaker Bureaus
Developing World Class Platform Skills
Advancing Your Professional Speaking Career
Speaking On Skype Video
This is How You Will Communicate on Skype, Google Hangouts, Etc
Tricks for Look Good on Camera - Presentation Skills
Become a Total Professional by Doing These Things
Here is How to Truly Engage Your Audience
Technology for Interaction - Presentation Skills
The Ethical Way of Cheating
Video Versus Slides
This is How Long Your Presentation Should Be
Final Thoughts on Skype and Online Presentations
Speaking to Large Audiences - A Big Fear For Even Confident Speakers
Learn the Secret to Speaking to Large Audiences
Your Fears Will Melt Away, After This
You Will Speak With Perfect Volume, Once You do This
Your Eyes Will Never Look Lost
Pause for Maximum Affect and Impact
Your PowerPoint Will Illuminate, Not Bore
Possible Outcomes
You Will Achieve Your Speaking Goals
Your Stories Will Captivate
It Is Especially Important to Practice On Video Before Big Audience Gigs
Concluding Thoughts On Speaking to Large Audiences
Introducing Yourself -Speaking About Yourself Doesn't Have to Be Awkward
The Secret to Introducing Yourself
You Will Avoid doing These Things At All Costs
This Is The Right Way for You
Here is the Single Most Important Thing to Do - 1st Video Rehearsal
Friend Feedback
Your Future Great Introductions
TED and TEDx Talks - You Can Deliver!
What Makes a TED Talk
Passion for an Idea Worth Spreading
Tell a Story
Plan Your Visuals
Timing is Everything
Style AND Substance are Essential
Video Rehearsal is the Most Important Step
Great Writers Read Great Writers--Great Speakers Watch Great Speakers
Apply to Speak at TED and Final Thoughts
Give a Winning Sales Presentation
The Secret to Selling When Presenting
Create Winning Sales Messages for Every Presentation
Mastering All Types of Presentations
One on One Presentations Should Be the Easiest for You
Getting Your Prospects to Take Action
You Will Never Commit These 2 Common Blunders
Final Thoughts on Sales Presentations
Becoming a Motivational Speaker
Your Message Can Move Millions
How to Make Sure You Have a Motivating Message
Finding What Is So Special About You
Years later, They Will Remember Your Story
Your Process Goes Like This
Bringing Clarity to Your Messages
Master Storytelling
Stagecraft
YouTube Role Models
Video Rehearse
Video Refine
Show to Others
Put video on YouTube and Facebook
Tell the World
Speaker Bureaus
Conclusion to Motivational Speaking Section
For People Who HATE Public Speaking
The Real Reason Why You Hate Public Speaking-And What You Can Do About It-Now
You Will Accomplish Your Public Speaking Goals
It's Not About You; It's About Your Message
You Can Breath Life Into Your Speech By Doing This
Your PowerPoint Will Educate, Not Bore
Use the Ethical Public Speaking Cheat Sheet
You Aren't going to Like This, But It Is What Matters Most - Video Practice
Concluding Thoughts for People Who Hate Public Speaking
How To Look Like You Never Have to Read a Script or Teleprompter
Become the Speaker That Audiences Look at In Awe
Give Your Memory a Break With This Tip - Focus on 5 Points
You Can Use a cheat Sheet, Ethically!
Walk the Room as If You Own the Room
Learn the #1 Secret to Speaking Success - Video Rehearsal
Final Thoughts On How to Speak Using Notes the Right Way
Public Speaking With a Team - Team Presentations
Each Team Member Must Be Interesting and Memorable - Presentation Skills
Your Presentation Goals Will Be Identified and Accomplished
Spell Out Benefits for Your Audience Public Speaking
These Top 5 Messages Will Help You Connect With The Audience
Don't Make Your Speech a Data Dump Public Speaking
Time to Assign Topics to Your Team
How Many Points Should Your Presentation Cover Public Speaking
Each Person Must Prepare This Way
Writing a Speech Public Speaking
Group PowerPoint
Magical Phrase for Every Speech Public Speaking
First Rehearsal
How to Eliminate Nervousness for public speaking Public Speaking
Second Rehearsal
How to Avoid Making a Bad Impression during Presentations Public Speaking
Third Rehearsal
Should I Rehearse My Speech and for how long Public Speaking
Conclusion to Team Presentations
Public Speaking On Panels
How to Make a Speech in a Business Setting Public Speaking
Never Blunder the Way Most Panelists Do
How can I find out whether my presentation worked?
Master the Ground Rules So You Will Shine
How to start a speech - Public Speaking
Communicate Effectively By Focusing on Your Top Three Messages
How to Manage Time When Giving a Presentation
Become the Master of the Short Story
How to Make Your Presentation Memorable Public Speaking
Other Tips to Make You Great - Sitting Standing Notes
Public Speaking Rules You Should Never Break Public Speaking
Look at Panelists
How Long Should My Speech Be Public Speaking
Record Actual Presentation
Tell 'em what I'm gonna tell 'em, tell 'em, Public Speaking
Conclusion for Speaking on Panels
How do I know what messages and topics will be Public Speaking
Speaking on the Elevator - Deliver a Great Elevator Pitch
How to Prepare a Speech Public Speaking
Learn the Secret of Great Elevator Pitches
How to Pace a Speech Public Speaking
Accomplish Your Goals After You Deliver Your Pitch
How to Close a Speech Public Speaking
You Will Focus on Your One Big Idea
How to Put Your Audience at Ease Public Speaking
Never Confuse Your Prospect Again
How to Give a Formal Speech Public Speaking
Role Models
The 2 Key Questions You Must Answer
Give Someone a Reason to Want More from You
How to Speak with Confidence Public Speaking
Watch Bad Elevator Pitches
What to Do if You Don't Like Your Voice Public Speaking
Conclusion to How to Deliver Elevator Pitches
How to Start a Speech with an Icebreaker Public Speaking
Public Speaking Emergencies!
How Many Slides to Put in a PowerPoint Presentation Public Speaking
Focus on Exactly What You Want Your Audience to Do
How Many Bullet Points Should Be on a PowerPoint Slide Public Speaking
Stop This right Now!
Don't Use Your PowerPoint Slides to Put People to Sleep Public Speaking
These Are the Three Most Important Ideas in Your Presentation
PowerPoint Slides, One idea Per Slide Public Speaking
Your Story Will Make Your Presentation
PowerPoint Presentations Require 2 Separate PowerPoints Public Speaking
Creating a One-page Outline
PowerPoint Presenters Must Focus on Audience, Not Slides Public Speaking
Quickly Rehearse Your Presentation on Video
PowerPoint Presentations, Prepare for Disasters Public Speaking
You are Good to Go!
How to Test Your PowerPoint Slides for Effectiveness Public Speaking
Speaking to Foreign Audiences
Should I read my speech so that I don't make any mistakes Public Speaking
You Will Communicate Your Messages and Your Passion
How do I remember what to say in a presentation Public Speaking
You Can Prepare in Advance for Success
How to Handle Questions from the Audience Public Speaking
Culture is Everything
How to Handle a Heckler Public Speaking
It Sounds Silly, But this One Tip Helps Massively
What to Do if You're Losing Your Audience Public Speaking
Creating Your Permanent Reminders for the Audience
How to Keep Your Speech from Being Boring Public Speaking
Working the Room
How to Recover from a Memory Lapse during a Speech Public Speaking
Conclusion to Speaking to Foreign Audiences
How to Smile during a Speech Public Speaking
Public Speaking in Workplace Meetings
How to Give a Technical Speech Public Speaking
Learn the Easiest Thing to Present: A Question
How to Recover from Making a Mistake in a Speech Public Speaking
Build Confidence Through Notes
How to to Use a Teleprompter Public Speaking
Make the Right Risk Assessment
How to Dress for a Speech Public Speaking
You Will Sound Natural and Relaxed
How to Give a Sales Presentation Public Speaking
The Ultimate Confidence Builder
How to Give a Motivational Speech Public Speaking
Conclusion to Public Speaking in Meetings
How to Sound Conversational in a Speech Public Speaking
Delivering an Informational Talk
Your Informational Speeches Will Be Understood and Remembered
You Will Go Beyond the Usual Data Dump
Testing In a Way that Eliminates Risk
Final Tips on Giving Informational Speeches
Bonus Video Section
Thank You to One of My Mentors Bill Gove
Classic TJ on Stories
Your Storytelling Library Has Just Been Expanded
Here are five of my PDF books that give tips and trick on how to tell stories
Conclusion to The Complete Storytelling Course for Speaking & Presenting
One Last Chance!
Continue to Watch Great Storytellers Regularly
Curate Your Own Personal Library of Stories
Time to Give TJ a Piece of Your Mind
275 Conclusion Best Wishes for a Lifetime of Great Stories
Final Bonus Lecture re 90% Discount on Future Courses & Opportunities
Reviews
It's been interesting so far, since it's just the start of the course, I have given a rating of 4, I am hoping it would get better & more interesting as I go through more topics & my rating might also improve.
I have done a presentation before in front of my colleagues, I used to tell a real story from my real life and it works! everyone was listening carefully and no one noticed my flaws! this course is incredible
THIS COURSE IS HELPLY TO UNDERSTAND HOW STORY TELLING WORKS. I AM TRYING TO SET UP MY PRESENTATION SKILLS AND THIS COURSE IS HELPING ME LEARN SO MUCH
The content is engaging and very short in duration. This allows the user to consume the information easily. Loving it.
Took me a lot of time to decide to finally invest in myself and I am proud I have chosen this course as one of my first steps. Thank you!
I like the content is complete, but I suggest that If a section has 35min of content, I would like to see the content in one video instead of sixteen videos because that makes the course seems too long. 25 min for each video would be ok. Everything else was great!
Instructor is really good, but the course is extremely lenghty, can be compressed into a more concise course. Overall very useful information.
Es el mejor entrenamiento de Storytelling que he tomado, y lo digo después de varias decenas de cursos y libros, y solo estoy comenzando. TJ Walker es el mejor. It´s the best Storytelling training I've studied, and I say it after dozens of trainings and books, and I'm just starting. TJ Walker is the best.
I'm a business owner and I've been hearing so often to approach the business in a story side and have been always struggling with cooking up stories that don't exist! The introductory part made me realize I don't have to fake the stories but rather to retell my real life experience
Yes, it is what i was looking for. I personally believe, stories help to understand the concept easily.
I love the ease of access, and the ability to be in the sauna and interact with this course by the way, everyone should be going to this son
So far, so good. I just want to follow every step of the way and I cant wait to go to the end of this course.
I think storytelling is the most important quality of a leader and that is why it is relevant for every individual.
A great course, covers lots of avenues of presentation. The one thing I would suggest is to bring certain areas back to storytelling like when on Zoom/Skype/etc. Different mediums can present unique challenges and opportunities.
Fernando
February 25, 2023
Great work. Got some unexpected new insights about what makes a great presentation/speech (presenter/speaker). ...It is not about the natural ability to() but all the tips and tricks, and the practice (practice and practice again), needed to get you there. Overall, from a very personal opinion, I would say that for those pursuing a carrier in public speaking or even just trying to enhance their skill, making them more comfortable and confident, and effectively conveying their message, when speaking in public, this is one mandatory course. <<If they could only choose 1 out of the million courses out there...>>
Coupons
| Submit by | Date | Coupon Code | Discount | Emitted/Used | Status |
| --- | --- | --- | --- | --- | --- |
| - | 4/26/2020 | ANTPEEK11 | 94% OFF | | expired |
| - | 5/4/2020 | 5DEB643BE77A3A71D63C | 94% OFF | | expired |
| Angelcrc Seven | 5/12/2020 | 7AAA2E0DF93BDF996998 | 94% OFF | | expired |
| Lee Jia Cheng | 8/6/2020 | STAYHOME | 94% OFF | | expired |
| - | 9/7/2020 | THANKS1 | 94% OFF | | expired |
| - | 10/7/2020 | THANKS2 | 94% OFF | | expired |
| Angelcrc Seven | 12/8/2020 | THANKS4 | 93% OFF | | expired |
| - | 12/21/2020 | THANKS5 | 93% OFF | | expired |
| - | 9/14/2021 | THANKS05 | 92% OFF | | expired |
| - | 10/13/2021 | THANKS06 | 92% OFF | | expired |
| - | 12/4/2021 | THANKS012 | 92% OFF | | expired |
| - | 1/6/2022 | THANKS022 | 92% OFF | | expired |
| - | 2/28/2022 | THANKS031 | 92% OFF | | expired |
| - | 6/9/2022 | THANKS066 | 92% OFF | | expired |
| - | 7/6/2022 | THANKS081 | 92% OFF | | expired |
| - | 8/15/2022 | 24D84B986D8FDCABE8BB | 100% OFF | 1000/993 | expired |
| - | 8/6/2023 | AUG-SALE | 91% OFF | | expired |
| - | 8/14/2023 | AUG-SALE2 | 91% OFF | | expired |
| - | 12/5/2023 | DEC-SALES | 88% OFF | | working |
Charts
Price
Rating
Enrollment distribution
8/13/2018
course created date
7/1/2019
course indexed date