The Complete Motivation Course: Motivation for Your Success
Motivation for Your Personal Development and Personal Success - Take Action Today for a Successful and Meaningful Future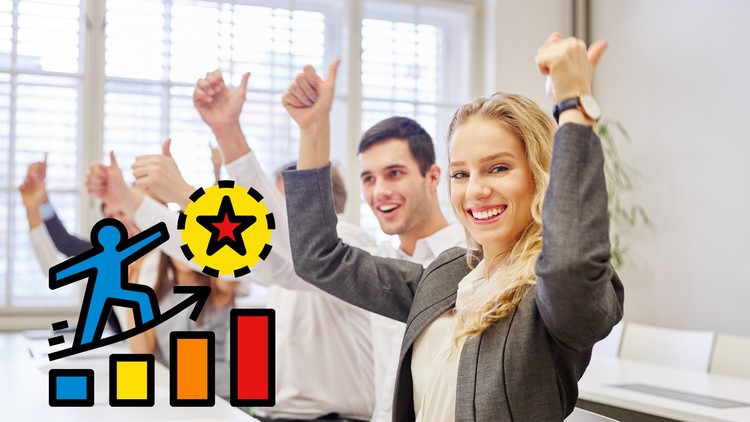 What you will learn
Motivation
Goal Achievement
Goal Setting
Personal Development
Personal Transformation
You will learn how to build motivation to fuel success in all aspects of your life!
Description
The Complete Motivation Course: Motivation for Your Success
Motivation for Your Personal Development and Personal Success - Take Action Today for a Successful and Meaningful Future
You can have all the knowledge in the world, but without motivation, you cannot use your knowledge to live a more meaningful, purposeful and enjoyable life. Motivation is the key to living a successful life.
In this course you will learn how motivation is a skill that you can build. You do not have to wait for motivation to strike. You don't have to wait for good days for motivation to find you. You can apply a step-by-step process whereby you control what you're motivated to do.
Motivational expert TJ Walker will teach you his proprietary SelfieSpeak Programming (SSP) method of instilling the motivation you want into your brain and body daily. No longer will you allow the outside world to motivate you to take actions that are against your long-term best interests, for your health, career or relationships.
The cell phone and pervasiveness of social media today, unfortunately "motivates" most people to eat poorly, waste time, and fixate on things that will not contribute to a meeting for life. After completing this motivation course, you will have the skills to be in complete control of your own life.
If you are tired of going through life feeling like you are only achieving 50% or even 10% of your potential, then this is the course for you. You no longer have to sleepwalk through life. You can motivate yourself daily to live the life of your dreams!
Enroll today in this complete motivation course. You have nothing to lose but your current status quo life.
Here is what Udemy students say about this course:
"This is a very informative course! I will be watching it again for sure. Great material for motivation. Thank you." Sean Kelly
"I'm learning a very good lesson, and also I can see the things from a different perspective, which is very useful. Very promising." Diana Evzhenko
Content
Get the Motivation To Life The Life You Desire
The Complete Motivation Course Motivation for Your Success Promo Video
Quick Win! Start With a Daily Short Motivation
Motivate Yourself To Get At least One Thing Out of the Course Right Now
The Motivation of Your 'Why' In Life
The Real Motivators Aren't Who You Think They Are
Extrinsic Motivation Versus Intrinsic Motivation
Understanding the Great Motivational Forces Operating In The World Today
What You Don't Know about the Marshmallow Test
This Is How this Course Is Different From Other Motivational Programs
Get Your Money's Worth Out Of The Course This Way
The Real Goal Is to Harness Motivation to Help You Reach Substantive Life Goals
Money Isn't the Most Powerful Motivator
Don't Let Your Motivation and Willpower Gas Tank Run Empty
Motivation Is Only Useful When It Helps You Reach Meaningful Goals
Turning Your Goals Into Reality
You Must Program Your Goals Into our Brain with Constant Media Messaging
The Most Powerful Form of Human Behavior Change is Advertising, Not Books
SelfieSpeak Programming to Help You Set Your Goals
Here is How SelfieSpeak Programming Will Help You Set and Reach Your Goals
Your Turn to Create a SelfieSpeak Program for Your Life's Goals
Change, Edit and Revise Your SSP As Often or As Little As You Want
Conclusion - Living Your Life of High Motivation
You Are Almost There
Motivate Yourself And All Around You to Improve Daily
Here Is How You Can Get your Certificate of Completion for this Course
Congratulations! You Are Now Motivated to Live a Live of Success and Fulfillment
Reviews
I am a positive person, but sometimes, I need a push to motivate or re-motivate. Thank you for this course.
Very true what the instructor is saying. and it would be helpful to anyone to know what is going on around him and how he is being manipulated and how to fight back and regain his time and will.
It is good so far...I have learned that most of the motivation I get is extrinsic and I need to find more ways to get intrinsic
Very nice and it worth. It is really a new version style of personal development course. Thanks alot for this amazing content. Just one thing I found it not academic (in the very beggining course there were talking about relationships (one man was touching the knee of a woman or lady who is sitting on his desk) this the only thing I hate about the course because I found it is not appropriate or academic. Also, it took me 5 days to finish the course. So to shorten the number of sections will be better. Thanks alot for every single advice. It realy worth to complete it to the end.
This course is so helpful, it made me really think of my own motivation and the list of "WHYs" to take action to achieve my goals.
i really enjoy it ,its directly target my mind to think and act like a professional. this course is really thebest parctise for those who wanna be wealthy.
Até o momento, está sendo mais interessante do que eu esperava. Eu confesso ficar preocupado com estes cursos de motivação, pensando ser muito mais idealistas do que realmente práticos e eficazes. No entanto, o instrutor tem uma visão bastante clara e objetiva, e isso torna o assunto concreto, e realista.
Without motivation in life, it's hard to strive for success and achieve internal happiness. How can you pass your exam if you aren't motivated to study? And how can you be happy if you're spending all your time on external motives, like pleasing those around you to receive praise or success, instead of internal motives, like focusing on a goal for personal happiness? When you're motivated, your entire body is pumped with adrenaline to help you complete the goals that you have set for yourself, which results in increased energy levels. For example, when you're excited about a project that you're working on, you rarely get tired. And when you're out partying, you can dance the whole night away without any problems, but if you were attending a gym class that you disliked, on the other hand, you'd struggle to get through an hour. Motivation builds determination to achieve something, like losing weight or securing a new job, and when you succeed, you feel happy with your results. When one team member is motivated, it's likely to rub off on their colleagues, causing more employees to be committed and driven. This is also relevant to your personal life. Think back to when you spent time with someone that was positive; did their positivity rub off on you and make you feel more productive.
this is a good course! he give a simply action to motivate us everyday and that's so easy to do it. nice!
It is good to learn about how to motivate ourselves on our own terms in life. It's good training. Yeah if you want improvement then please put PowerPoint presentations so that points which you speak and examples you give should be recorded with the audience for learning purpose. Rest style of delivery is phenomenal. Yes nothing is perfect but the way you have explained really inspired me as a teacher to make my own audios and amend them time to time by looking at the 7 pillars. yes, its good if you put in a small quiz or assignment. This will definitely make this course more than exceptional. Thankyou TJ. Stay blessed.
Wonderful! You can't missed any minute of the lecture, for each of them is packed with learning and, of course, motivation! I am blessed to found this course. Lucky me!
Boring. This course could have been a lot shorter. A bunch of the content was repetitive. Some of the ways to set up goals short term to long term was good advice. But mostly the content seemed common sense. This content could have been reduced to about 20 mins and I would have scored it 5 stars. And it has nothing to do with my attention span bc I can watch/listen to podcasts that are interesting for hours. Definitely not worth the full price. I don't even think its worth the sale price of 13 bucks. I would redo this course or market it to beginners/high school students or younger.
i loved it the way mr. TJ took over , i never thought bt indeed i am motivated ...energised and all set to work on my goals . thank you
I thought this was going to be just another course where they tell "your parents are working hard for you. Make them proud". Instead, this course actually takes you through things you can do in a regular basis to keep yourself motivated everyday (without having to watch the course over and over again) and take you closer to your goals. It is amazing how most of the things said in this course are very small but very effective. This was truly amazing and I recommend this to everyone because it really does change your views on what goals are and how you can use little things around you effectively to motivate yourself EVERY. SINGLE. DAY.
I think the course has a lot of material but the problem is that it's repetitive, unless that's the point of it :) So really at the end I started just skimming through till completion because I knew what TJ will speak about before the lesson starts.
Coupons
| Submit by | Date | Coupon Code | Discount | Emitted/Used | Status |
| --- | --- | --- | --- | --- | --- |
| - | 7/24/2020 | C559AC2DEA5230234662 | 100% OFF | 40000/4527 | expired |
| - | 9/18/2020 | 2C8D9A4C619689C5A37C | 100% OFF | 40000/3878 | expired |
| - | 10/26/2020 | 9960F956CB6AA19CF809 | 100% OFF | 40000/3684 | expired |
| - | 11/2/2020 | EA056EA956B3F285D851 | 100% OFF | 40000/1811 | expired |
| - | 12/7/2020 | DA7189C277150CEF92F5 | 100% OFF | 40000/2789 | expired |
| - | 1/4/2021 | 45D6219EA2E564907FBB | 100% OFF | 40000/4058 | expired |
| - | 2/8/2021 | A538BA541B19CEB12F12 | 100% OFF | 40000/4387 | expired |
| - | 5/25/2021 | CF9A12D7D7CD21DCA2AE | 100% OFF | 40000/5032 | expired |
| - | 6/17/2021 | 308C0F752A0641F163E2 | 100% OFF | 40000/2898 | expired |
| Angelcrc Seven | 8/8/2021 | 49416D8AE3AF7289223B | 100% OFF | 40000/2227 | expired |
| Angelcrc Seven | 9/6/2021 | 4AD23FA7F11B1B537C07 | 100% OFF | 40000/2101 | expired |
| - | 10/27/2021 | 723C69B263648B91EF89 | 100% OFF | 40000/2017 | expired |
| - | 11/6/2021 | 49E38B8AB65D307777B3 | 100% OFF | 1000/876 | expired |
| - | 4/2/2022 | ECA08C9292FD192A22D1 | 100% OFF | 1000/391 | expired |
| - | 5/7/2022 | A55ECC7073BBB6FA3FCC | 100% OFF | 1000/755 | expired |
| - | 6/24/2022 | E1FFCD6A1F5190AC2845 | 100% OFF | 1000/982 | expired |
| - | 7/8/2022 | 8EF4FD3B5C59DB0136C5 | 100% OFF | 1000/681 | expired |
| - | 8/13/2022 | 34F5D07EB86657D527B8 | 100% OFF | 1000/956 | expired |
| - | 10/6/2022 | D73B3DF111EF09A2A210 | 100% OFF | 1000/951 | expired |
| - | 11/4/2022 | C0E8B9CDE6CA23121C4F | 100% OFF | 1000/991 | expired |
| - | 11/13/2022 | 4326339227A2F0927A9C | 100% OFF | 1000/617 | expired |
| - | 12/4/2022 | 18942EF5A01DFCDC4B1E | 100% OFF | 1000/858 | expired |
| - | 1/3/2023 | 4F3A61D9D0891DDAC02B | 100% OFF | 1000/973 | expired |
| - | 4/21/2023 | 97F75DE1C67EF2664266 | 100% OFF | 1000/373 | expired |
| - | 5/17/2023 | 37FC2C1F47FC6778B208 | 100% OFF | 1000/642 | expired |
| - | 6/9/2023 | 10F784DA14B7AFDFA533 | 100% OFF | 1000/254 | expired |
| - | 6/24/2023 | 8F92DDC8D7A90137D56D | 100% OFF | 1000/339 | expired |
| - | 7/29/2023 | BCFE83A13E78B5EE1DE2 | 100% OFF | 1000/735 | expired |
| - | 8/16/2023 | 8EE0D14129F3E676A464 | 100% OFF | 1000/933 | expired |
| - | 8/17/2023 | AUG-SALE | 83% OFF | | expired |
| - | 11/15/2023 | E46092F8EBFB2F95F433 | 100% OFF | 1000/382 | expired |
Charts
Price
Rating
Enrollment distribution
7/16/2020
course created date
7/24/2020
course indexed date