The complete General English course: speaking and writing
English course with a native teacher, to guide you through vocabulary, grammar, and pronunciation lessons and activities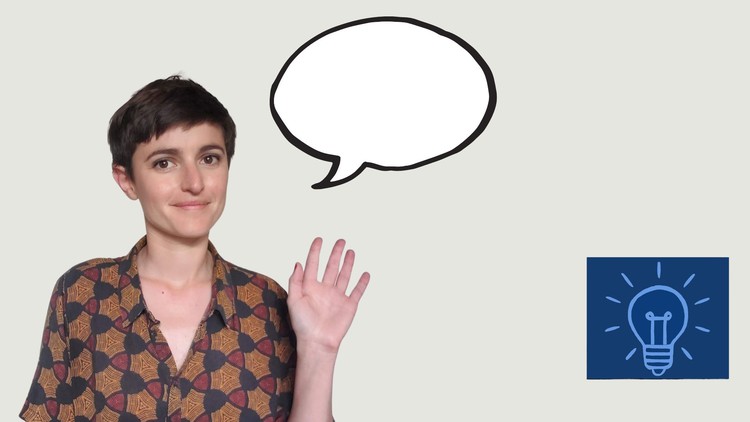 What you will learn

Learn new vocabulary, pronunciation and grammar in real-life situations, so you can improve your memorisation and fluency.

Gain confidence in your skills thanks to a comfortable pace, adapted to your level and with plenty of repetition.

Improve your comprehension skills thanks to visual support with every explanation + reading and listening activities.

Discover new language in a natural, real-world context.

Master all the grammar basics, to improve your accuracy in conversation and writing

Complete a series of small activities to check your understanding (with corrections) at every step
Description

Trying to learn a new language online by yourself can sometimes be a confusing and frustrating experience. There is a lot of information about various grammar rules and lists of vocabulary, but how do you know where to start? If you are in a classroom with a teacher, they will give you a structure and feedback. But if you are on your own, it's difficult to know what to learn first.

This six-part course aims to reproduce the experience of being in a classroom as closely as possible. It tells a story in a logical and natural way, to give plenty of context for the new vocabulary and grammar points. You will learn how to present yourself and talk about your interests, before planning an imaginary move to a different country, and discuss themes of travel and lifestyle. It will give you the knowledge and skills so that, when you find yourself in a real conversation in English, you will know how to communicate.

We begin each lesson with some vocabulary, to guarantee that you have the necessary knowledge to understand what comes next, before a reading or listening activity. Then, we move on to grammar and pronunciation activities. Every time we discover something new, you will immediately have an exercise to practise it, and exercises are corrected to make sure you understand everything. Finally, the course also includes PDF worksheets, so you can keep a copy of your work, to revise and memorise it after the course is finished.

I have been an ESL teacher for 8 years now, and I understand what helps students memorise a language and become confident speakers. I had a great time making this course, and I hope you enjoy it as well!




If you have any questions about this course, or would like some feedback on a writing activity, please feel free to send me a message. I will try to get back to you as soon as possible!



Content

Lesson 1 - Nice to meet you!

Introduction and Vocabulary

Grammar: making simple questions with question words

Grammar exercise and listening practise

Lesson 2 - Where do you want to live?

Introduction and Vocabulary to describe an image + how to use prepositions

Grammar exercises: using prepositions in context

Vocabulary and writing practise

Lesson 3 - 6 reasons to move abroad

Reading and vocabulary

Grammar: the present perfect

Grammar: the past simple and 20 most common irregular verbs

Lesson 4 - Write your bucket list

Listening and vocabulary

Grammar: different uses of the present perfect

Grammar exercise: have you ever done these things?

Lesson 5 - Best and worst travel experiences

Reading and vocabulary

Grammar: comparative and superlative forms

Grammar exercises and writing practise

Lesson 6 - Your flight is delayed!

Vocabulary and telling the time in English (with an exercise)

Listening activity and pronunciation

Listening activity and writing practise
10/18/2021
course created date
10/21/2021
course indexed date