The Complete Daily Positive Habits Building Course
Increase Happiness and Decrease Procrastination Using SSP Brain Training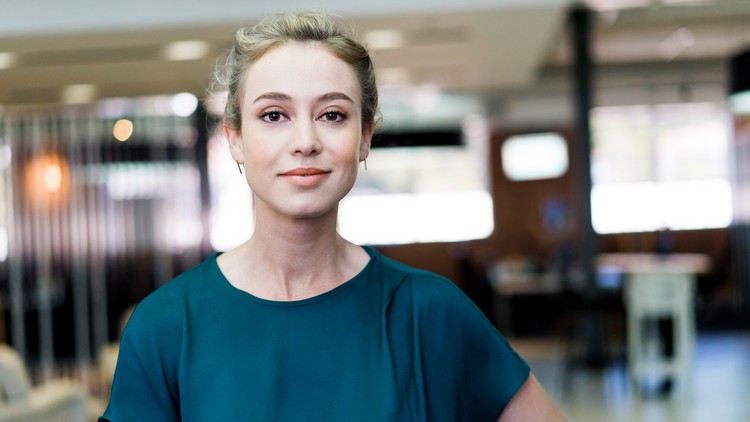 What you will learn
How to form positive habits
How to eliminate negative habits
How to use cell phone technology to program good habits
Why simply reading books and watching videos about good habits has no impact on you
The trick to making habits stick for the long haul
How To create and use your own SelfieSpeak Programming (SSP)
Best Practices for Reducing Stress
Boost Resilience with Mindfulness
Achieve Better Work/Life Balance
Description
The Complete Daily Positive Habits Building Course
You can build strong, new, healthy habits quickly and get rid of old, bad habits just as fast. TJ Walker has created an innovative SelfieSpeak Programming (SSP) method to help you take charge of your own brain and habits.
Currently, most people have their habits directed by their cell phones. If the first thing you look at in the morning is your email and the last thing you look at before sleeping is your text messages, then you are having your habits dictated by your mobile phone. But we can't throw away our phones. TJ Walker has created a system for programming your brain to adopt and then stick to a set of new habits of your choosing.
You can choose your habits!
The key is that you must use a simple, easy, quick way to reinforce these habits, daily, in order for them to take permanent root.
Do you have tons of willpower and self-discipline? Then this course is not for you. This course is for average people and lazy people - those who start New Year's resolutions and diets, but don't stick with them for very long.
If you are looking for a new system of building positive habits, one that is completely different than existing programs, then you have come to the right place.
If you've tried NLP, self-hypnosis, affirmations and reading a ton of self-help books but nothing really stuck for the long term, then you need to give The Complete Daily Positive Habits Building Course a try.
Here is what Udemy students say about this course:
"Nice to learn how to improve and create our daily positive habits building up." Michael Lin
"reinforce daily habits and sticking to the process, just do it." Ray Causly
"I was feeling a bit stuck, bad habits, carb loading, not walking, low energy. It helped me to jump start to get back on a healthier track, it provided me with many tools I have already started to incorporate into my daily routine" Marianne Shaw
Enroll now, to begin a lifetime of positive habits and fulfilled living. Sign up today to take advantage of this limited offer.
This course also teaches students more about the following topics: Best Practices for Reducing Stress, Boost Resilience with Mindfulness, and Achieve Better Work/Life Balance,
This Habits course is ideal for anyone searching for more info on the following: habits - good habits - procrastination - positive psychology - positive habits. Plus, this course will be a great addition to anyone trying to build out their knowledge in the following areas: daily habits - neuroplasticity - procrastination - brain training - positive psychology.
Content
You Can Build Strong Habits Starting Today
Promo Video The Complete Daily Positive Habits Building Course
Quick Win! Create a New Positive Habit Right Now!
Please Share One Good Habit You Are Trying to Build
Here Is What Is Unique About this Course - SelfieSpeak Programming (SSP)
Habit Principles Aren't Enough You Need a System that Doesn't Rely on Willpower
Start Your Day With a Quick, Easy Habit
Mix It Up Easy Habits Next to Hard Habits
Full Disclosure! Let's Get Real
Course Update! Live Instructor Office Hours are Now Available
Life Transformation, One Habit At a Time
Life Is the Sum of your Daily habits
Breakthroughs Come From Daily Mundane Work
The SelfieSpeak Audio Solution
Creating Your own Audios Is Always Better
Your Daily Habits SelfieSpeak Audio
Your Own Voice Is the Perfect Tool For Building Your Habits
The Easiest Way to Rewire Your Brain
Passive Brainwashing for You
Don't Over-complicate this Make the Simplest Audio Production Ever
Start Transforming Your Life Now
Gain Control Over Your #1 Habit Creator
Identify the #1 Habit That Will Drive Your Success
Stack Your Habits Daily
Select Habits That Make You Happy
Don't Fixate On Bad Habits
Build Your Creation habits Now
Positive Or Negative, Positive And Negative Guidance
Build Habits To Protect Your Eyes, Ears and Brain
Creating Healthy Media and Content Consumption Habits
The Source of Your Pollution
A News Junkie is still a Junkie
Your Perfect Media Diet
Best Email Practices
Cell Phone Hygiene
Block, Tackle, Turn Off
Schedule Your Cell Phone Time for maximum Productivity and Happiness
SelfieSpeak Audio to Gain Control of Your Cell Phone
Develop Healthy Food Habits
You Can Have Healthy Food Habits
The Big Overabundance
It Is OK to Be Hungry Occasionally
Everything You Need to know About Eating
Don't Worry about How You Look to Others But How Your Body Feels to You
Most of Us Have to fight the Battle of the Bulge
Stop looking for the magic Bullet, Pill or Potion
There are No Obese 95 year olds
Gimmicks Don't Work in the Long-run
It's hard to Create or Transform If You Are Stuffing Your Face all Day Long
There is No Sugar-Coating it, Everything Is covered with Sugar These Days
You Need a Way to Eat in the Real World
Yes Fad Diets Will Work In the Short-term
Eating with Mindfulness Is the Answer
Water Is the Go-To Beverage
Name Your Weight
Eat Until Full and Stuffed, Or Satisfied
Plan for Big Temptations With a Healthy Snack
Vitamins or Not
Weigh Yourself Daily
Get Ready for Your Own SelfieSpeak Audio for Your Own Food Consumption
Eat to Live SelfieSpeak Audio
Building Strong Health Habits
Your Long Term Health Is Based On Daily Health Habits
Healthy Gym Workouts are Hard, Health Hygiene Is Easy
Pain Free Creation
Proactive Eating Habits
Recharging the Batteries for Maximum Performance
There Is Always Time for Exercise
Ready to Smile at Your Premier
Don't Drown in the Sea of Bad Health Advice
Prepare for Your Health SelfieSpeak Programming
Your SelfieSpeak Health Programming
Build Strong Habits for Consuming Stuff
Strong Habits for Buying Stuff
The Overabundance of Stuff is Crowding Out Thought
Kondo Is One Important Piece of the Puzzle
Easiest solution Don't buy junk in the First Place
Exceptions to the No clutter rule - Probably Not You
Throw Stuff Away To Clear Your thoughts
Get Ready for Your Selfie speak audio
You Control Your Possessions
Simple Tech Steps In Creating Your Own SelfieSpeak Programming
No Problem If You Hate Technology
Simple Solutions to Common Problems When Making Your Audios
Nobody Likes the Sound of their Own Voice
Improving Every Single SelfieSpeak Audio
You Now Have the Power to Control Your Own Habits
This Is How Long You Should Use SelfieSpeak Programming
Build the Habit of Continual Improvement
Revise, edit, Delete, Recreate Your Selfiespeak Audios
Put All Your Habits Together Now
Good Luck In Your New Life of Great Daily Habits - Conclusion
Bonus Section Daily Habits Practiced by TJ
Practical Examples On How This Stuff Is Done In the Real World
Decluttering Habit
Build Artistic Habits
Build the Comedic Muscle Habit
The Daily Journaling Habit
Create Something of Lasting Value
Write One Aphorism
A Bad Idea Habit to Create Good Ideas
No Screens 1 Hour before Bed
Healthy Snacks Only
Sugar is Poison
Unleash Your Inner Poet
Communicate with Friends Daily
Daily Gratitude
The Daily Meditation Habit
The Daily Weigh-In
Listen to My Entire SelfieSpeak Program (SSP) Every Day
The Perfect Exercise, Push-Ups
The Daily Stretch
Read One Book Per Day
Turn Off Computer by 5 PM
Empty Email Box
Walk X Steps Per Day
The Weight Lifting Habit
The Clutter-Free Desk
The Digital Detox Walk
Running at Full-Blast
Structure Daily Deep Work Time
Time for You To Create Your Own Daily Habits
Reviews
Lots of really useful hints and tips surrounding building good habits to enhance your life both physical and mental health.
I loves the course, gave me a lot od ideas but also at same time I felt that I will never be able to reach so many good habits a day so it is a little bit demotivating. Maybe, when my kids will grow up I will be able to practice so many good daily habits every day
This course has some good information. Some parts it appears he is repeating himself or rambling on. The excessive talk surrounding food limits who I would recommend this course to.
I really enjoyed your practical suggestions for getting my life more organized and allowing me to create and achieve more. As a suggestion, I would have enjoyed having some kind of written template to help me to organize my thoughts as I start on my SSP journey. Thanks for the excellent course! Dail Allen
I have two things to improve the course. 1 If you can add information from another source to confirm the speech, this adds weight to your course and can contrast it with other viewpoints. 2. The speech is very clean, but you repeat it once or three times and in the end it is confusing. I think that if you say the recommendations just once, in a clean and entertaining way as you do it is enough. The course has a very important point that I can apply to my life, thank you.
Valentina
November 18, 2022
I am very surprised how this course influenced me! I feel better, more motivated, healthier and happier! Thanks TJ!
TJ is a great trainer and talks about practical things which can help me achieve my goals if I apply them.
Excellent course, the way TJ explained and elaborated the minute things is wonderful. Main thing I like about the course is importance of repetition.
i have tried to share one good habit and one bad habit through the Q&A function but it was not registered.(I am not using social media like face book)
Pretty average guy (No offense to Mr. Walker), talking (a lot) about general knowledge stuff. Do not think this course is for "everyone".
The course is full of common knowledge items which are stated multiple times. The instructor keeps mentioning things which are quick and easy to do, yet the course is excruciatingly long and full of redundant material. This course should be no more than 1-2 hours and yet drones on for 6 hours+.
Kasthuri
February 20, 2022
it is very useful to change the habits and making life easier.best course till now I heard.really helped me a lot.Thank you for such a fabulous courses.
Well, I am impressed with the course. I have already started to follow the techniques taught, and I can already see some habit changes. In my case, mostly to keep the focus on one thing at a time.
Very interesting course. TJ is enjoyable to listen to and the course makes me want to improve myself.
I enjoyed all the tidbits, lots of good recommendations to take the stress out of life. Its a very regimented way of running ones life. I need to work on building positive habits. Liked the stuff regarding digital usage too.
Coupons
| Submit by | Date | Coupon Code | Discount | Emitted/Used | Status |
| --- | --- | --- | --- | --- | --- |
| - | 9/14/2019 | CAMEL500 | 100% OFF | 1000000/7519 | expired |
| Angelcrc Seven | 3/19/2020 | 2BC1965206D05D015E81 | 100% OFF | | expired |
| - | 4/10/2020 | 822906A6259E5743047D | 100% OFF | 40000/1740 | expired |
| - | 5/4/2020 | 1444B13EDD915275AE4B | 95% OFF | | expired |
| Lee Jia Cheng | 5/11/2020 | 744ACAFFB98518BB8D19 | 95% OFF | | expired |
| Angelcrc Seven | 5/12/2020 | 871A6255ECC447F7F739 | 100% OFF | 40000/5719 | expired |
| Angelcrc Seven | 6/8/2020 | 86BF28BFABD0BF08108C | 100% OFF | 40000/3886 | expired |
| - | 7/16/2020 | 124DC62F1E4369E5D6AB | 100% OFF | 40000/2460 | expired |
| - | 8/7/2020 | 4E8AAA38A048609D6E09 | 100% OFF | 40000/2212 | expired |
| Angelcrc Seven | 9/10/2020 | FC1BEC4E02549A8B9C5A | 100% OFF | 40000/1989 | expired |
| - | 10/17/2020 | 08CC10285DF8E2E595CF | 100% OFF | 40000/1144 | expired |
| - | 11/12/2020 | B559E52C6F64FDFCA1DB | 100% OFF | 40000/2308 | expired |
| - | 12/29/2020 | D611328B0CFA7BCC0B92 | 100% OFF | 40000/2568 | expired |
| - | 10/24/2021 | 1DFDB250D77162E48C21 | 100% OFF | 40000/2180 | expired |
| - | 12/30/2021 | THANKS020 | 94% OFF | | expired |
| Ignacio Castro | 6/18/2022 | 219768B25A32C6144701 | 100% OFF | 1000/999 | expired |
| - | 6/25/2022 | F3BB99489E17C679C443 | 100% OFF | 1000/993 | expired |
| - | 11/13/2022 | 2B24C77B2348147312A9 | 100% OFF | 1000/862 | expired |
| - | 6/24/2023 | JUNE_SALE | 87% OFF | | expired |
| - | 8/14/2023 | AUG-SALE2 | 87% OFF | | expired |
Charts
Price
Rating
Enrollment distribution
9/6/2019
course created date
9/14/2019
course indexed date