The Complete Clickfunnels and Shopify Sales Funnel Course
Learn how to use Clickfunnels, AppTrends, Shopify and Facebook Ads to Make Money and Sell Products with Sales Funnels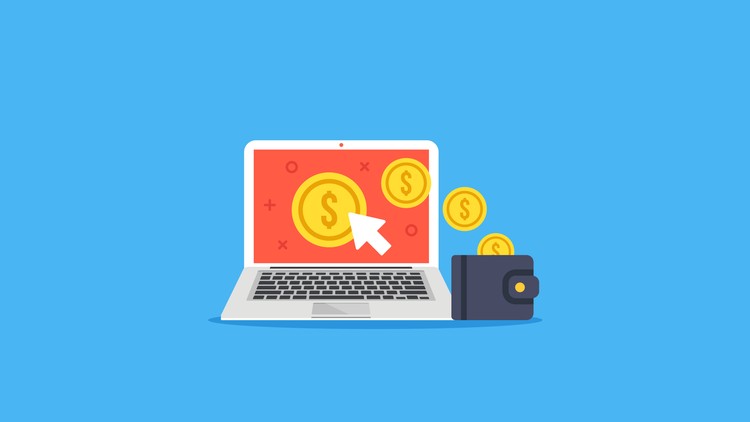 What you will learn
Fully understand how to use Clickfunnels to Sell Physical and Digital Products Online
Launch your very own Sales Funnels with Clickfunnels
Understand Average Order Value, Upsells and Downsells
Be able to use Shopify, Clickfunnels and Facebook Ads to Make Money Online
Use Clickfunnels to Sell and Dropship AliExpress Products with Shopify, AppTrends, Oberlo or Dropified
Sell Print on Demand T-Shirts and More using Clickfunnels
Design and Sell Jewelry using Sales Funnels
Use Lead Gen Funnels to Collect and Build Email Lists
Link Shopify to Clickfunnels using AppTrends
Run Facebook Ads to Drive Traffic to Funnels
Create and Sell Digital Downloads with Clickfunnels
Use Tripwire Funnels to Collect Emails and Make Money
Connect Stripe to Funnels
Use Twilio with Clickfunnels
Learn the Funnel Page Editor and use Sections, Rows and Elements
Understand Clickfunnels SEO Meta Data, Affiliate Badge and more
Do Product Research using Pinterest, Etsy, Google Trends and more
Create and Find Products to Sell Using Printful, Beeoux, AliExpress and more
Integrate Google Analytics with Clickfunnels
Add a Facebook Pixel to Clickfunnels
Integrate your Sales Funnels with Mailchimp Emails
Learn about SimilarWeb to Spy on Competitors Traffic
Understand Facebook Advertising Scaling Techniques
Receive a Free Clickfunnels Funnel Hacker T-Shirt
Description
Do you want to learn how to sell products online using Clickfunnels and Shopify?

This course is a complete step by step guide that teaches you all about Clickfunnels, sales funnels and Shopify. You'll receive comprehensive, guided training as well as multiple free funnels and tools to help you become a Funnel Expert. You'll even get a bonus section on how you can get a free Funnel Hacker T-Shirt! The aim is to have you launch your own funnel and drive traffic with digital marketing and facebook advertising. 
You can choose between using Clickfunnels to start a Dropshipping Business, Print on Demand Business, Jewelry on Demand Business or something else.
By the end of this course you'll be able to:

Use Clickfunnels and Facebook Ads to Make Money Online
Link Sales Funnels to Shopify using AppTrends to Sell Products and Fulfil Orders Quick and Easy
Use AliExpress, Shopify and Oberlo or Dropified, to do Dropshipping with Click funnels
Do Shopify Print on Demand, Jewelry on Demand and Dropship from China with AliExpress
Throughout this course you'll be taught about funnels and how they can help you make more money from your Shopify stores and dropshipping stores today. You'll learn about:
How to Become an Expert at Funnel Building 
Use Funnel Hacking to Research Competitors
Use Sales Funnels, Email Funnels and Tripwire Funnels to Collect Email Lists and Sell Products on Your Shopify Store
Funnel Marketing with Facebook Ads
Funnels and Email Marketing with Mailchimp
How to use Funnels to Sell AliExpress Products, and start Dropshipping with Clickfunnels Today
You'll be taught by Best Selling Udemy Instructor, Shopify Specialist and Founder of Shopify Startups Facebook Group, Adam Reed. Adam has generated over $1,000,000 (Yes, 1 Million USD) in sales on Shopify alone, and is the instructor of some of Udemy's Top Rated Shopify Courses.
This course was originally designed and recorded as an exclusive month-long training program. Since then, Adam has turned it in to a very detailed step by step Clickfunnels Training Course and has added some more content exclusive to Udemy.
Not only will you receive hands-on, over-the-shoulder Click Funnels Training from a 7 Figure Entrepreneurs...
You'll also receive the following freebies:
2 x Done-For-You E-Commerce Sales Funnels
1 x Advanced E-Commerce Funnel with An Added Downsell Step
1 x Advanced Tripwire Funnel
Free Easy Profit Margin Calculator (RRP $19.95)
Access to My Live Support Session Replays
Step by Step on How to Get a Free Clickfunnels #FunnelHacker T-Shirt
So what are you waiting for?
Join a 7 Figure E-Com Entrepreneur and Best Selling Shopify Dropshipping Instructor and Launch some Funnels Today!
Also Note that Udemy Offers a 30 Day Rock-Solid Money Back Guarantee. Enrol Today at this Special Price and Secure Your Place as a Student. If You don't enjoy the Course, You can get your Money Back, No Questions Asked.
I'll see you on the inside!
To your success,
Adam P. Reed

Content
Introduction
Udemy Exclusives
What is the 30 Day Challenge
Training Structure
What Are Live Support Sessions?
WARNING! Don't Sign Up Yet!
Introduction to Clickfunnels
Clickfunnels for E-Commerce
Let's Have a Look At One of My Funnels
Week 1 Introduction
What We're Covering in Week 1
MODULE 1.1 - Clickfunnels Secret Account and Free Trial Access
Clickfunnels Account Levels
Clickfunnels Sign Up Secrets
Secret Sharefunnels Account Walkthrough
MODULE 1.2 - Basic Clickfunnels Navigation and Important Account Integrations
Introduction to this Module
Clickfunnels Dashboards and Navigation
Account Details and Connecting a Payment Processor
Connecting Payments (Stripe) Part 2
Connecting Payments (Stripe) Part 3
MODULE 1.3 - Introduction to Funnel Steps
Introduction to Funnel Steps
Template Portfolio
Cloning Funnels
Archiving Funnels
MODULE 1.4 - Viewing and Editing Funnels
What You'll Learn In This Module
Introduction to Funnel Page Editor Interface
Page Structure: Sections, Rows and Elements
Adding Sections, Rows and Elements
Moving Sections, Rows and Elements
Cloning Sections, Rows and Elements
Removing Sections, Rows and Elements
A Complete Guide to Elements
Image and Text Settings
Headline Settings
Image Feature Settings
Button Settings
Sticky Section Settings
Mobile and Desktop Visibility
General Settings
Meta Data Settings
Meta Data Example
Integration Settings
Save and Exit to Funnel Steps
A Quick Look at the Other Pages
Order Form Elements
One Time Offer Page Elements
Thank You Page Elements
Funnel Launch Checklist
Using this Funnel to Sell Your Own Products
Debrief: Your New Skills
Week 1 Live Support Session
Week 1 Live Support Replay
Week 2 Introduction
Week 2: What We're Doing This Week
NEW! Claim Your Week 2 Funnel
Free Funnel #2 Walkthrough
Free Funnel #2 Mobile Walkthrough
You Asked For It, You Got It! Bonus Funnel with a Downsell Page
MODULE 2.1 - What To Sell?!
About this Module
Shopify 14 Day Free Trial Link
Dropshipping with AliExpress
How to Add AliExpress Products to Shopify Part 1
How to Add AliExpress Products to Shopify Part 2
Print on Demand with Printful
How to Add POD Products to Shopify
Engraved on Demand Jewelry
Your Invite Link to Use this App!
How to Add Custom Jewelry to Shopify
Print on Demand Wallets and Watches
MODULE 2.2 - Awesome Niche Research Tools
Top Shopify Stores
Google Trends
Merch Informer
Pinterest
Etsy Best Sellers
MODULE 2.3 - Preparing to Launch Your First Funnel
Brainstorming Your Offer and Wireframing Your Funnel
Replacing the Template Photos
Replacing the Template Text
Replacing the Template Meta Data
Replacements and Edits for Mobile
Adding a Favicon
Adding Paid Products
Adding Paid Products to OTO Pages
Stripe Test Mode
Adding a Downsell
Post Purchase Sequence
Domains and Subdomains - Which is Right for You?
Adding a Custom Domain
Setting up Forwarding
Already Own a Domain? Create a Sub-Domain
BONUS > Creating a Professional G Suite Email Address for your Domain
Setting Up Funnel Paths and Page URLs
Linking OTO Opt Outs
Downsell Opt Out Link
Digital Downsell Delivery
Digital Downsells Recap
Bonus: Social Proof with Digital Table Rush
Quick Note: Removing 'Access Purchase'
Turning Off Stripe Test Mode
MODULE 2.4 - Clickfunnels Integrations
About this Module
Adding Google Analytics
Adding the Facebook Pixel
Email Integration with Mailchimp
Twilio Integration
Shopify Integration
Week 2 Live Support Session
Week 2 Live Support Replay
Week 3 Introduction
Week 3 Introduction
Update: Added a Bit of Fun to this Week's Training!
MODULE 3.1 - Clickfunnels, AppTrends and Shopify Integration
About this Module
AppTrends and Shopify Part 1
AppTrends and Shopify Part 2
AppTrends and Shopify Part 3
AppTrends and Shopify Part 4
AppTrends and Shopify Part 5
AppTrends and Shopify Part 6
AppTrends and Shopify Part 7
AppTrends and Shopify Part 8
AppTrends and Shopify Part 9
AppTrends and Shopify Part 10
AppTrends and Shopify Part 11
Module Debrief
MODULE 3.2 - Driving Traffic to Your Funnels
Traffic Sources
Introduction to Facebook Ads
Launching a Facebook Ad: The Complete Guide
Know Your Numbers
Udemy Exclusive Freebie: Easy Profit Margin Calculator (RRP $19.95)
MODULE 3.3. - (BONUS) A Bit Of Fun and a New Wardrobe!
How to Become a Fully Fledged Funnel Hacker
Getting Your Free Funnel Hacker T-Shirt: Step 1
Getting Your Free Funnel Hacker T-Shirt: Step 2
MODULE 3.4 - UDEMY EXCLUSIVE: Spy On Competitor Traffic
Introduction to SimilarWeb
Week 3 Live Support Session
Week 3 Live Support Replay
Week 4 Introduction
About Week 4 Content
Sell Like The Pro's Do: Free Tripwire Funnel
bit.ly/adamstripwirefunnel
MODULE 4.1 - Tripwire Secrets
How to Use E-Com Tripwire Funnels
Example of a Tripwire E-Com Funnel
MODULE 4.2 - Further Brief Training on More Topics
Introduction to Backpack Affiliates
Facebook Ads Scaling
Course Summary
What Now?
Course Summary
Reviews
The course is Nice I learned allot however until now I am not accpted in the FB group that was mentioned in the course. I hopr everything should update the information about this course oyrse.
Pointless....The link the author gives you to signup with ClickFunnels to get the Funnels he is referring to in the step-by-step does not work...Therefore, You cannot follow the whole process that was used to create them. Tried contacting both the author and ClickFunnels, neither of them replied back.
I keep waiting for the content. It looks good so far. I keep waiting for the content. Nothing. It looks like a complete waste of time.
Awesome Course!!!! The instructor is very knowledgeable about marketing funnels, product creation / sourcing and AD campaigns. He presents the concepts in a way that is understandable and reproducible. He explains the topics in great detail along with onscreen examples with which I can follow along step-by-step in my own accounts.
It's more helpful for persons wishing to create e-com funnels based on ecommerce platforms such as shopify. Otherwise, too many issues discussed throughout the course helped me a lot such as when explaining the funnel brainstorm processes, Facebook Ads Scaling and also adding product to a funnel. Thank you for the effort that had been made to facilitate this new concept to all of interested person in particular.
A bit long winded at the beginning. Good detail and step by step instructions once into the core of the Subject.
Great course. Amazing instructor. Always brings value. Have recommended to friends numerous times. On my 3rd course with him.
Adam explains everything in great details. Anyone can follow the steps in the course and be able to build a funnel. He has exceeded my expectations.
Great for anyone who needs to connect Clickfunnels to Shopify - did the course in two weeks. Some complicated processes were explained well without unnecessary detail. Would definitely take you from not having a clue to being able to put into operation. A lot of YouTube videos give great advice on strategy and reasons for click funnel steps but do not provide a step by step guide. Read "The funnel hackers Cookbook" - which is great, but could still not put together my funnels and link to Shopify effectively. Once you have been through 2/3 of the course you will realise how much time you have saved.
Excellent course, as all courses from Adam. This course is very detailed and I loved the sample funnels hw provided.
Adam is always a great instructor. I think this is his 5th course I have purchased so far. He is the king of ecommerce!
Best value!! So thorough! My favorite by far--definitely the most comprehensive out there for those who like details.
Incredible value. Excellent material clearly presented. Slow enough to comprehend and yet fast enough to use time wisely. It is highly motivating to know that there will be a significant result. I have always wanted to have my own business; now I definitely will. Bravo Adam!!!!
Very useful. Teacher is clearly an expert on this marketing method and teaches things I had not previously heard of. I highly recommend this course.
It's amazing and I was able to avail it for FREE! This will definitely complement the Shopify course I previously purchased.
5/1/2018
course created date
5/6/2019
course indexed date