Signature Talk Success: Be a Sought After Speaker
Get Accepted, Polish Your Idea, Change The World.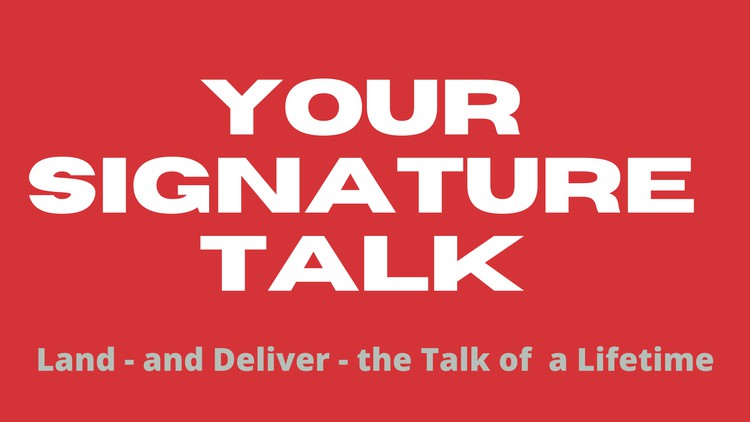 What you will learn
To Identify your Unique Idea Worth Sharing
How to Successfully Apply
How to make your 2 minute video summary,
How to make your media kit for your existing personal brand
How to identify your topic / expertise
Description
Want to give your Signature talk, spread your solutions, and change the world?
You have probably seen the buzz from friends or colleagues who have given a Signature talk.
But they probably did not take the time to share with you HOW they prepared, or the backstory of their journey.
Knowing the context is so important because it helps us personalize our own strategy.
Speaker, emcee, sponsor, and volunteer Nathan Eckel sure wishes he had the benefit of a course before he spent well over 1000 hours serving as a volunteer, and sponsor, then decided to apply himself - at completely different organizations.
After a dozen attempts he was not only accepted, but was chosen over a 20M bestselling author to CLOSE the event.
Based on his personal experience, and interviews with over 300 presenters, Nathan brings tremendous knowledge and enthusiasm to fledgeling Signature speakers.
There's absolutely no reason why you cannot give your Signature talk, spread your solutions, and change the world!
You have what it takes - if you apply yourself you can learn the skills - and the confidence - to make this happen.
Nathan has helped hundreds of presenters get on the stage and he can help you, too!
Do you believe passionately in the power of ideas to change attitudes, lives and, ultimately, the world?
Enroll today!
Content
Introduction
The Actual Cost / Investment of Your Talk
Get Ready - Important Stuff to Know
TEDx = a Merit Based Platform
Which Type of Sought After Person Are You?
10 Killer Perks of Doing Your TED/x Talk
Four Obstacles Blocking You from Your Talk - UNLESS You Know How to Dodge Them
Four Obstacles Blocking You from Your Talk - Part 2
CAPTURE your Idea
Overcoming the Biggest Hurdles
Communicate
Get Out Your Phone NOW
APPLY your idea
Apply - Find The Events Looking For You
Three Best Places To Look
The Nomination Roadblock - and How To Remove It.
RINSE & REPEAT - KEEP APPLYING
[Bonus] FAQs About TEDx Talks
What Is Different About Ted/X?
Ted/X Vs. Toastmasters Vs. Keynote Vs. Presentation
Be A Connector
Be Transparent
Be Funny
Wrap up
Resources, Tools and Opportunities
Help Your Fellow Students
Next Steps
[Bonus]
Reviews
Dan tips de como prepararse adecuadamente, de los ejercicios que debes hacer, y en especial sobre el mindset que debes tener.
Great course telling you some of the amazing things to look at if you truly want to be successful in your talk. Thanks to Scot and Nathan
Being connected to this course was so right on time for me. I injoyed the insight, direction, and guidance on what I need to do and understand to be a TED Talk speaker. The ACTION TAKING suggestions are a challenge for me worth doing consistently so I can be my best. Thank you. !
Coupons
| Submit by | Date | Coupon Code | Discount | Emitted/Used | Status |
| --- | --- | --- | --- | --- | --- |
| - | 12/11/2019 | F5F9FE55AFB02BD5539E | 100% OFF | | expired |
| Angelcrc Seven | 3/17/2020 | MARCH19TEDTALK | 100% OFF | | expired |
| Angelcrc Seven | 7/2/2020 | TTSBSEXPJULY052020 | 100% OFF | 40000/1846 | expired |
| - | 1/14/2021 | TTSBSEXPJAN142021 | 100% OFF | 40000/1257 | expired |
| Angelcrc Seven | 6/22/2021 | TTSBSAEXPJUNE242021 | 100% OFF | 40000/4446 | expired |
11/2/2018
course created date
6/20/2019
course indexed date