Find Your Style with Character Portrait Illustration
Drawing Faces Inspired by Astrology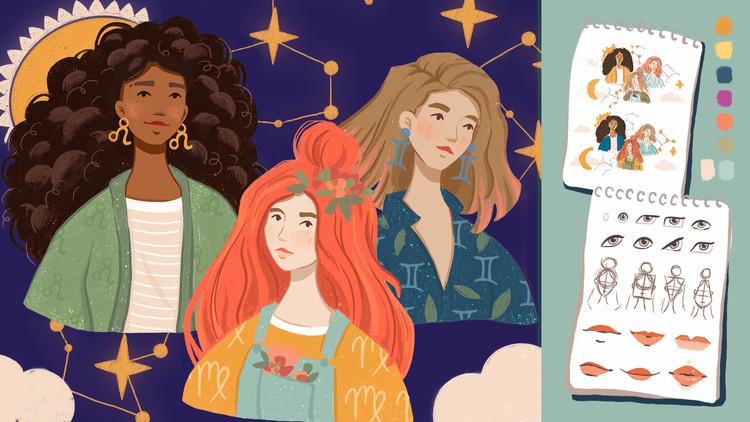 What you will learn
Basics of Stylized Portraits
How to use simple shapes to draw faces
How to draw heads, eyes, eyebrows, noses, mouths, and lips
How to draw hair
Description
Learn to draw portraits and faces using simple shapes.
Drawing portraits is a lot of fun! Face features can add so much personality and stories to your character illustrations!
If you want to feel more comfortable drawing stylized character portraits as well as exploring different face designs, this class is for you!
In this class, I will take you through the journey of designing stylized portraits and faces using simple shapes, so you get more comfortable and have a solid starting point when drawing characters for your illustrations.
To make the learning fun and personal for you, we will be using the theme of Astrology and Zodiac signs to design your stylized portraits.
You will gain a solid skill for developing your character design style further. You will learn:
how to use simple shapes to draw faces

how to sketch heads, eyes, eyebrows, noses, mouths, and lips

how to draw hair

how to take inspiration from your chosen Zodiac sign
I will also show you techniques of how you can take inspiration from references and you will learn how to simplify the real-life in your character design.
At the end of the class, you will have an illustration you could print out for your home, give to friends or family, or take your design further and even use it in your portfolio if you create your own Zodiac sign illustration.
I will be using Procreate, but feel free to use any other drawing software or medium you prefer.
In addition, you will also get a bunch of freebies to practice:
Heads, eyes, mouths practice sheets

Suggested color palette for the Zodiac signs

Mood boards with photo references for your characters
Let's get started with expanding your horizons and drawing awesome faces!
See you in the class!
© Copyright Iva Mikles | All Rights Reserved | Class content & structure for educational purposes only
Content
Introduction
Introduction
Project idea
Sketching Brushes
Resources
Proportions
Face proportions
Proportions practice
Proportions practice from references
Head, Eyes, Nose, Mouth and Hair
Head angles
Head shapes
Eye shapes
Eyebrows
Eye details and coloring
Nose shapes
Lips and mouth
Hair and hairstyles
Project
Composition
Refine the sketch
Color palette
Face design
Base colors
Visual interest
Final touches
Final Thoughts
How did it go?
11/8/2021
course created date
11/16/2021
course indexed date