Equity Research Analyst program
Learn Stock Market from basics to Advance,Fundamental Analysis,Technical analysis,Swing Trading and Financial Trading.
Investing & Trading
category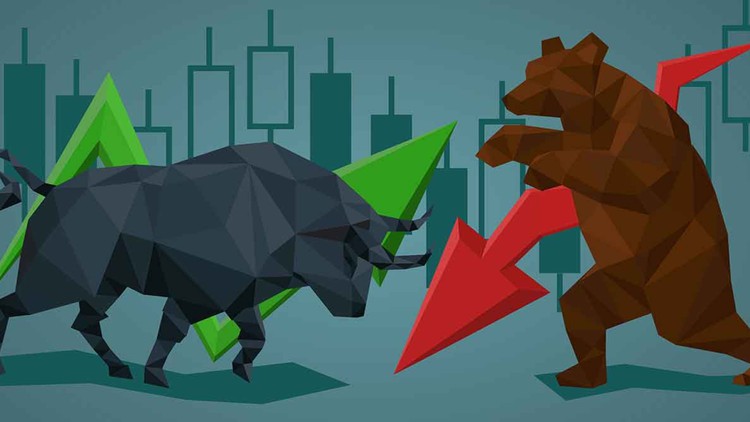 What you will learn
Stock trading from basics to advance
Intraday/Swing Trades
price action
identification of candles
chart patterns & Breakouts
Swing trading
Live Trading
Cryptocurrency Trading
Risk and money management
Description
This course includes comprehensive, advanced material that is helpful in trading confidently and effectively. You will get an excellent understanding of what makes a great trading and Investing strategy and how to test and develop your Strategy.
This course covers Basic ,Intermediary and advanced level information. You're going to take away a different approach at analyzing data, an approach that isn't just based on theory.
In addition, learning the best indicators, how to confidently apply them, building your personal strategy, and understanding how to use various order types is the key to a comprehensive learning experience and practical use of technical analysis for yourself.
Learn at your own pace and apply what you learn to your own favorite stocks that you may already be following!
Perfect for those who are brand new to trading in the stock market or consider themselves beginners or intermediate traders. This course covers many topics that you can practically apply and use immediately.
We also cover in-depth 4 Trading Strategies from the ground up. Including the thought process behind the strategies, tools to use for them, and how to test them for yourself. This is where you put everything into practice and where you learn how strategies can be built.
Hope to see you in the course :)
Content
Introduction to stock market
Introduction to stock market
Why should you invest in stock Market?
Types of Market
Capital market And Its types
What is IPO?
Face value Vs Market value
Why stock price fluctuate?
What is Stock exchange,Broker ,Clearing House & Market Index ?
What is Stock exchange ,Broker & Clearing House ?
What is Market Index?
Commonly Used Words in Trading
Bull market & Bear Market
Liquidity,Trading volumes,Going Long & Averaging down
Capitalization,Public float,Authorized shares & IPO
Day Trading,Dividend,Exchange & Execution
Margin ,Moving Average & Portfolio
OHLC,52 week high/low,Upper/lower circuit &CMP
Introduction to Technical Analysis
what is Technical analysis?
Charts & Different types of charts?
Charts and its types
Line chart
Bar chart
Candlestick Chart
Volume Chart
Market Trend & It Types
What is Market Trend & It types ?
UpTrend
Side ways Trend
Down Trend
Support & Resistance
Support & Resistance
Breakout & BreakDown
Breakout
Breakdown
Types of Candlestick Chart patterns
Bullish Engulfing
Bearish Engulfing
Morning Star
Evening Star
Hammer & Inverted Hammer
Trading Indicators
Indicators Importance in Trading
Simple Moving Average
Exponential Moving Average
MACD
RSI
Bollinger Band
Chart Patterns ,Trading Setup & Live Trading
Chart Patterns,Trading Setup & Live Trading
Reviews
Dont usually do reviews but had to with this one. Clear concise and explains it in a common sense way. Buy it!. Learning from someone in the business usually gives the best insights. I´ve done another course before and must say that this one ist in more detail, provides more background knowledge and structures the content in great detail giving good exampels. More tests at each sessions would be great to see if one has digested the stuff you learned. Thank you once again for this amazing course.
the course is just perfectly designed for people like me. I was always confused about many terms and graphs but this provide with all the blunder of info now I can take independant decisions and take trade on my ownself, Thank you so much sir.
amazing course .Highly recommend it to all who are interested in learning trading.i feel like i am have learned alot of things from this course. Totally worth of money
This course is great and it covers the techniques, approach , strategy, indicators and what not. The best part is the way it is been taught was very easy to understand the most difficult concepts very easy.Very good course will recommend to everyone.
7/29/2021
course created date
8/5/2021
course indexed date