SQL- The Complete Introduction to SQL programming
Learn the basics of SQL programming and Data manipulation with the use SQL
Programming Languages
category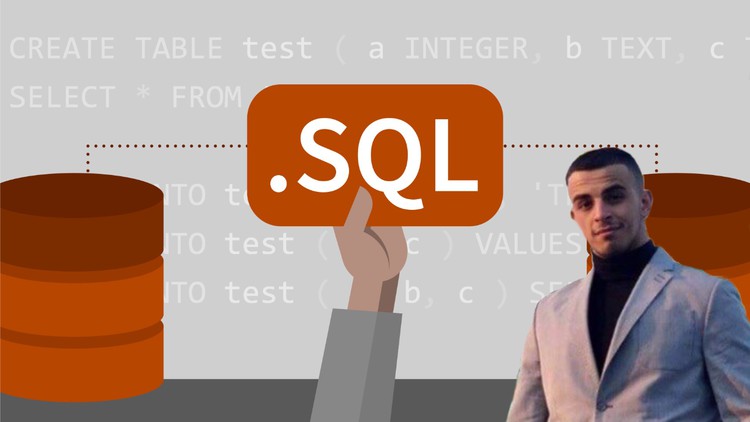 What you will learn
Basic SQL programming
Analysing basic Data with SQL
Use various Key words to perform different tasks
Understand all the theory of SQL
Manipulate Data in different ways
Description
Programming can sometimes be very hard to learn especially if you have no experience in this field. But, this course have everything that you need to be able to start your programming career or improve your programming skills by learning all the basis of how to properly program with SQL. If you :
- Are in school and want to learn how to program in SQL
- Need to learn this programming language for work
- Want to start a personal project that requires you to have programming knowledge
- simply want to learn a new skill
Then you will love this course. Not only you will have by the end of the course a very solid base of this programming language but you will also be able to work with simple Data bases and understand all the theory around SQL.
The structure of the course
The way the course is made is really done to help you learn all the basics of this programming language. From setting up everything and downloading all the required softwares and understanding all the basics to manipulate Data and create simple databases tables and more. This course has everything you need to start your SQL journey. The goal of this course is really here to help you learn a completely new skill so that you will be able to work by yourself with this programming language. Also, this course was made not only to teach you a new programming language but also to help you think like a programmer. This way, even if you work with any other programming language, you will find it easier to learn it.
Also, this course has been built on a concept of learning by practice. In other words, in each class you will learn the theory about every concept and then you will have a lot of practice to help you reach your full potential and give you a better understanding of the topic. This way, by practicing you will be able to write lines of code by yourself and understand the logic behind each command that you write down.
For who is this course designed
There are many SQL courses out there, but this one is different. Indeed, this SQLcourse will teach you by example all the basics of this programming language. Also, since this course is an introduction it can be great for people who have never worked with SQL and Databases before. Indeed, even if you never programmed in your life this course will give you a solid basis about how to properly work with SQL. The goal of this course is teaching you how to think like a programmer and create small and basics Data Bases with the use of SQL.
Why should I take this course
If you want to learn programming then you should definitely take the course. Not only you will have learned how to properly create various databases and perform various manipulations with Data using SQL by the end of it you will also have a very good knowledge of different SQL concepts. Also you will understand the logic behind this programming language as well as many of it's functions.
There is no risk involved in taking this course
This course comes with a 100% satisfaction guarantee, this means that if your are not happy with what you have learned, you have 30 days ​to get a complete refund with no questions asked. Also, if there is any concept that you find complicated or you are just not able to understand, you can directly contact me and it will be my pleasure to support you in your learning.
This means that you can either learn amazing skills that can be very useful in your professional or everyday life or you can simply try the course and if you don't like it for any reason ask for a refund.
You can't lose with this type of offer !!
ENROL NOW and start learning today :)
Content
Introduction
Introduction
Introduction to SQL
The basics of SQL
3- Understading what is a Data Base
4- Understanding what is a Data base Part 2
5- Starting out with relational Data base
6-Different Key examples
7-Understanding SQL
Setting up everything and basics in programming with SQL
8- Seting up MySQL
9- Understanding key words
10- Data Types
Starting out
11- Creating and deleting DataBases
12- Adding tables and columns
13- Modification of our tables
14- adding other features and primary key
15- Working with multiple tables and foreign key part 1
16- Working with multiple tables and foreign key part 2
17- First Visual representation of our Databases
18- Using the Select tool part 1
19- Using the Select tool part 2
20- visualizing multiple tables
21- table modification and looking for Data part 1
22- table modification and looking for Data part 2
23- table modification and looking for Data part 3
24-Connecting tables together
25-Conclusion
Reviews
Hoping to see you upload in the near future some of those exercises you said. It may stop being just a basic course if you add like a final project to it.
The course was really good straight to the point it really was a great course i liked it! but only the thing is the caption is not correct with some words! Thank you Yassin Marco
Muy buena elección para comenzar a practicar SQL, me hubiese gustado un poco más de ejemplos con el uso de los JOIN.
The course was pretty basic and easy to understand. One suggestion I would like to add is if there was a small section in video or a resource (PDF) which consists of definitions/differences/list of all keywords, it would be easier to go through. Overall really basic, easy to understand and a pretty good course.
Good intro to basics of SQL. The beginning chapters are a little repetitive as he repeats the same things a few times. Other than that, helpful and well structured. I enjoyed it, thanks!
The course was good, but Actually there are a lot of bullet points that he didn't explain clearly and accurately. Overall, it was a good course for the absolute beginners.
Round and round in circles, too much waffle, takes a long while to get to the point. Not enough interaction.
Great course, easy to understand, only downside is that it doesn't have any downloadable resources/files to help make learning easier
good for basics. one have to write down every thing explained in the course and doing a personal freelancing project would help you take your learning to the next level.
Great course. You demonstrated the essentials in a good way. Maybe the Joins you could demonstrate more, as they are very important and in my opinion also a important part of the bascis. Thanks!
This is a short and sweet course, specially recommended for the people who are just starting to learn SQL. Thank You for this good introductory course.
It is hard to follow in some parts. The instructor is good but some times it seems like he starts explaining one thing then jumps to another. It is still a good beginner class though. I had trouble installing MySQL before taking this and I learned what I was doing wrong because of this class.
I think that you should stay in only one example and use more tables in database, so you can better explain joins.
This introductory class for SQL is pretty fine. But really, you have to work your pronunciation. For exemple "a query" is pronounce "kwire" or "kweree" depending of the part of the world where you are but never "queuree" or "curie". Keep up the good work !
very good introduction into SQL programming, not too detailed but enough to get a simple understanding. would have liked a few exercises to practice with.
Coupons
| Submit by | Date | Coupon Code | Discount | Emitted/Used | Status |
| --- | --- | --- | --- | --- | --- |
| Angelcrc Seven | 3/15/2021 | 6CB3C3DC7D9AF201C36D | 100% OFF | 40000/19112 | expired |
| - | 3/19/2021 | C9A823F43A86990D50B4 | 100% OFF | 40000/7129 | expired |
| - | 3/29/2021 | CB6D0FA42BEA223DC5B1 | 100% OFF | 40000/7235 | expired |
| - | 4/5/2021 | 3FDBD23DE18200A39917 | 100% OFF | 40000/8745 | expired |
| - | 4/19/2021 | 2DB478C0E26A63605F86 | 100% OFF | 40000/7099 | expired |
| - | 4/29/2021 | F537D72ACCEC3EF0E68A | 100% OFF | 40000/4154 | expired |
| - | 5/11/2021 | D2B9722A3FA618C2EEEF | 100% OFF | 40000/5680 | expired |
| Angelcrc Seven | 5/20/2021 | 9AB2227659356573C3CE | 100% OFF | 40000/10539 | expired |
| - | 5/29/2021 | 4DE393C42558462974CC | 100% OFF | 40000/1445 | expired |
| - | 6/19/2021 | 9E77F22B3DDD03EAACD2 | 100% OFF | 40000/5951 | expired |
| JasonDavidES | 7/1/2021 | D495377FB5D23D99DB61 | 100% OFF | 40000/2080 | expired |
| Angelcrc Seven | 8/5/2021 | 525D3E3FEC013D45CFF0 | 100% OFF | 40000/6257 | expired |
| Angelcrc Seven | 9/12/2021 | 3AB86A0176694F04F3E3 | 100% OFF | 40000/4162 | expired |
| - | 9/16/2021 | 699F2DA4DEB1AEB6207C | 100% OFF | 40000/4233 | expired |
| - | 9/25/2021 | A9CFB4FF1B9ED522AAAB | 100% OFF | 40000/4343 | expired |
| - | 10/2/2021 | 0C698A1A50F3BEF27247 | 100% OFF | 40000/2964 | expired |
| - | 10/19/2021 | 776DC94F5C0E5C012E59 | 100% OFF | 40000/3494 | expired |
| chris | 10/27/2021 | 61350BEE996A742ACF97 | 100% OFF | 40000/3348 | expired |
| Angelcrc Seven | 11/3/2021 | DDB3AC2B98805A2AF865 | 100% OFF | 1000/0 | expired |
| Ignacio Castro | 11/23/2021 | AA29F9ED49DCB8A00612 | 100% OFF | 1000/921 | expired |
| - | 11/30/2021 | 78191E394750AEDC0591 | 100% OFF | 1000/999 | expired |
| Angelcrc Seven | 12/5/2021 | 25EB9A6A947B8A97D3BC | 100% OFF | 1000/860 | expired |
| Angelcrc Seven | 12/14/2021 | 2C3B2FE379174039CFC1 | 100% OFF | 1000/727 | expired |
| Angelcrc Seven | 12/26/2021 | 84DC39AAA1986BFB7F26 | 100% OFF | 1000/825 | expired |
| Angelcrc Seven | 1/2/2022 | 5D241FF64175CDDD7FAA | 100% OFF | 1000/411 | expired |
| - | 1/12/2022 | 3E8F20CAF5FB0ADE3286 | 100% OFF | 1000/758 | expired |
| Angelcrc Seven | 1/23/2022 | B2AFEE0FEC46EB0E2E3A | 100% OFF | 1000/325 | expired |
| Angelcrc Seven | 2/3/2022 | 6188803E054432BC1256 | 100% OFF | 1000/966 | expired |
| Angelcrc Seven | 2/12/2022 | 0B97F104A2A5ACE02201 | 100% OFF | 1000/936 | expired |
| Angelcrc Seven | 2/22/2022 | 6CBFD39583B870446C97 | 100% OFF | 1000/827 | expired |
| - | 3/3/2022 | 8D0B1A8BB7BF28CC42B3 | 100% OFF | 1000/850 | expired |
| Angelcrc Seven | 3/14/2022 | D5B90C8BD3E9176F4FA4 | 100% OFF | 1000/973 | expired |
| - | 3/27/2022 | 35ACAC19F96283D6E54F | 100% OFF | 1000/681 | expired |
| ANUBHAVJAIN | 4/15/2022 | A2C1E4BFC498547EB2B8 | 100% OFF | 1000/912 | expired |
| - | 5/14/2022 | 270D3AA4FFCD75903E55 | 100% OFF | 1000/642 | expired |
| - | 5/25/2022 | 84C0BC078D1DC628A2D1 | 100% OFF | 1000/670 | expired |
3/11/2021
course created date
3/15/2021
course indexed date