Ethical Hacking - SQL Injection Attack
Learn Website hacking using SQL Injection Attack - Database Penetration testing
Network & Security
category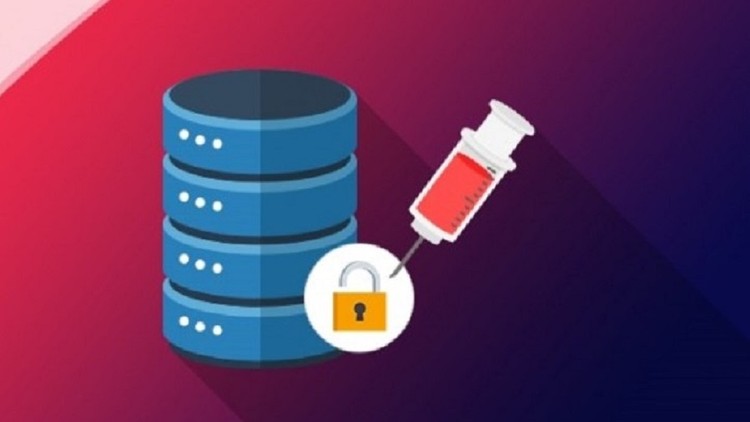 What you will learn
Students will be able to learn basics of sql injection attacks
Students will be able to use kali linux database Penetration testing tools
Students will be able to perform sql injection attacks .
Description
SQL Injection (SQLi) refers to an injection attack wherein an attacker  can execute malicious SQL statements (also commonly referred to as a  malicious payload) that control a web application's database server .
The impact SQL injection can have on a business is far reaching. A  successful attack may result in the unauthorized viewing of user lists,  the deletion of entire tables and, in certain cases, the attacker  gaining administrative rights to a database, all of which are highly  detrimental to a business.   
In this course, you will perform SQL injection attacks on websites . This course is a practical course in which you are going to perform practicals based on sql injection attack .
NOTE: This course is created for educational purposes only .
NOTE: This course is a product of Sunil Gupta and no  other organisation is associated with it or a certification exam.  Although, you will receive a Course Completion Certification from Udemy.
Content
SQL Injection Attack
Database Attack Basics
Website Database Hacking using sqlmap tool
Website Database Hacking without using any tool
Create dictionary using crunch commands
Website Database hacking using jsql tool
Bonus Lecture - Enroll now in full HD 13.5 hours Ethical Hacking course
Reviews
The video should be in more detail how the things are working. But yeah learn something new but not in depth.
It was a good experience and i did learn a lot about the SQL injection but the problem is that it is not a full course
I felt some things could have gone into more detail and touched more on the why. I felt there were parts that we were told what to do, but not really told why it works.
This is a best course of sql injection and sql map tool and it's really good for all of people who wan't to understand the sql injection
BobTheBuilder
August 7, 2021
This course is the best SQL Injection course i have taken so far. Mr.Sunil K's explanations are easy to learn and understand he tells all the step by step process I recommend others to take this course if they are beginners
Brilliant course .. love this... i understand sql injection all terms which explained in this short course...
Very Good tutorial. Really it is very better then other. The instructor is explained with clear voice. Thank you
VERY AWESOME LECTURE ON SQL DATABASE INJECTION, HOPING FOR OTHER DATABASE ATTACKING LESSONS AND WE ARE READY TO LEARN.
As it is a free course I had not much expectations from this course. I am a beginner but the way sir walked me through the process it was truly amazing. Thanks
He doesnt show you how to install sqlmap on lunix. Ive looked it up online, but I keep finding bs git. If the professor sees this, shoot me a message.
The instructor explains concepts in a very clear way, videos are very easy to follow and the course is a very useful introduction for a beginner.
Constantin
January 27, 2021
It was good and really understandable. Liked it how he explained but he needs to restructure couple of things as to start manual first as it is way more detailed .
Kipkoech
December 28, 2020
I'm learning a lot of hacking techniques. I hope in the end I will be a hacker like Kevin Mitnick and later become a white hat
1. It will better if you have a doc for following your video and how to setup environment Kali Linux. 2. Should have some medium web site medium level for attack to make the E.X
This is course is not total SQL injection. But first 3 chapter is really awesome. But suddenly 4 chap to 6 chap really not necessary for SQLi. Lecturer is really good knowledgeable. But my expectation was very high from you. As per beginner this course is very good only for first three chapter.
Charts
Price
Rating
Enrollment distribution
9/5/2018
course created date
11/2/2019
course indexed date