Splunk Enterprise Admin 2023 (Hands-on Labs: Crash Course )
Hands-On Labs: Deploy and configure Splunk platform in a distributed environment (NEW! Nov 2022)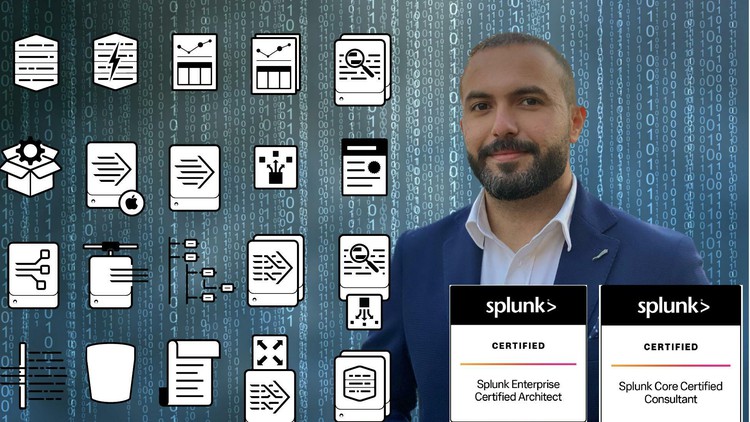 What you will learn
Set up a working Splunk environment in a distributed architecture design ( fast paced Practical Lab )
understand and deploy Splunk Universal Forwarders on Linux based Machines
understand and deploy Splunk Universal Forwarders on Windows Machine
Explore Splunk apps and the thriving Splunkbase community
Distributed Search architecture Discussion and Overview: Add search peers to the search head
Description
The best hands-on labs crash course for learning Splunk, the leader in real-time monitoring, log management, and SIEM (security information and event management).
For a complete Course, please check out my other full deployment Admin certification Course!!
Your instructor is Saif Al-Shoker, a former SPLUNK Architect Employee and a Splunk Certified core Consultant and Architect with over 10 years of experience in the security domain, 5 years splunking and hold two master degrees.
This fast lab course, is a sample part which focuses on system administrator and data administrator learning content.
In this micro nugget course, we will go through deploying the Universal Forwarder on a Linux and Windows machines, configure the monitoring inputs, deploy windows app and forward the logs to the indexing tier, lastly I will discuss and configure the search head and add the search peer as part of the Splunk distributed architecture design.
Don't buy poor quality courses! This course is a free high quality that I will take you step by step to successfully deploy Splunk in a distributed architecture design, through engaging video tutorials and teach you everything you need to know to be a successful Splunk Administrator
I remember my first time when I started to learn Splunk, I didn't know where to start and with all the information out there makes it even harder to grasp, so today I am putting my self in your shoes to help you conquer this complexity .so I have designed this free course specially for you to take you
Content
Hands-On Labs: Deploy and configure Splunk platform in a distributed environment
Before we begin: Lab Overview
LAB: Discuss and deploy the Universal Forwarder on Linux
LAB: Configure the UF for monitoring input and forward the logs to the Indexer
LAB:Discuss & configure the Indexer for log receiving and the fishbucket concept
LAB: Discuss and deploy the Universal Forwarder on a windows machine
LAB: configure the Indexer and deploy Windows App on the UF and the Indexer
LAB: Discuss and deploy the Search Head as part of the distributed Architecture
Bonus!
Reviews
The indtructor give a really good, clear explanation, and example! With labs all thew way Watched the course halfway for now and it is worth the time.
Very clear, nice tempo, easy to follow for people who are not familiar with the terminology, and great to do a fast course, however, I wanna see the full upcoming course
Very concise, it is as if the instructor is giving a playbook. however this is a small course and awaiting for the actual course to be released soon hopefully
Abdullah
November 10, 2022
This micro nugget course is very complete and clearly explained. The demos are easy to set up in a local environment and easy to follow! I like it and I am waiting for the actual course !
Great job! Though it's a little bit more compact course that is less than 2 hours, the instructor's lab based deployment approach is top notch and a concise practical for all who really want to understand the architecture, integration and deployment of all Splunk main components.
nice presentation. you are really a subject matter expert. please please include the next course for admin in details and use cases development with examples. it would make this course perfect!
Coupons
| Submit by | Date | Coupon Code | Discount | Emitted/Used | Status |
| --- | --- | --- | --- | --- | --- |
| - | 11/22/2022 | 20CBBE135406ECDB3401 | 100% OFF | 1000/892 | expired |
| - | 11/24/2022 | SPLUNK2011NOV24 | 100% OFF | 1000/958 | expired |
Charts
Price
Rating
Enrollment distribution
11/5/2022
course created date
11/7/2022
course indexed date
Angelcrc Seven
course submited by